A home bar can up your entertaining game and transform your social life, making your abode the coolest one on the block. Of course, a home bar can also be where you mix yourself a nice drink after a long day at work.
From a small wet bar tucked into a nook to an oversized freestanding bar, there are plenty of options for creating a watering hole in your home. Here's how to get started.
Consider the placement
First, consider your floor plan. Determine if you have the space, and consider the rooms you entertain in. Do friends and family congregate in the living room? Or are the kitchen and dining room the social hubs?
If you want to install an ice maker or sink in your wet bar, you want to build it where there's existing plumbing - perhaps on the backside of your kitchen or near a powder room.
"I say skip the sink, because it limits your counter space and makes the project more expensive," says Richmond, VA, interior decorator Lesley Glotzl. She notes that not many homeowners use wet-bar sinks for washing hands and glassware, and the space can be put to better use.
Glotzl, who has rehabbed several clients' wet bars, suggests maximizing your counter space, and in lieu of a sink, use plumbing for an ice maker. If you are a cocktail connoisseur, an ice maker will be more useful than a sink.
"What's fun about a home bar is you can do it very affordably," says Glotzl. She recommends building a wet bar when doing a kitchen or bath renovation, because it's more cost-effective and an easy project to tack on when you already have someone designing cabinets and countertops.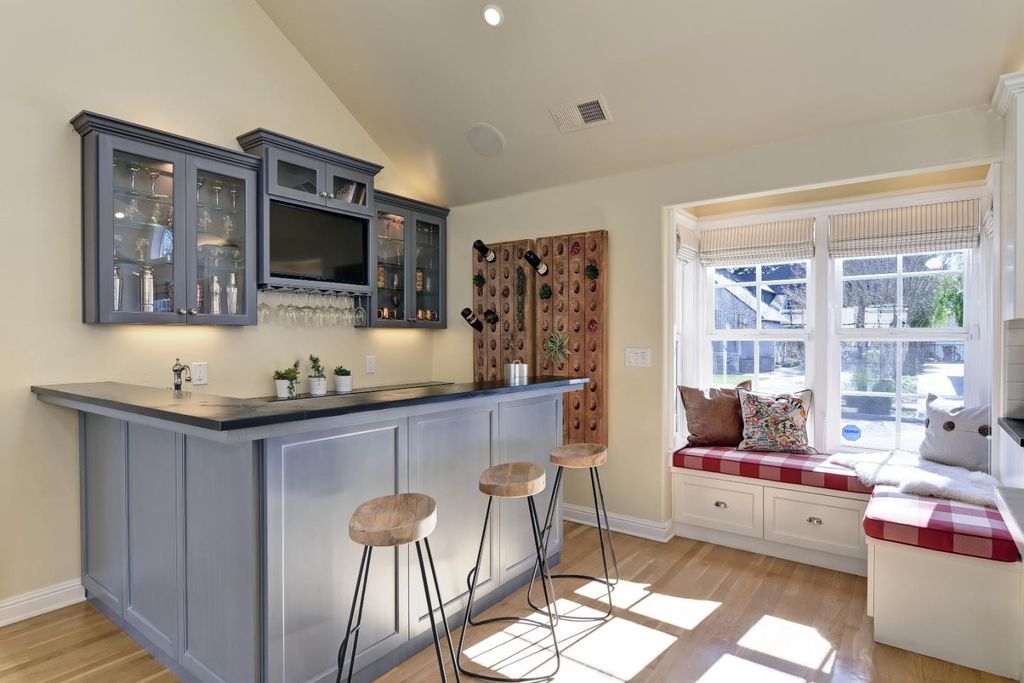 Fine-tune the details
A wet bar can be as simple as a piece of cabinetry with a countertop, upper cabinets, or shelves. If you want to get fancy, add appliances like an ice maker and refrigerator.
Cabinetry below hides plumbing and tucks away bar tools, while open shelving above the bar is a fun option for showing off fancy cocktail glasses and a collection of spirits.
Glotzl notes that a mirrored backsplash is worth considering, because it makes a wet-bar nook seem larger, while reflecting light back into the room. Glotzl recommends textured vinyl wallpapers by companies like Osborne & Little or Thibaut as another fun backsplash option. "The wallpapers are durable, and give the bar a little pop," she says.
Don't be afraid to get adventurous and creative. Add drama by painting cabinetry a bright color, or add a high-gloss lacquer finish. You can make a bold statement in a small space.
Hang a funky pendant light or mount two sconces to showcase your small saloon. Glotzl notes that lighting is essential, because it helps to highlight and frame the space.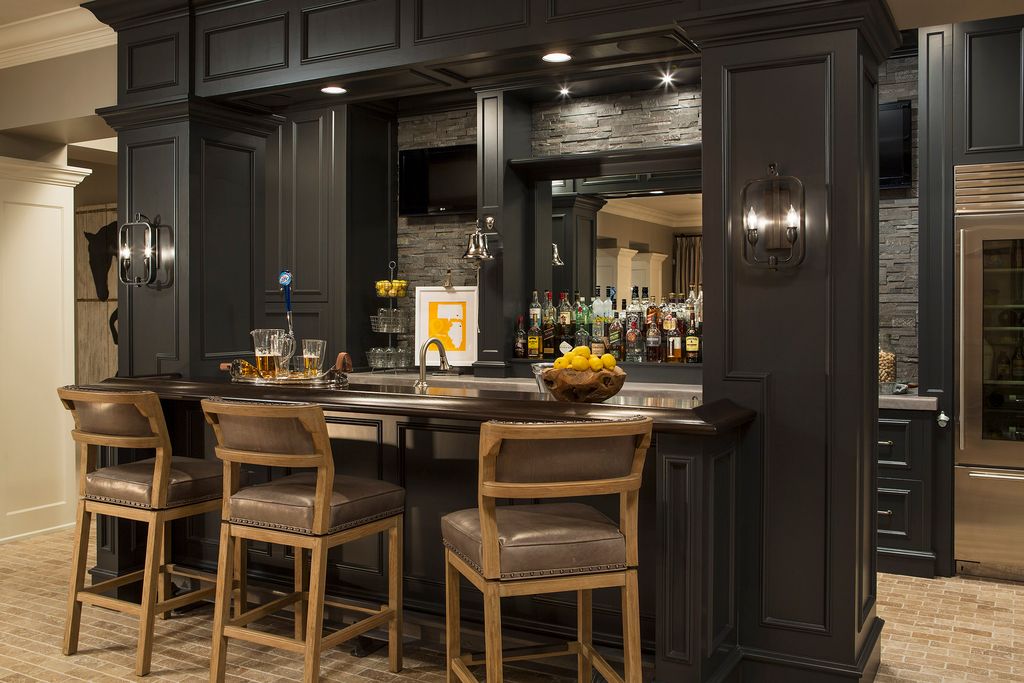 Get fancy
If you're looking to up your game, you can add specialty appliances like dual-zone refrigerators. "What's nice about ice makers, wine coolers, and beverage refrigerators is that they are a standard size," says Glotzl. "You can just pop it into place like a cabinet." So, no need to worry about installation -  just move it into place and plug it in.
For a small-scale wet bar, go straight to a kitchen design company, or coordinate it yourself by hiring a handyperson, electrician, and plumber.
On the other hand, if you want to go big and turn an entire room into a bar, or create a custom wet bar with unique appliances and restaurant-grade equipment like beer and wine taps, that's another story. For a high-end bar with modern accouterments, you'll need to call on a company like Wallace & Hinz, which specializes in custom bars for restaurants, clubs, and residences.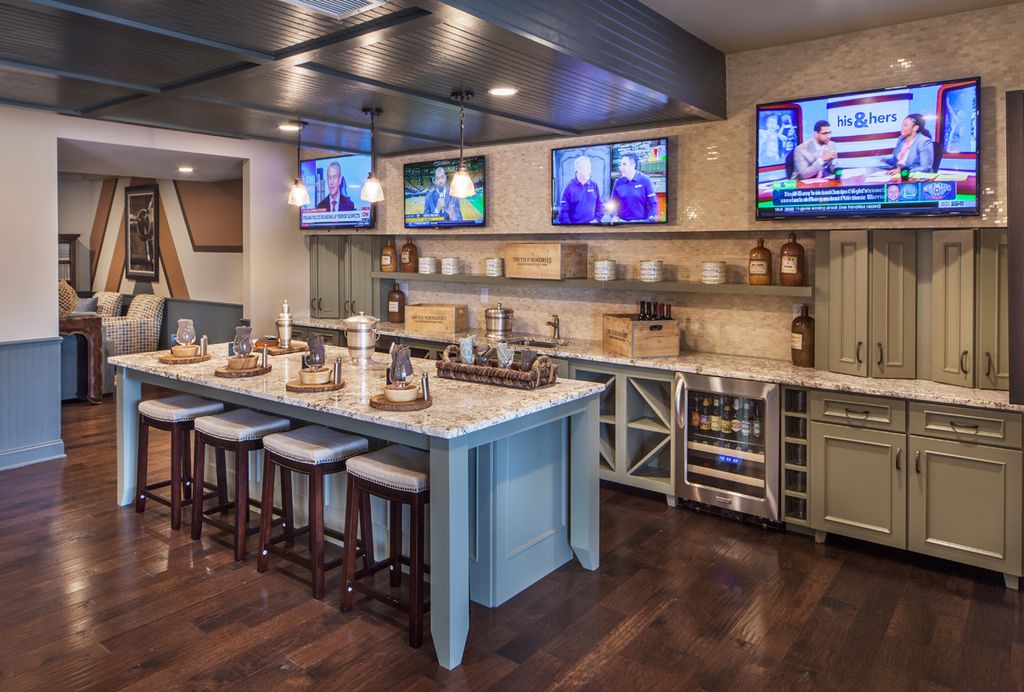 "When you really look at the home bar, it's much more difficult to create than a commercial bar, because it's usually for a smaller space, and you want as much as you can get packed into that little space," says Tom Tellez, CEO at Wallace & Hinz. "They can be far more complicated, and there's room for error."
For homeowners who request high-end dishwashers, refrigerators, and ice machines that all need to be tucked under the bar, Tellez recommends appliances from Perlick Corporation, because they specialize in beverage equipment like wine reserves, dual-zone refrigerators, and beer dispensers.
If space is tight, Tellez says the company sometimes sources tiny appliances that are traditionally used on yachts or in motorhomes. Companies like Furrion or Westland manufacture pint-sized appliances that will save your bar some inches.
"There's the architectural side of what it looks like and feels like, then there's how you're going to fit everything in so that it's seamless and operates efficiently with all your plumbing and electricity," says Tellez.
Along with the functional aspect of bars, Tellez's company designs the look of them, too, taking into account millwork and details like shelving and foot rails.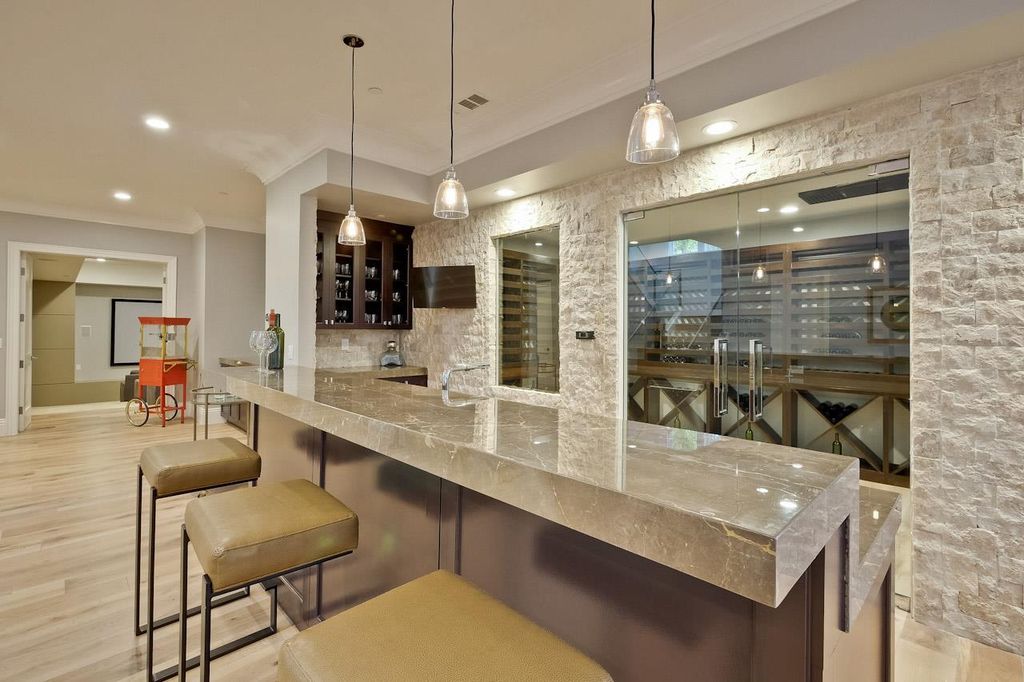 Get inspired
Rick Magnuson called on Wallace & Hinz to transform the front parlor of his Los Altos, CA, home into a bar. After living in the 1920s farmhouse for three decades and only using the parlor a handful of times, he and his wife, Amy, decided the room was wasted space. The couple wanted a place where they could spend time with friends and family, and Amy had a lightbulb moment to add a bar in their home. "We didn't want to put a bar in the room; we wanted to make the room a bar," Magnuson notes.
The Magnusons got in touch with Tellez and requested a custom mahogany bar with carved details, shelves to display glassware and bottles, a handful of barstools, a mirrored backsplash, LED lights, a dishwasher, refrigerator, ice maker, and two beer taps that are now kegged with Sierra Nevada and Trumer Pilsner. They wanted their entire 16-by-20-foot front room to be transformed into a pub.
Tellez took detailed measurements of the room and discussed its layout with the Magnusons. A CAD drawing was created, and after several back-and-forths, the Magnusons finalized the design. Tellez took two to three months to build the entire room and bar in his Blue Lake, CA, workshop, then disassembled it and drove it to the Magnusons' home, where he installed the bar, which took around a week of 10- to 12-hour shifts.
Before the bar installation, Magnuson had the parlor drywall demolished, so Tellez could install not just the bar, but custom millwork throughout the room, too, from the wainscoting to the window trim and the bar back cabinetry and shelving.
The Magnusons' home bar is now dubbed "The Wasted Space," a nod to their unused parlor and the drinking that now happens in their transformed space.
Do it yourself: How to hack the home bar
If you fancy yourself a skilled DIYer and don't want to break the bank, consider these options:
$ Bookshelf bar
An existing built-in bookshelf is an easy and affordable route for creating a bar. Add cabinet doors to the bottom as a place to tuck away bar tools. Adjust shelving to create plenty of space for a tray, ice bucket, and spirits.
If you feel adventurous, apply an adhesive wallpaper to the backside for a pop of color or pattern. If you need lighting, simply add Light Tape or adhesive battery-operated LED lights. Use existing shelving to display pretty glassware. And finally, style your bookshelf with any other accessories that pull your bar together.
$$ Repurposed furniture bar
In lieu of a bar cart, repurpose an unused console, record cabinet, or secretary desk into a bar. Bring the piece of furniture back to life with a coat of paint or a fun finish. Above the bar, add wall-mounted shelving from Restoration Hardware or CB2 to display your stockpile of spirits, along with sculptural glasses like coupes, highballs, and whiskey tumblers.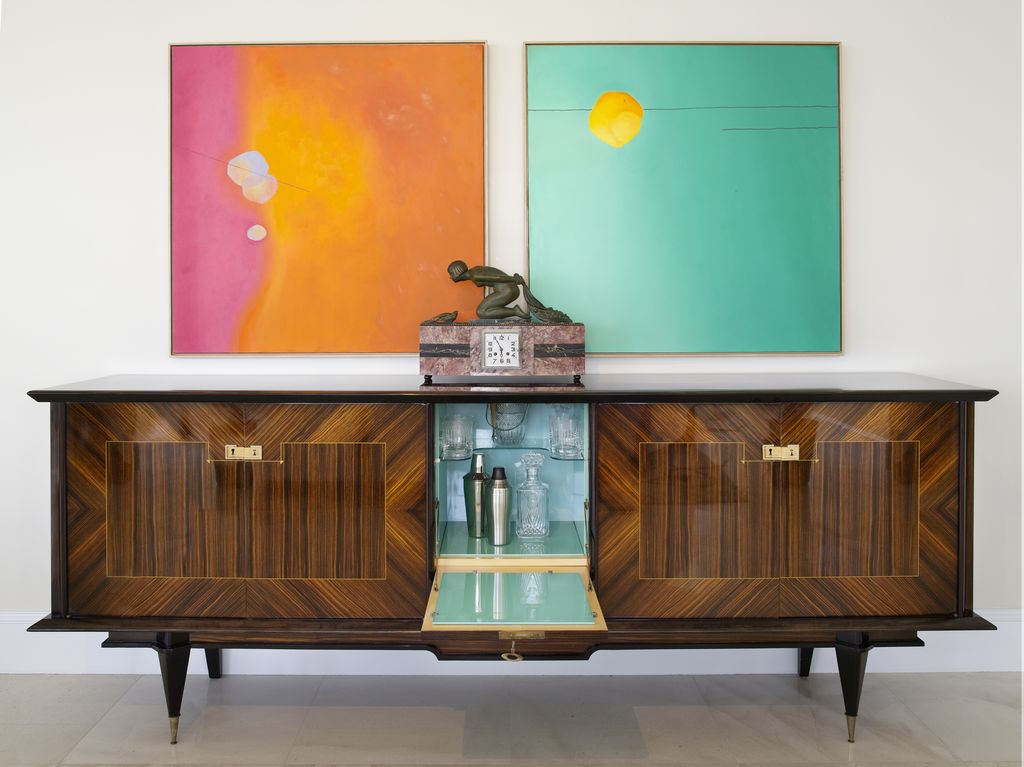 $$$ Salvaged cabinetry bar
Glotzl recommends salvaging a cabinet from a kitchen renovation company or a place like Habitat for Humanity ReStore. Give the cabinet a fresh coat of paint, and for a custom look, top it off with a countertop remnant from a stone company.
$$$$ Cloistered bar
A closet is the perfect place to tuck away a bar. Glotzl recommends removing the door and molding, along with the drywall from the doorway to the ceiling, to create a seamless notch in the room.
"The problem with using the closet is, it's going to be deep and not a standard size," says Glotzl. For this, you need precise measurements to ensure that your cabinetry and countertops fit snuggly. From there, you can accessorize the space with bracketed shelving and a fun pendant light to illuminate your new favorite drinking spot.
See more bar design inspiration on Zillow Digs.
Top image from Zillow listing
Related: