Located in the beachfront neighborhood Corona del Mar Village in Newport Beach, CA, this contemporary three-story home takes inspiration from its seaside setting with a color palette of soothing neutrals and blues paired with natural finishes.
Designed by Christopher Brandon with Brandon Architects and built by Patterson Custom Homes, the spec home was purchased early in the construction phase. Interior designer Brooke Wagner, of Brooke Wagner Design, was brought in to transform the spec home's blank canvas into a contemporary beach house by juxtaposing quiet colors with clean lines and raw materials.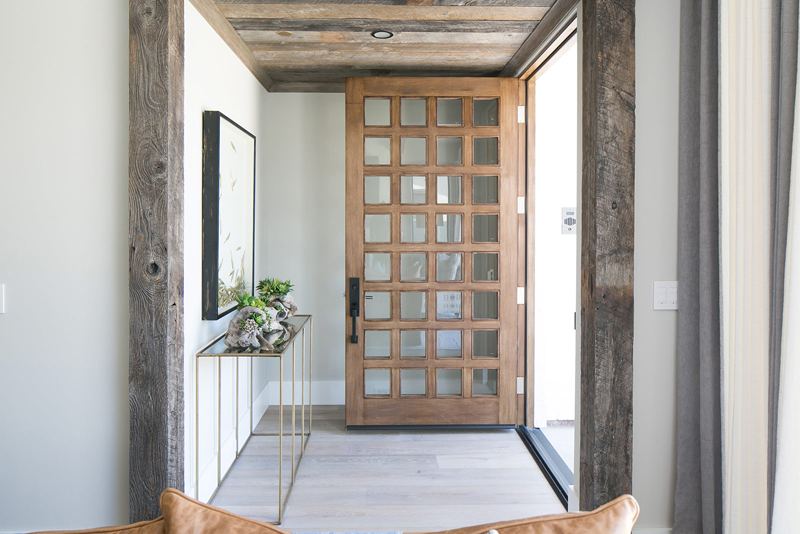 Taking a few decorative cues from the homeowner - namely "boho" and "coastal" - Wagner designed a soothing retreat. With a foundation of whites, creams and gray, Wagner created a common thread that ties the different spaces of the home together.
She then warmed up each space by layering eye-catching textiles and decor. Indigo fabrics, geometric patterns, brass finishes, and natural accents create casual and comfortable rooms with a sophisticated touch.
"With the neutral big pieces, you can always switch out pillows and patterns as you get tired of them," says Wagner. "And you can keep the bones of the home intact and neutral and layer upon them."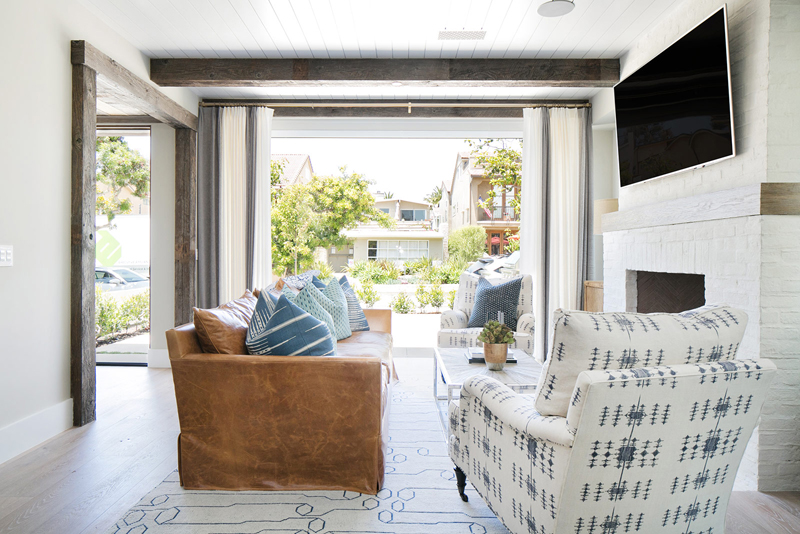 The subtle color scheme allows the homeowner's embellishments and personal taste shine. "[The owner] travels a lot and has brought home artwork, photography, accessories and mementos from her travels, so we wanted to incorporate that as well," says Wagner. "And since we installed, she has added to that collection. The home has a bit of a global, layered look."
A warm and inviting escape
In the bedroom, a show-stopping accent wall is made out of reclaimed wood that has been cut down and arranged in a herringbone pattern. The geometric lines of the wall echo the angles of the vaulted ceiling, as the rustic wood adds a cozy touch to the space.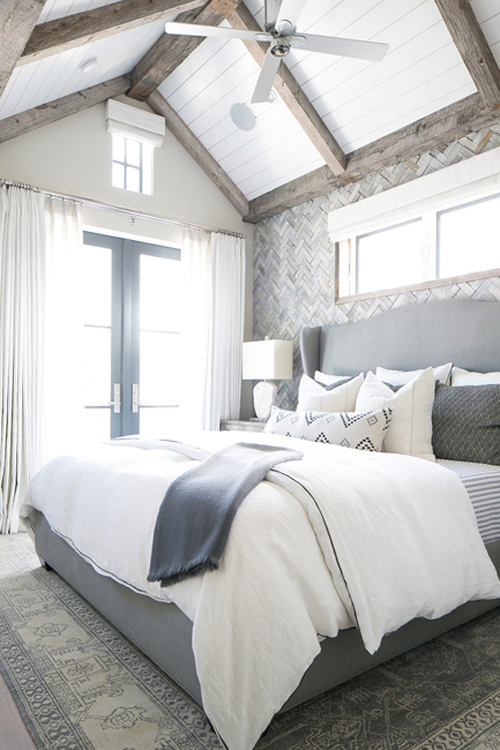 While shopping at the tile and stone showroom Famosa at South Coast Collection in Costa Mesa, Wagner came across the reclaimed wood and knew she had the perfect application for it. "We were looking for tile and stone, and stumbled upon [the wood] and loved it," she says. "We based that whole room - the elements, textures, and textiles on that wall. We played off the natural, neutral, and organic feel of the wall."
With the herringbone wall as Wagner's decorative launching point, she started introducing large pieces of furniture, like the gray linen upholstered bed. "I wanted it to feel like you were sitting in a cozy sofa or chair," says Wagner.
A gray and cream geometric Lee Jofa area rug grounds the room, while complementing European oak floors that have been heavily wire-brushed to create a weathered and sandy finish.
Bedding from the nearby Crystal Cove boutique JuxtaPosition includes ethereal washed linens in a charcoal, white and light grey color scheme, along with a Rosemary Hallgarten cashmere throw. "We wanted it to feel warm and inviting," says Wagner.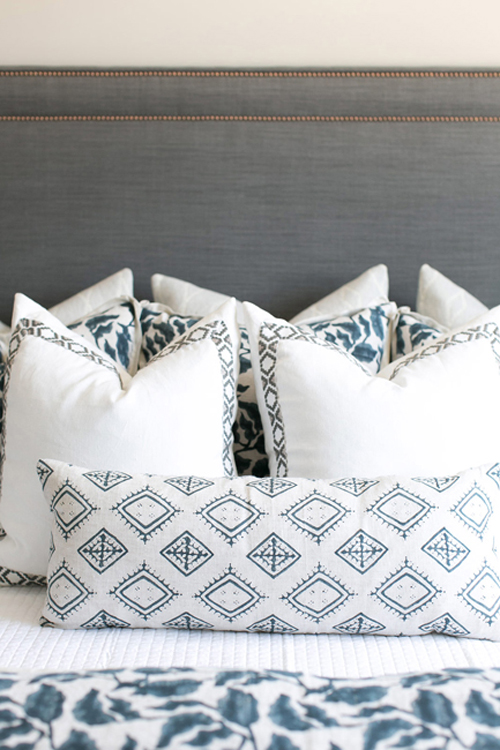 For accents pillows, charcoal-and-white Peter Dunham shams are perfectly paired with vintage mudcloth textiles. Also softening the space, white linen draperies are embellished with a fine gray line that mimics the herringbone pattern.
With antique glass and a weathered gray finish, the custom-made nightstands and dressers play off the organic look of the reclaimed accent wall, and are topped with chic Lucite and marble slab lamps. Polished brass hardware accessorizing the furniture adds subtle sophistication, while warming up the gray and white color scheme.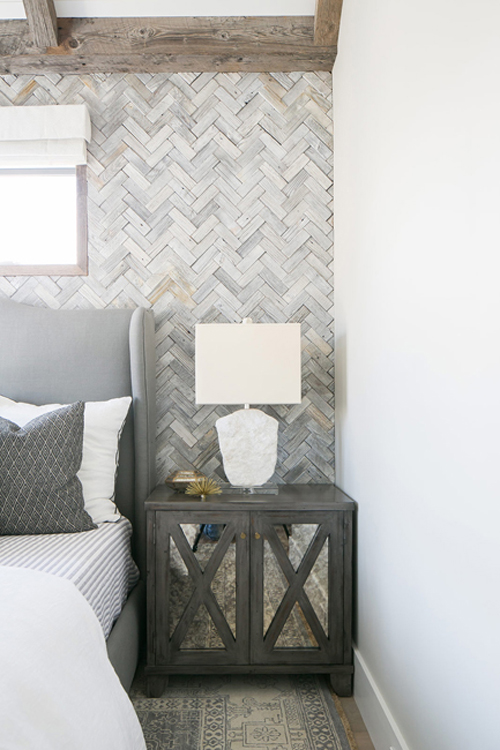 Walls painted in Dunn-Edwards' gray white "Shady" and a clean, crisp white ceiling in Farrow & Ball's "All White" sets off the reclaimed wood details and allows the decorative elements of the bedroom to shine. Wagner's organic-inspired materials and quiet color palette work together to create a contemporary coastal home with a collected look.
Take the full home tour: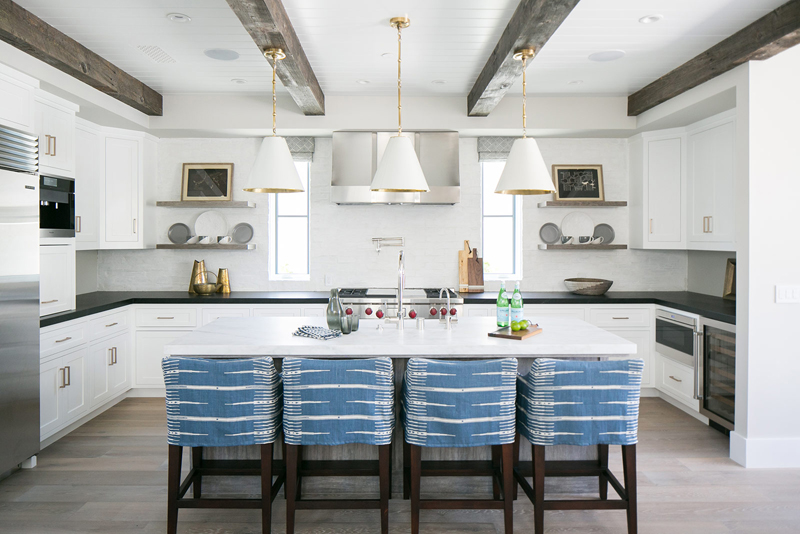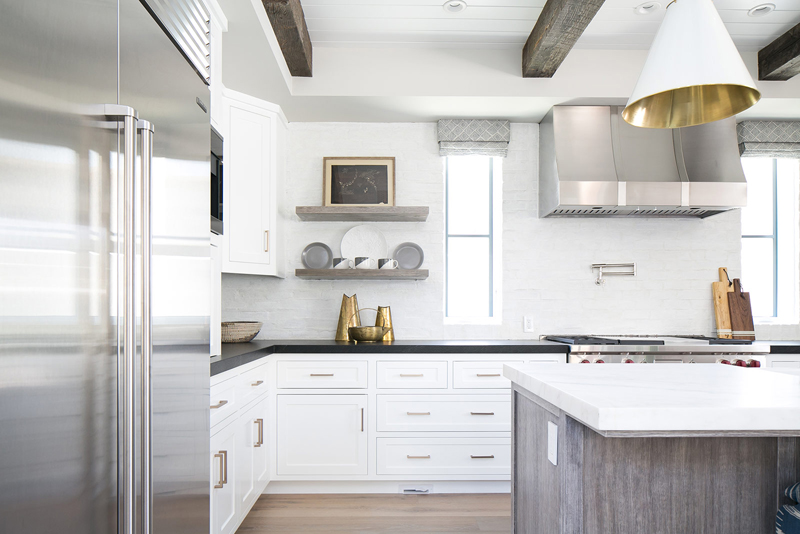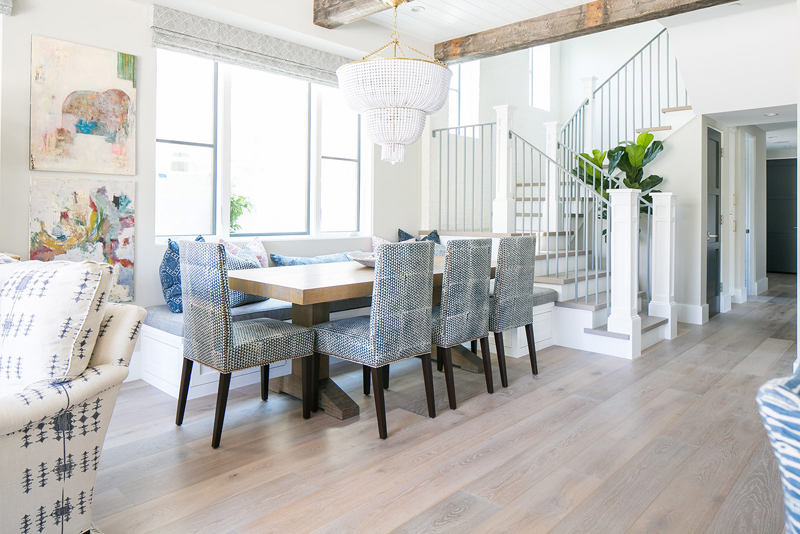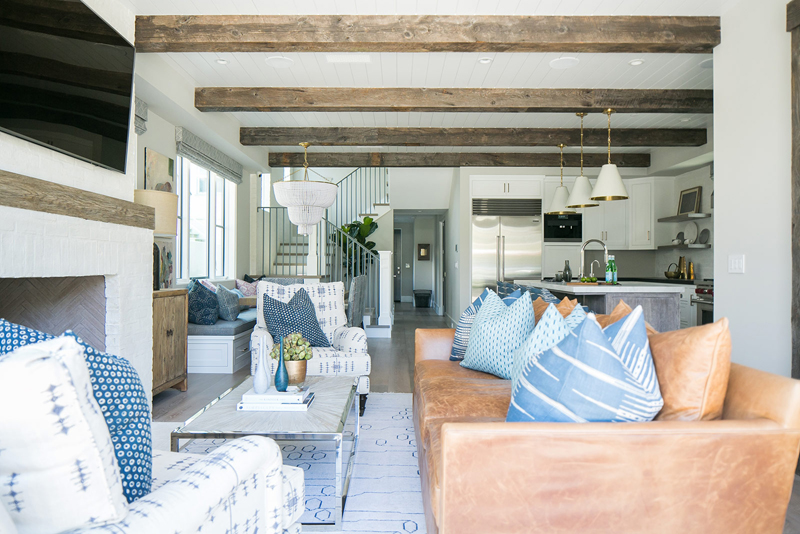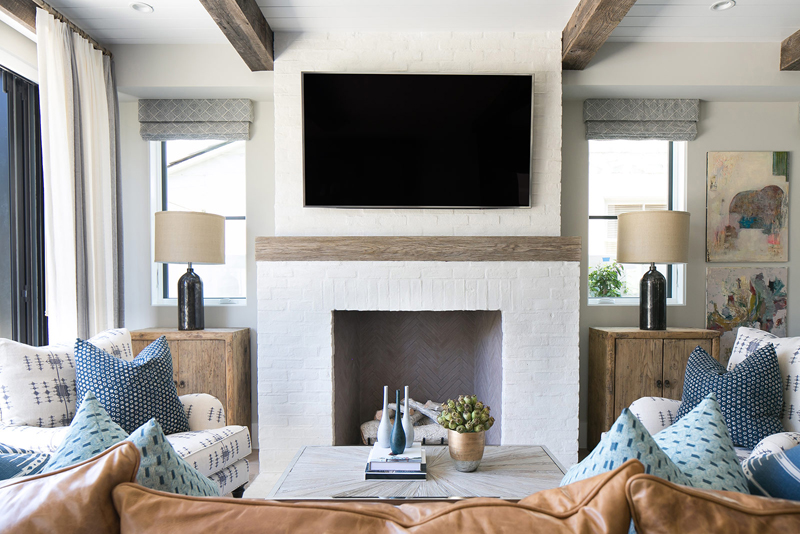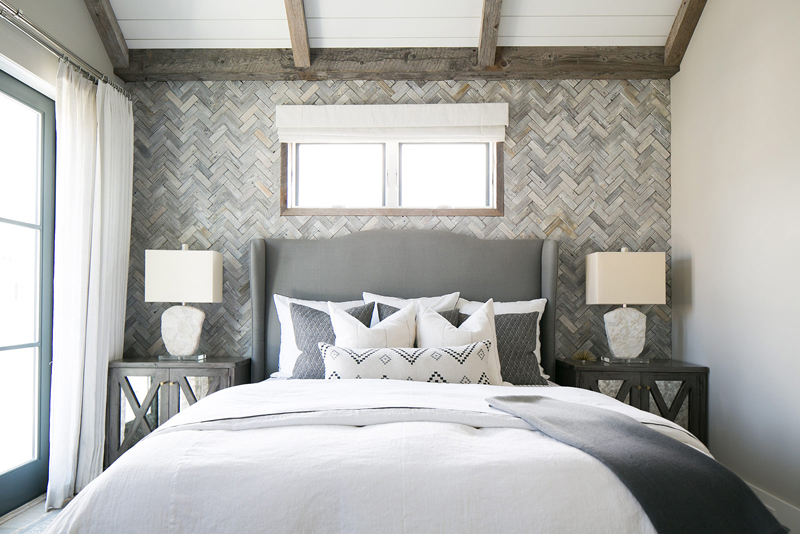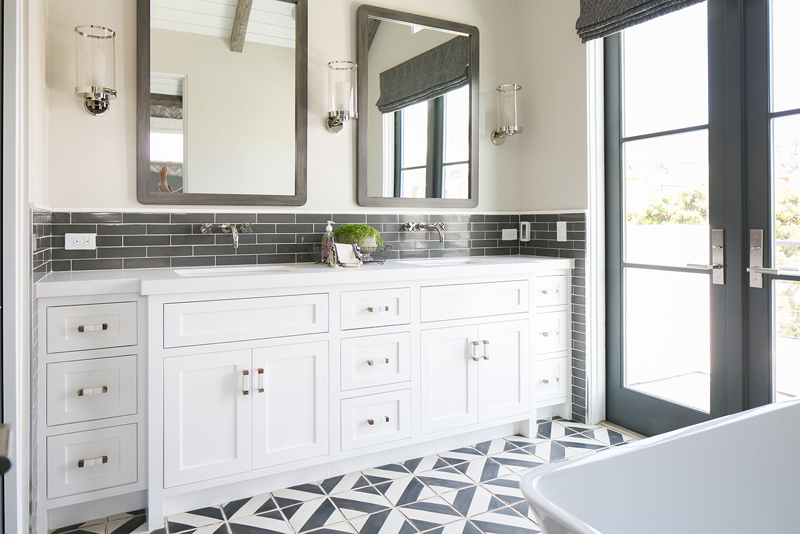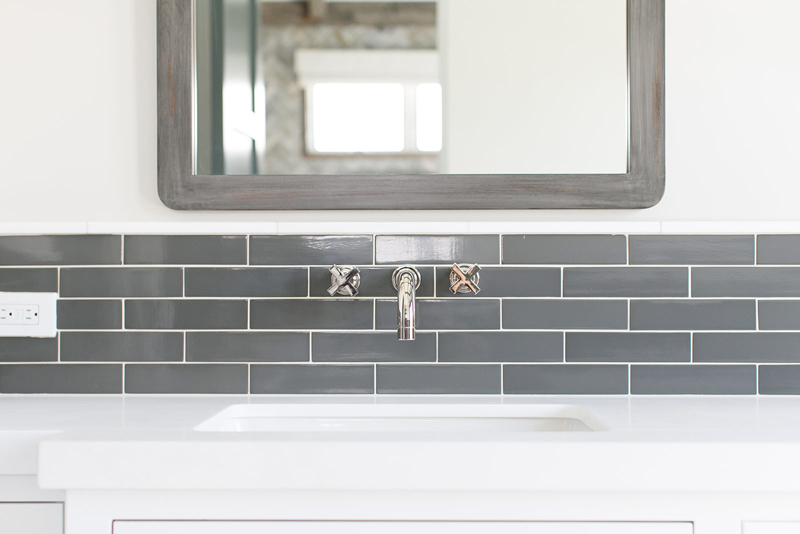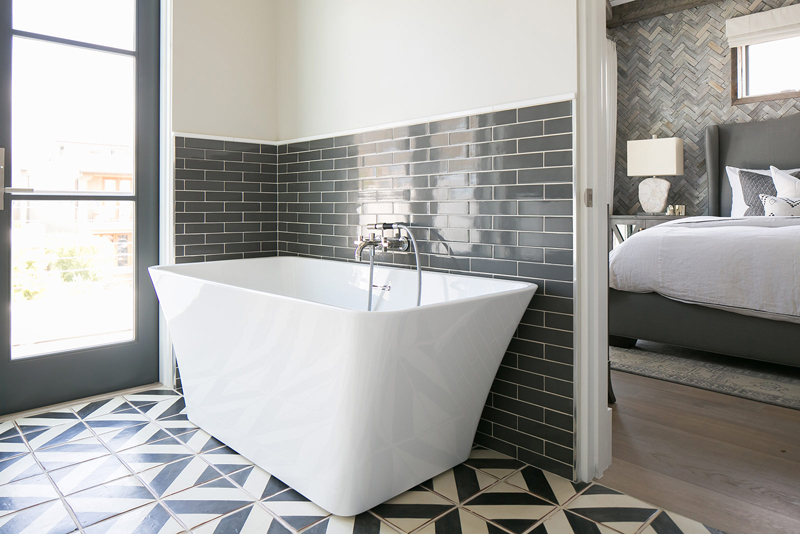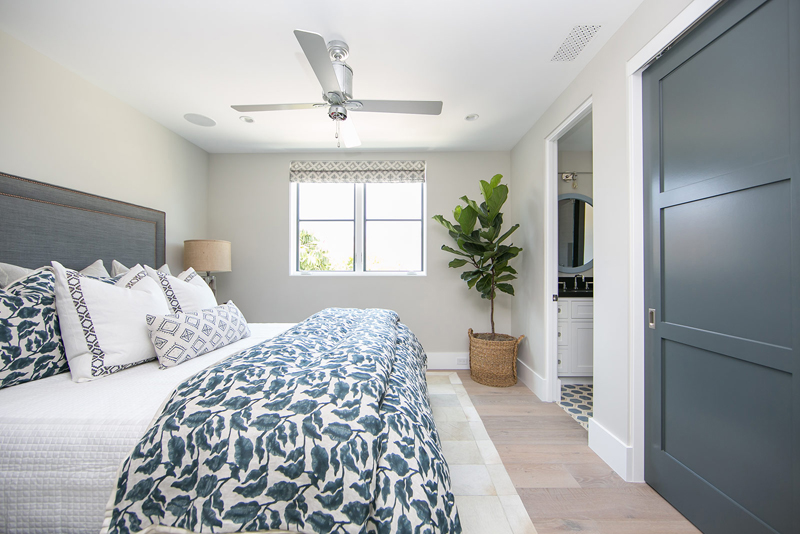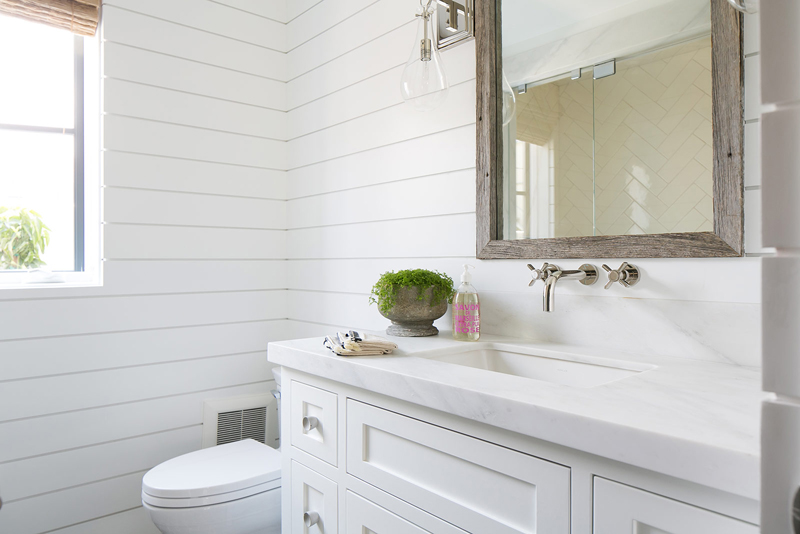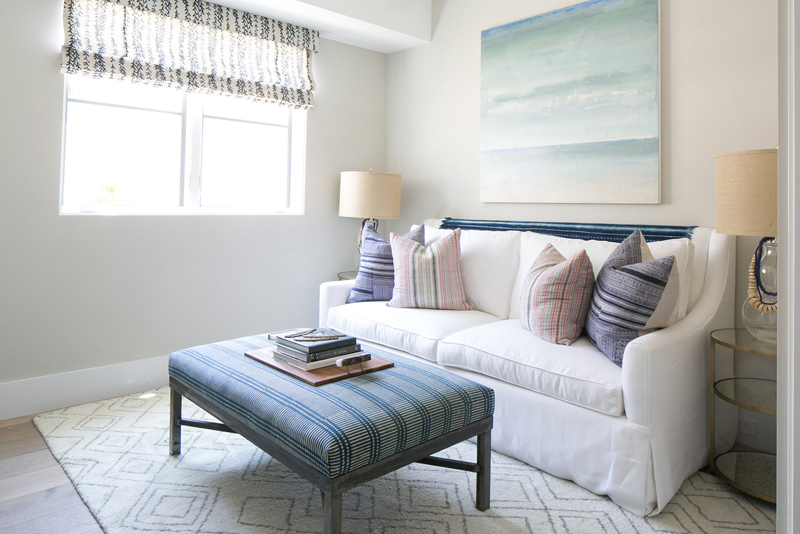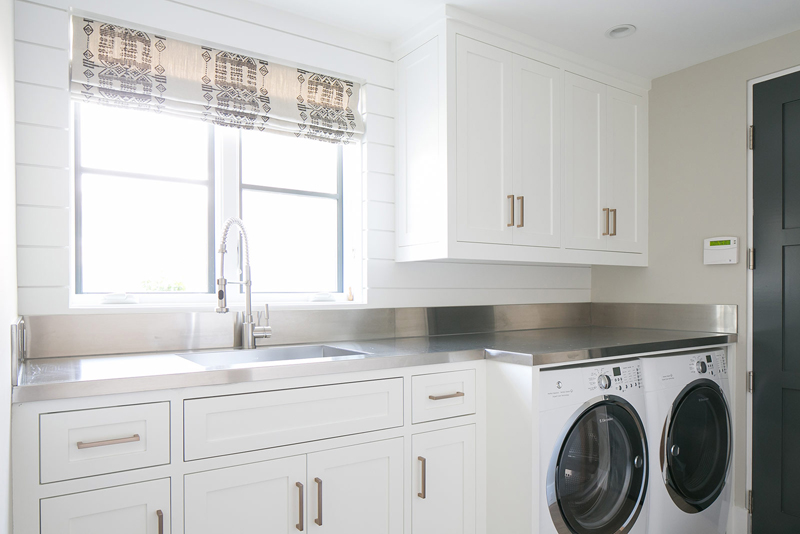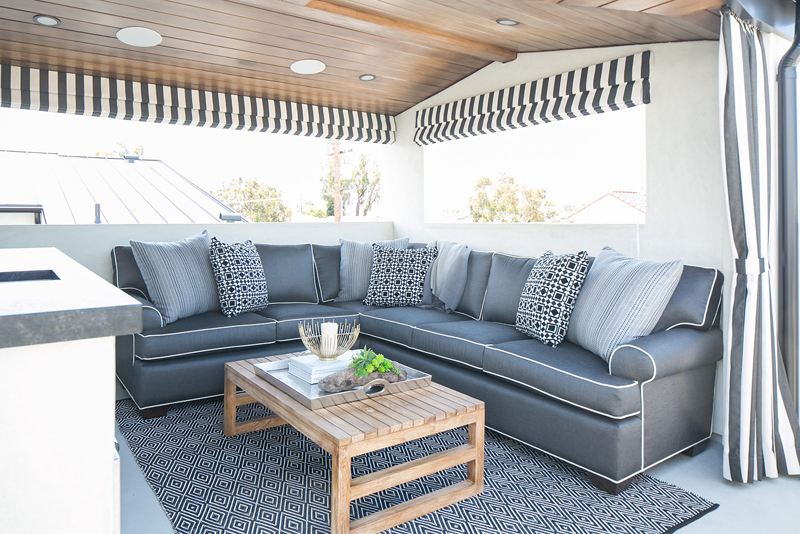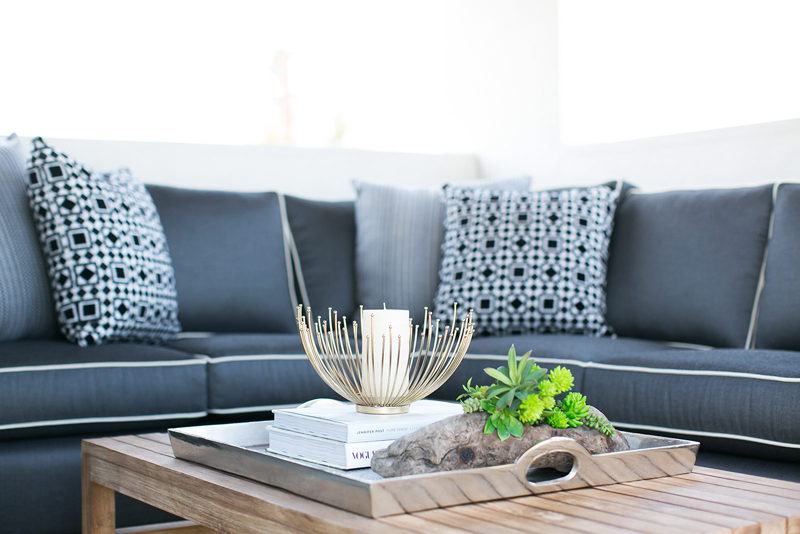 Get the look at home
Follow Wagner's lead to adapt this cool, sophisticated, yet comfortable design for your own home.
Play up the walls. Textured wallpapers, like grasscloth, are an easy way to add a custom look to a room. "If you can wallpaper a powder room or a master bedroom wall, that is always a great way to add texture and warmth," says Wagner.
Be consistent with color. For a polished and unified look, stick with a common paint color like a light warm gray throughout your home - in the hallways, family room and kitchen. "It makes the house feel cohesive and bigger if you keep the color consistent and light," says Wagner.
Go big with neutrals, adding color and texture accents. Stick to an understated color palette with walls and large pieces of furniture. "And then accent with the patterns and things you can switch out easily when you get sick of them," advises Wagner. "It is more cost-effective than switching out big pieces like sofas and draperies."
Mix metals. It's fine to mingle metals in different finishes, like brass and chrome, as it adds visual interest. "You can mix metals, and it looks great," says Wagner. "Just try to balance proportions - so if you have polished nickel faucets, you can do bronze light fixtures or vice versa."
See more design inspiration on Zillow Digs.
Photos by Ryan Garvin
Related: