When a growing family wanted a sprawling family room addition constructed on the back of their Glen Allen, VA home, they called on interior designer Jennifer Stoner to make it an attractive and kid-friendly space with the right fabrics and finishes.
The homeowners requested bold colors, fun architectural details, a place to tuck their 75-inch flat-screen TV, and plenty of seating.
Wateredge Construction built the large gathering room, which included a back entry, small office, and staircase to the second floor. "It was fun because it was an expansive room with 12-foot-high ceilings, which afforded a lot of opportunities," says Stoner.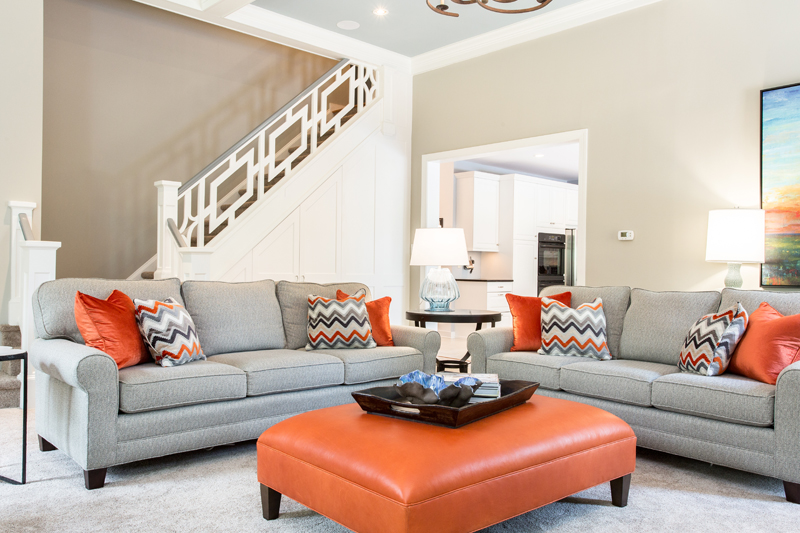 Walls were kept neutral, painted in Sherwin-Williams' Agreeable Gray to allow the decor and color scheme of blue and orange to shine. Stoner painted the ceiling a soft blue (Sherwin-Williams' Topsail), which ties back to the walls of the home's recently renovated kitchen, then layered fabrics and decor in a contrasting orange for a punch.
Airy orange-and-blue patterned draperies, made with Robert Allen fabric, are paired with orange-striped Roman shades, while pops of orange are sprinkled throughout, from the leather ottoman to throw pillows and tchotchkes. "And my client really wanted the orange barn door," says Stoner.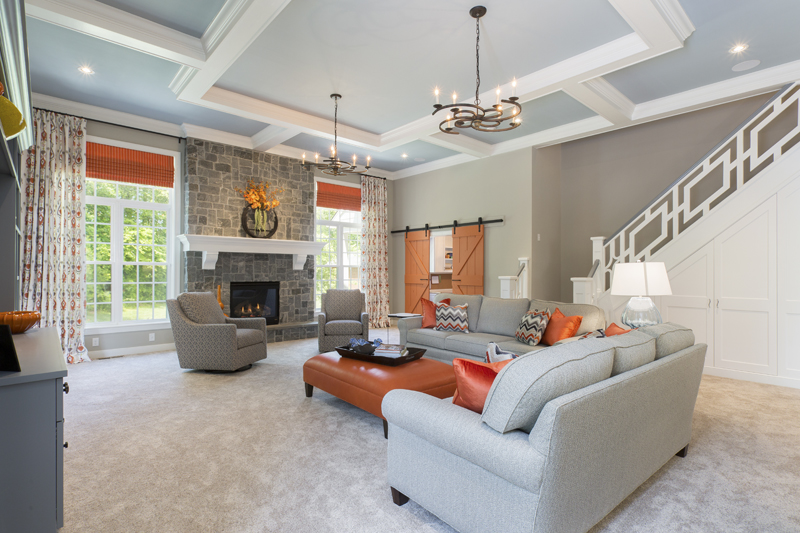 Stoner worked with Joe Fowkes of Wateredge to develop architectural features, like the fretwork pattern on the banister, pullout storage cabinets tucked under the stairs, and a coffered ceiling pattern that departs from the traditional grid pattern.
Under the stairs, they created doors with hidden hinges and pullout shelves. "This provides terrific hidden storage for the kids' toys, games, blankets, etc.," says Stoner.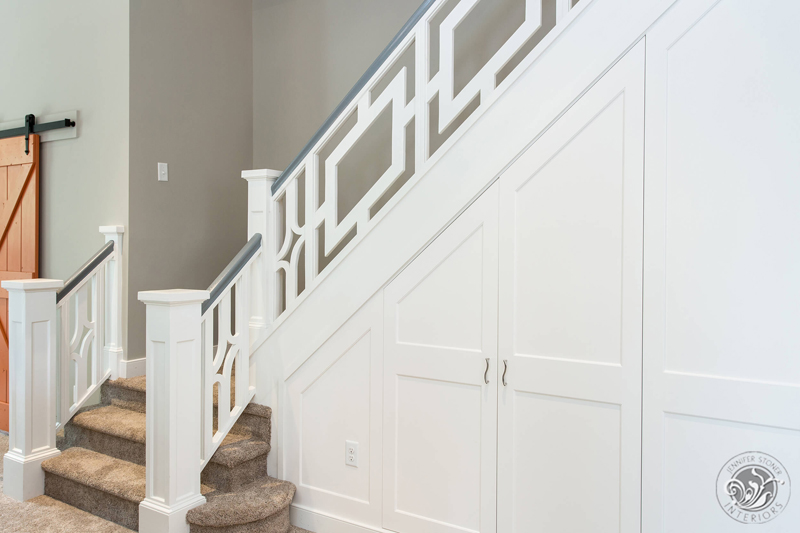 A large entertainment cabinet in a gray-blue shade complements the sky-blue ceiling, gray banisters, and stone fireplace facade. And the cabinet doors on the unit thoughtfully echo the fretwork pattern on the banister and coffered ceiling.
"It was a custom piece that I designed with input from my client," says Stoner. "We wanted something that would stand out more than typical built-ins, and we needed to do something custom to accommodate the 75-inch TV."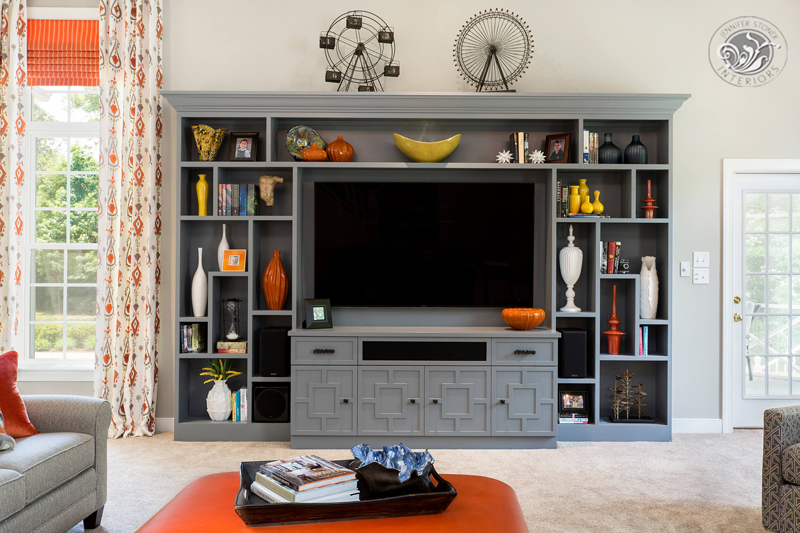 "We made a great team – our client, Joe, and me – collaborating and successfully creating a unique space," Stoner notes. "The room has some sophisticated elements, so it's a great space to entertain when they have company, but it's very kid- and pet-friendly with durable Crypton fabrics."
Get the look at home
Add color to your ceiling. "It's the fifth wall in your room, and the rule that ceilings should be white is long gone," says Stoner. "A soft, subtle blue is always a winner, but don't be afraid to go big with a bold color or even wallpaper."
Create colorful entryways. "Paint your interior doors a darker contrast color, and leave your trim white," says Stoner. "This is a fun way to create some architectural depth and interest, and give your home a more custom look."
Bring the outdoor fabrics in. "You can create a beautiful room that will hold up to kids and dogs by incorporating Crypton or outdoor fabrics," says Stoner. "These fabrics have come a long way in terms of available patterns and the feel of the fabrics. They even make outdoor 'velvet' now, which you can clean with bleach after your child drips ice cream on it. We want our rooms to look great, but we want to be able to live in them without having to cover them in plastic, like our grandparents did."
Photos by Bryan Chavez
Related: