Designer to the stars Kari Whitman is having a love affair with metal. She uses it in her own homes, and she takes it to the homes of her clients, who include Hollywood A-listers like Jessica Alba, Melanie Griffith, Antonio Banderas and Kristen Bell.
"What I love is that [metal] seems very timeless," Whitman says. "You can put it anywhere, and it still works — everything from brushed satin to rose gold, oil-rubbed bronze and stainless steel."
In her living room in Boulder, Whitman found three unique and stunning uses for metal.
Feathers up the wall
Who doesn't want a legion of small brass feathers running up the middle of their living room wall?
"Ceilings are for me the do all, be all. I love high ceilings," says Whitman.
She wanted to make her 18-foot vaulted ceiling look even higher, so she blended her affinity for high ceilings with her adoration of metal — and voila, metal feathers up the wall.
"I bought that box of feathers for $150 at a swap meet in Los Angeles, and I knew one day I'd find something to do with them," she says. "I was going to do the whole wall, but once I did the middle line, I loved it so much, I just kept the middle."
The wall of feathers is visible from the living room, dining room, kitchen and even the upstairs landing.
Portholes for light
Another impulse buy was Whitman's array of portholes, which now illuminate what used to be a dark upstairs sitting room.
Rather than create an indoor balcony or remove the wall, she just burrowed holes in it and installed portholes that bring in light and offer views of the mountains.
"I sit up there to work and read all the time," Whitman says.
The glass-and-metal portholes' satiny brass finish contrasts with the wall they're in, which is made of more rugged materials.
"There's a yin and yang there, with the softness of the round, satiny brass mixed with chunky concrete and travertine," she notes.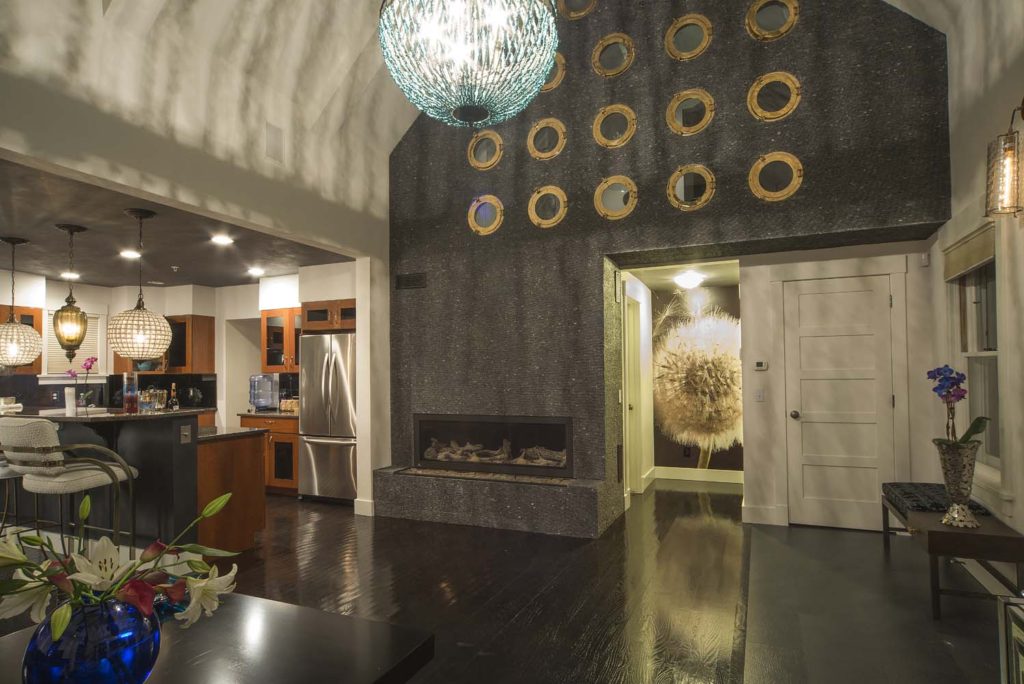 A wall of ball bearings
If you've ever wondered what's the beaded curtain of the digital age, get ready: curtains made of ball bearings.
"They're super heavy," Whitman explains. "You could hold onto those and hang."
You probably would not be hanging between her living and dining rooms, like this curtain is. But for one couple with a feisty sense of adventure, she designed an entire wall of ball bearings.
The key is to never use just one type of metal. "I mix brass, rose gold and silver," the designer says.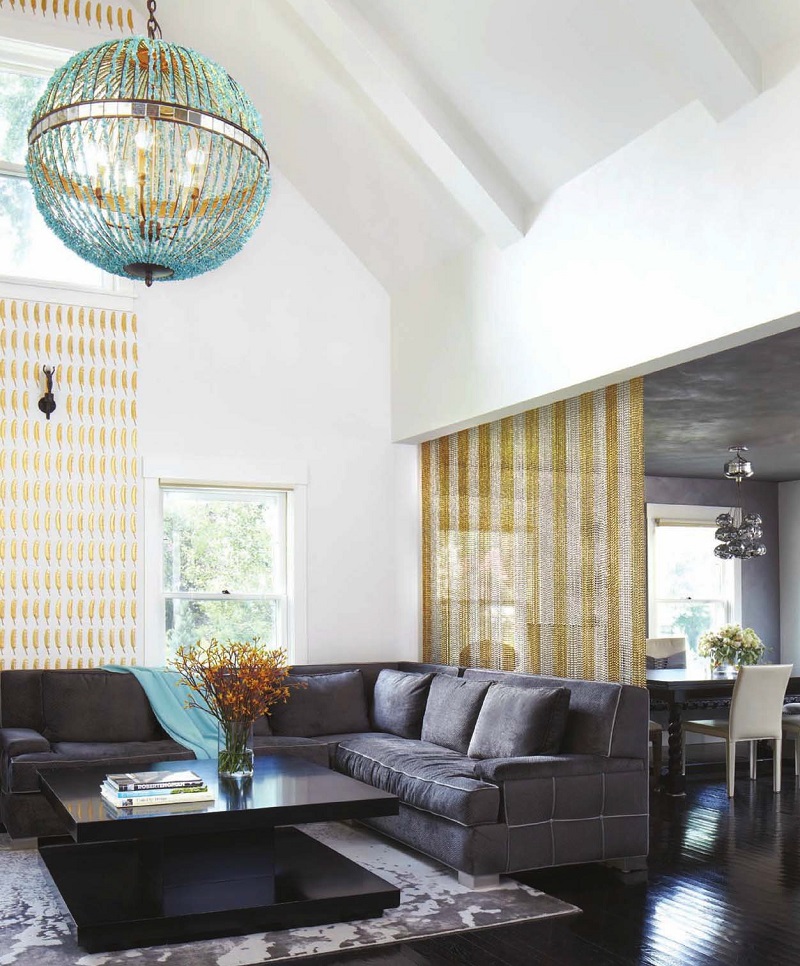 DIY ideas to try
Whitman has a few tips for achieving this look in your own home.
The art of the wall. Opportunities for turning walls into artwork abound. One idea is turning digital photos into wallpaper using sites such as Murals Your Way. Whitman has seen people do that using old family photos printed in sepia tones. Large walls also provide a perfect backdrop for displaying collections. For one client with a hat collection, Whitman plated some of the hats with brass and some with silver, then displayed them on a wall.
Hole-in-the-wall design. Rather than tear down walls to create light and openness, you can carefully construct holes through them, as Whitman did with her portholes. "You can be creative and open up the spaces between the studs," typically 18 to 24 inches, she saya. The space can be filled with all manner of materials, from glass to fabric, or left open.
A room divided. Ball bearings are not for everyone, and adding temporary walls may not be an option. If you're looking for a softer materials to create a room divider, try ropes. "Go to the rope department in any hardware store, and the 3-inch rope comes in black and white nylon and two colors of jute, which is natural," Whitman says. "Attach them to the ceiling and knot them or plait them or plait every other one, and it's an amazing room divider." Another option is a row of slender tree trunks. Whitman has bought birch trees online and installed them in a small box on the ground with the twigs stretching to the ceiling. You can even paint them.
Rock the metal. If you, like Whitman, need more metal in your life, consider swapping metals for tiles on countertops and even shower walls. The same goes for other hard materials. "If you love metal or concrete, there's no reason you can't make your sofa out of concrete and put big fluffy pillows on it," she says– and that's not just talk. Whitman is working on a project now that involves a "flowing piece" of Carrara marble that is both a couch and its side tables. Rock on.
For more design inspiration, check out Zillow Digs.
Related: