Interior designer Summer Thornton turned a newly constructed Mediterranean-style house in sunny Naples, FL into a beautiful vacation home, featuring refined decor and a soothing color palette.
"The homeowner wanted it to feel bright, casual, and elegant, so I steered the interior design toward more traditional furnishings and a light color palette with pops of color," says Thornton of the second home."It's on a beautiful lot that backs up to water, so they've got amazing, peaceful views from the lanai and pool."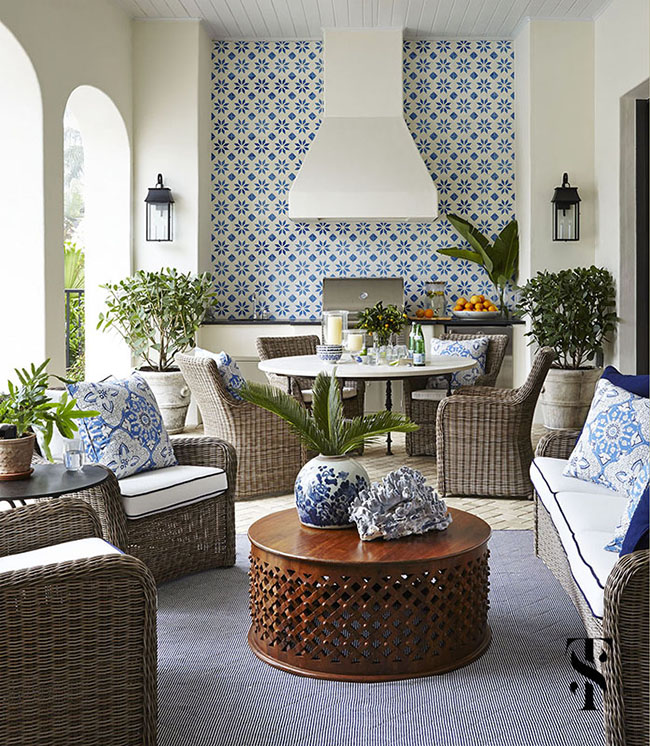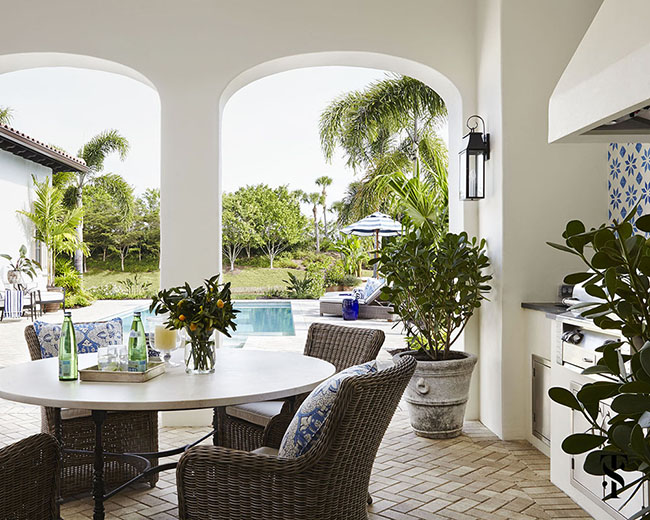 Thornton was also tasked with seamlessly blending the Mediterranean architecture of the house with classic styling and relaxed, casual furnishings to create an abode that encapsulates "refined Florida elegance."
Along with furnishing the home, the designer also helped with the interior architecture, choosing finishes throughout. And since it was a second home, Thornton also helped choose all the accessories, from the decorative tchotchkes down to the dishes.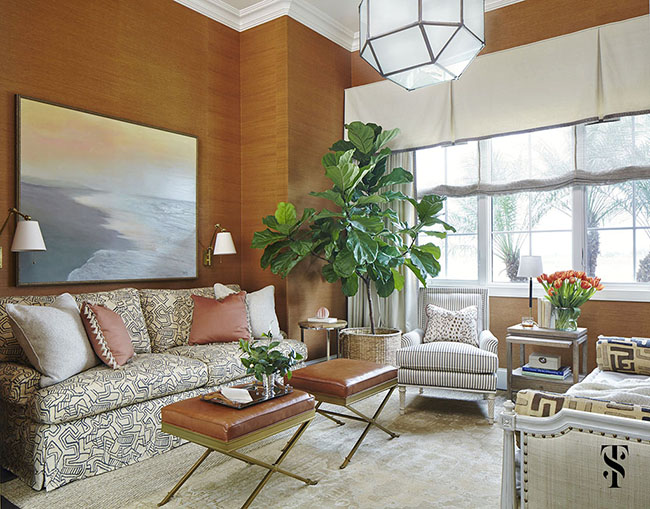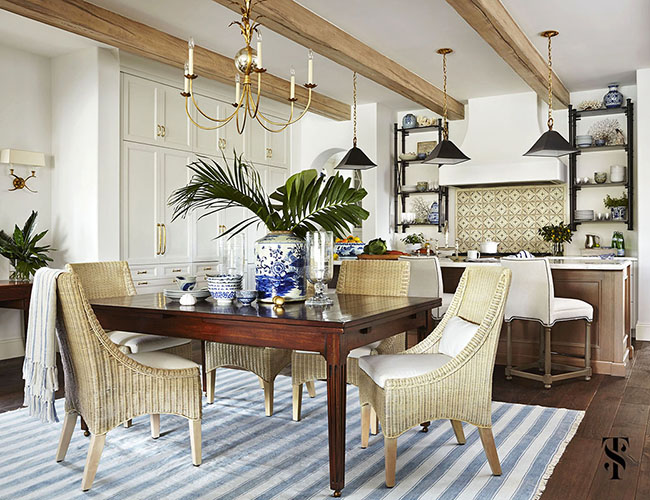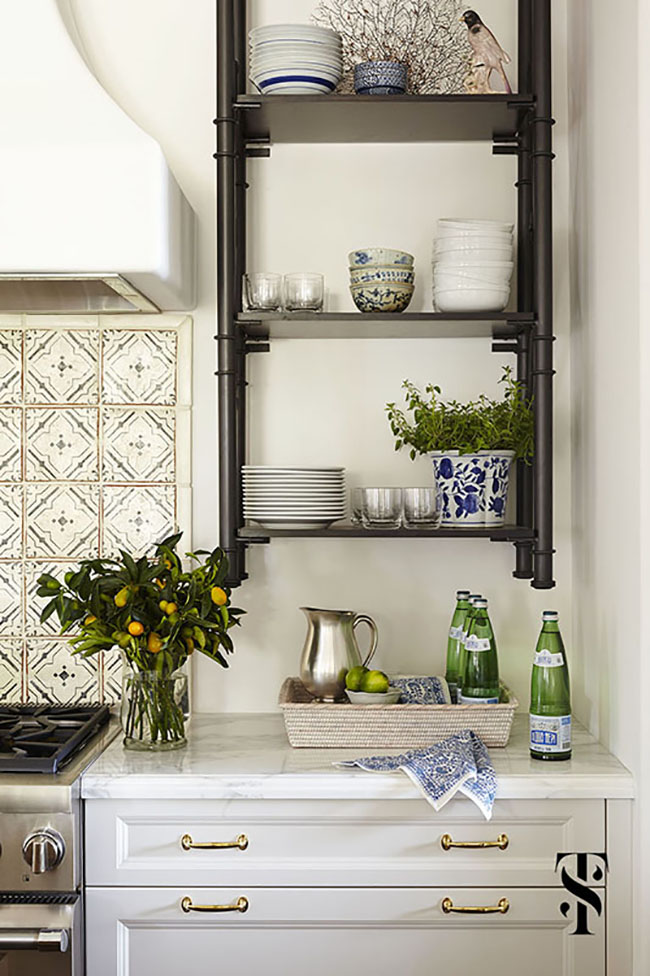 "The homeowner wanted a space where they could have the whole family down for holidays and gatherings," she says. "They're grandparents, and wanted their grown kids and grandchildren to feel relaxed and comfortable."
Hailing from the Midwest, the homeowners visit the home in the winter, and they wanted to keep the decorative elements elegant and not overly tropical.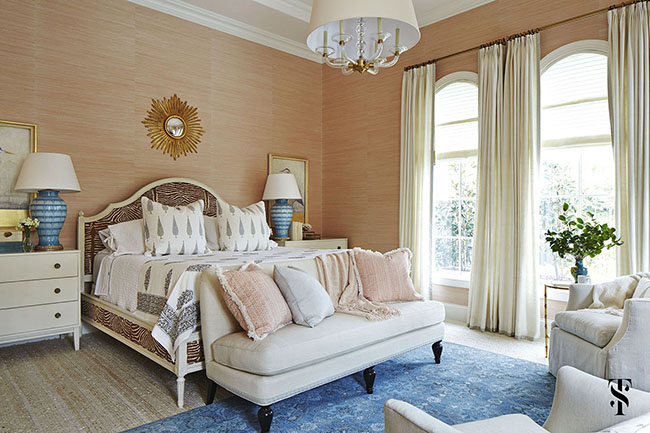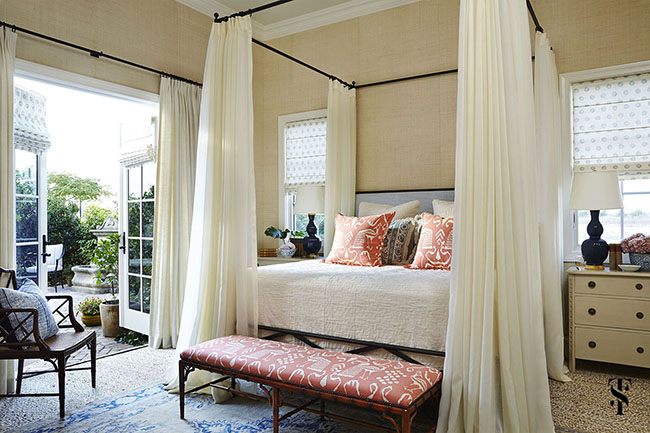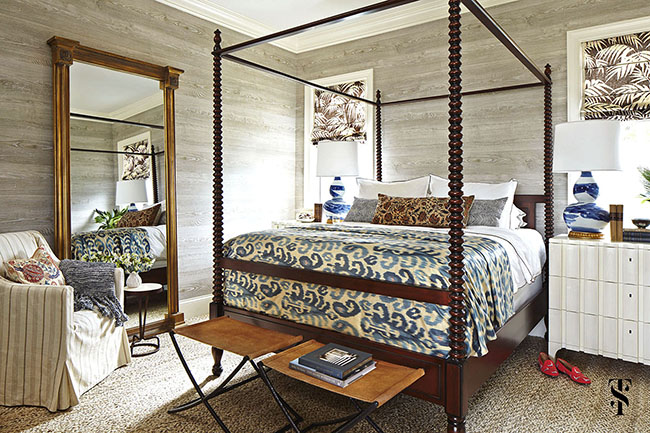 Since the homeowner was gravitating toward a tranquil color palette of blue and white, Thornton used the color scheme throughout, from indigo fabrics to graphic wallpapers and Chinese ginger jars.
And as a nod to Naples' gulf setting, Thornton incorporated tropical plants, like a fiddle-leaf fig tree, along with Audubon prints of herons and smaller decorative touches, like coral.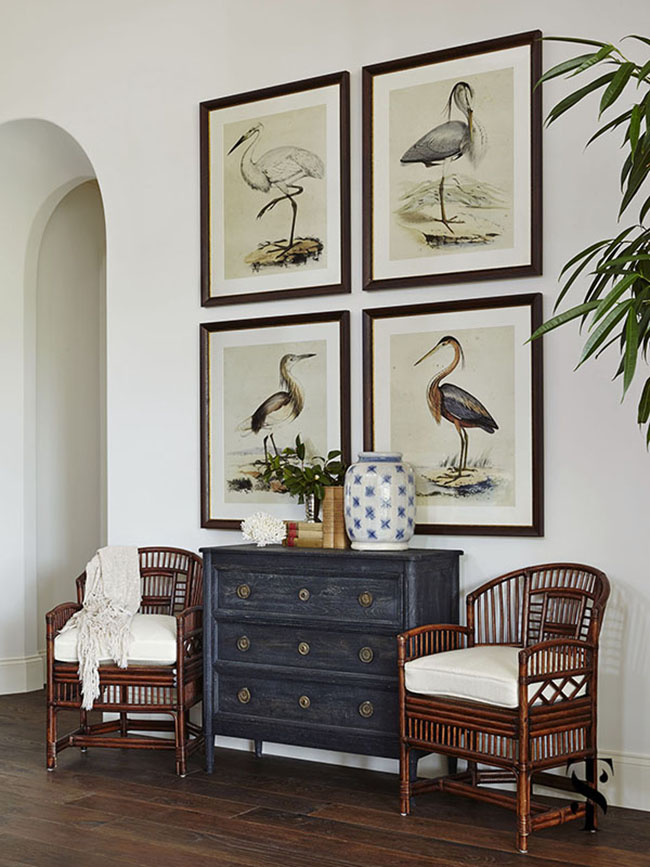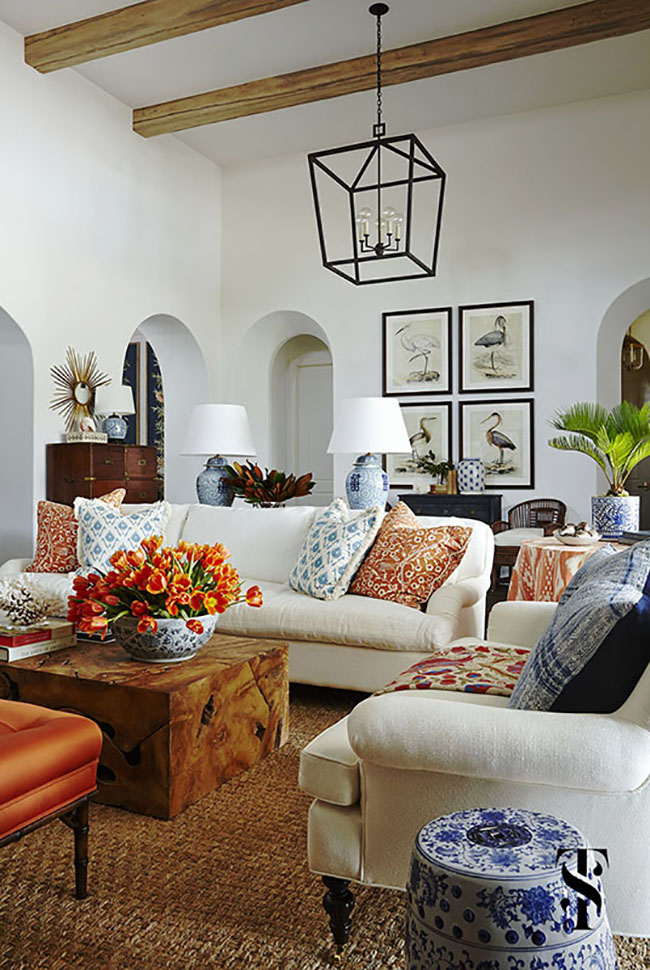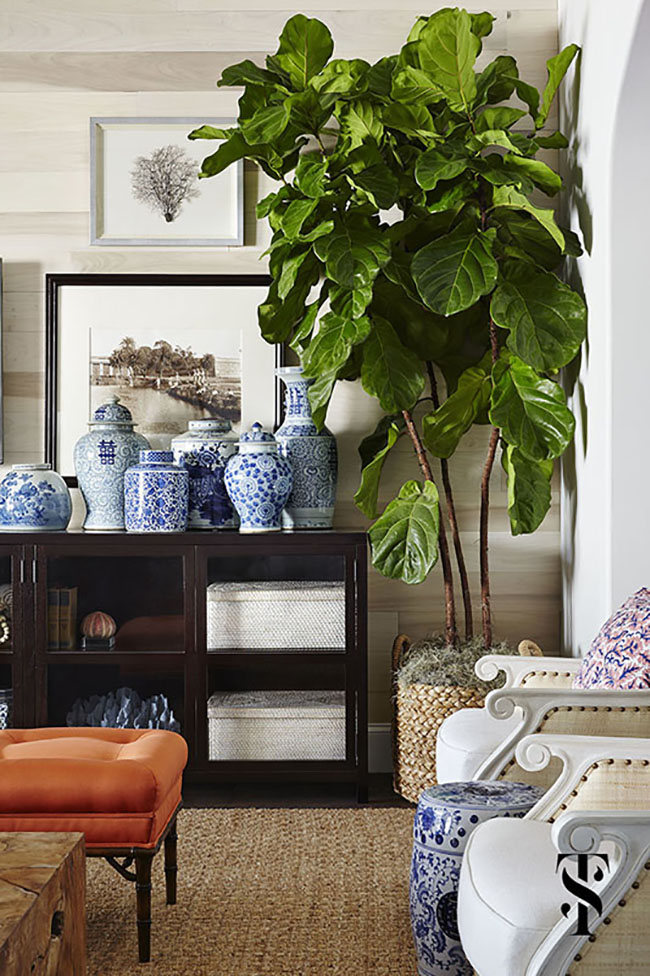 "In total, I think we had more than 200 pieces of coral - about 600 pounds, I believe - and over 50 pieces of blue-and-white pottery interspersed throughout the home," she says.
Thornton used metallic accents, wood, textured wallpapers, and natural fibers to add warmth and a layered look to the home.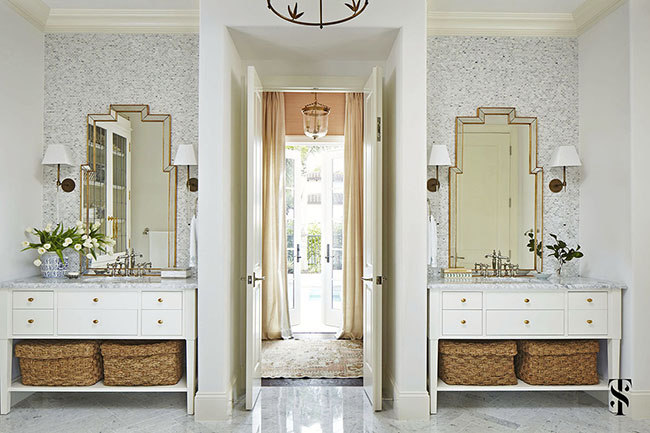 "A few of my favorite features include the flora and fauna hand-painted panels in the foyer, the blue-and-white Granada tile backsplash in the lanai, and the faux-bois wallpaper in one of the guest bedrooms," she says.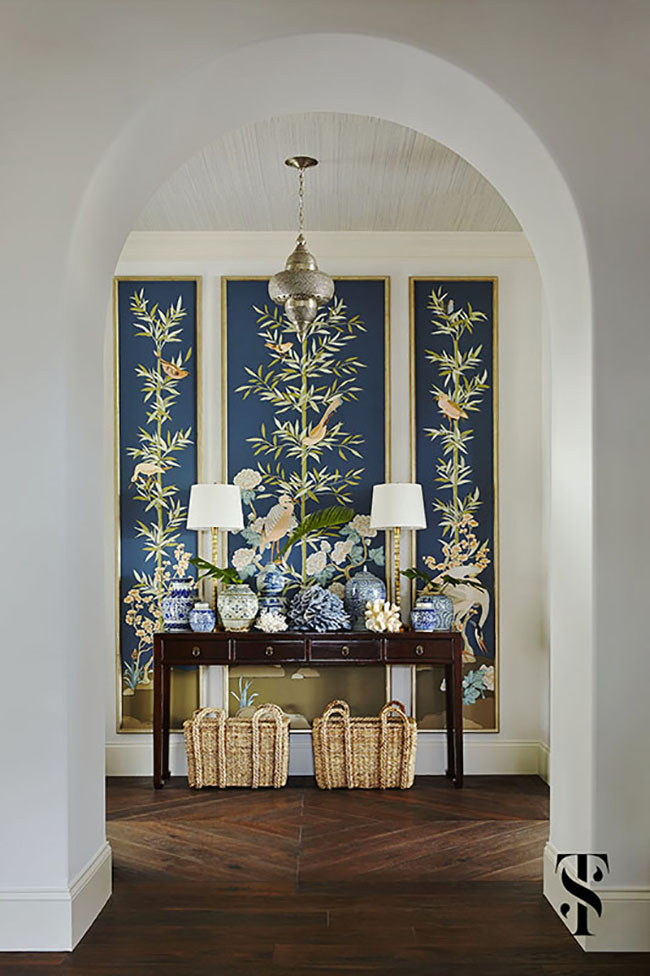 Get the look at home
Look to nature for inspiration. "Too often I see homes full of beige and tan because people think it will go with anything," says Thornton. "But if you look at nature, there's a variety of tones and colors and shades found throughout. Green and blue are so prominent in nature that the eye actually sees them as a neutral." Thornton advises mixing and matching colors when choosing furniture, paint, and decorative elements.
Accessorize, accessorize, accessorize. "Most homes I see are 80 percent complete," says Thornton. "They have all the furnishings, all the must-have items, but they're missing the touches that make a house feel like a home." Layering and stacking decorative accessories gives a room a finished look. Starting a collection is a good way to amass items that can add personality to your home. "Once you do, your home will feel more personal, unique, and complete," she says.
Mix your metals."I'm a firm believer that kitchens often feel flat because everything matches too perfectly," says Thornton. "By simply changing your cabinet hardware, you create a whole new look." In this home's kitchen, Thornton mixed three different pull styles, and used both brass and polished nickel.
Find pillows that pop."Most of the upholstery in this home was white, so we made it pop with colorful pillows," she says. Grab your favorite pillows and textiles, and layer them on your couch or bed to give your home an effortlessly collected look.
See more home design inspiration on Zillow Digs.
Photos by Brantley Photography.
Related: