With an all-white color scheme and Moroccan decorative elements, this refined yet relaxed family vacation home in Florida's Alys Beach offers an ideal coastal getaway. "We wanted to keep it minimal and light," says designer Susan Jamieson of Bridget Beari Designs.
The homeowners, with whom Jamieson had worked on three other houses, had a definite goal in mind: wanted a no-fuss, comfortable getaway with casual open and airy spaces. And they asked Jamieson to incorporate cultural elements from Asia and Africa.
A warm welcome
At the home's entrance, a stairwell makes a dramatic architectural statement with carved wood handrails reminiscent of rope, as well as floating steps and Moroccan-inspired molding framing the archway. Concrete candle canisters from Thailand add an ambient glow.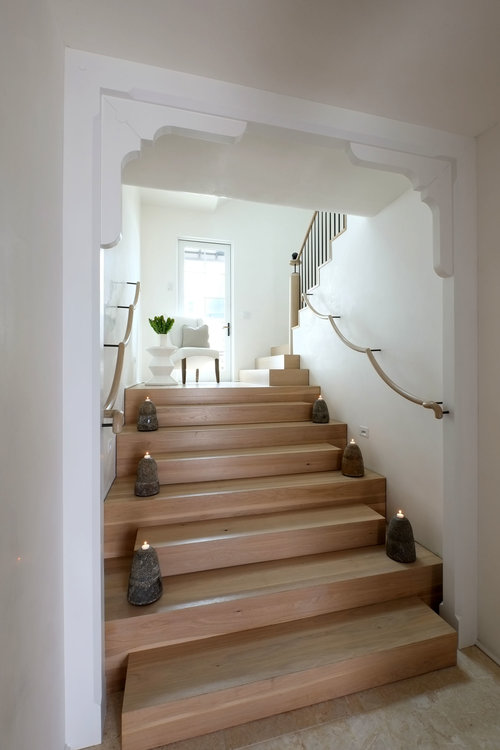 And at the top of the stairwell, sculptural metallic light fixtures twinkle like stars at night.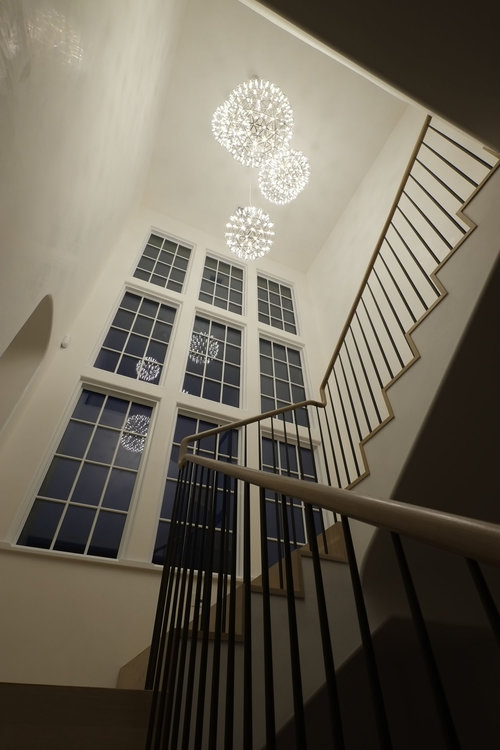 White Venetian plaster walls with a slight sheen give the interior of the home a clean and tranquil feel, while white-washed wood floors add warmth and texture.
"The challenge was doing an all-white house at the beach, where you will be entertaining people," says Jamieson, who was conscious of the fabrics and textures she used in the home. Vinyl upholstery was used throughout so kids could sit down in their wet bathing suits without ruining fabrics. "We wanted things that we could wash and wipe off and not worry about," says Jamieson.
Throughout the house, the designer eschewed rugs to make it easier for the homeowners to sweep up sand that would be trailed in from the beach. "It's simple, clean, and easy for the homeowner to take care of," Jamieson notes.
With an open and flowing floor plan, the unique home sprawls through four stories. An open living room seamlessly eases into the kitchen, where white oak cabinets in a gray-washed finish are set into the molded Venetian plaster. Luxurious Calcutta marble surfaces add to the kitchen's clean and minimal look.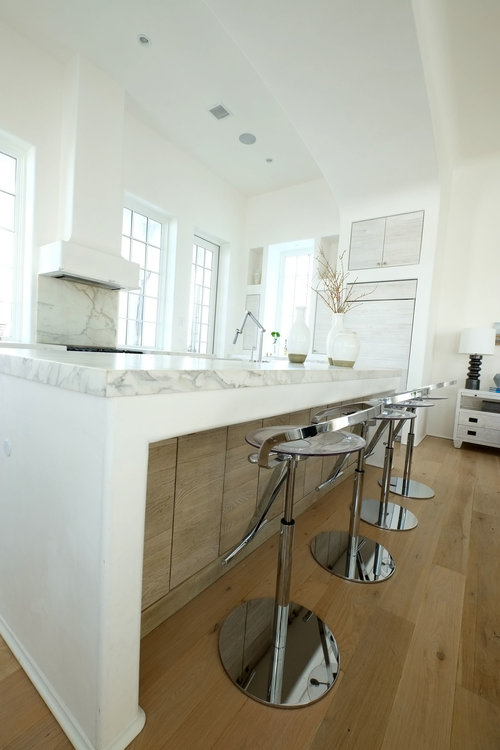 Cool and comfortable
In the family room, grass shades and ethereal white draperies hang from the ceiling, cloistering the room from the outdoors, while also welcoming plenty of natural light. An oversized wood coffee table anchors the living room, along with a sectional covered in washable linen. Jamieson accessorized the space with organic-looking cultural elements like a wooden hand chair from Noir, along with Indonesian accents.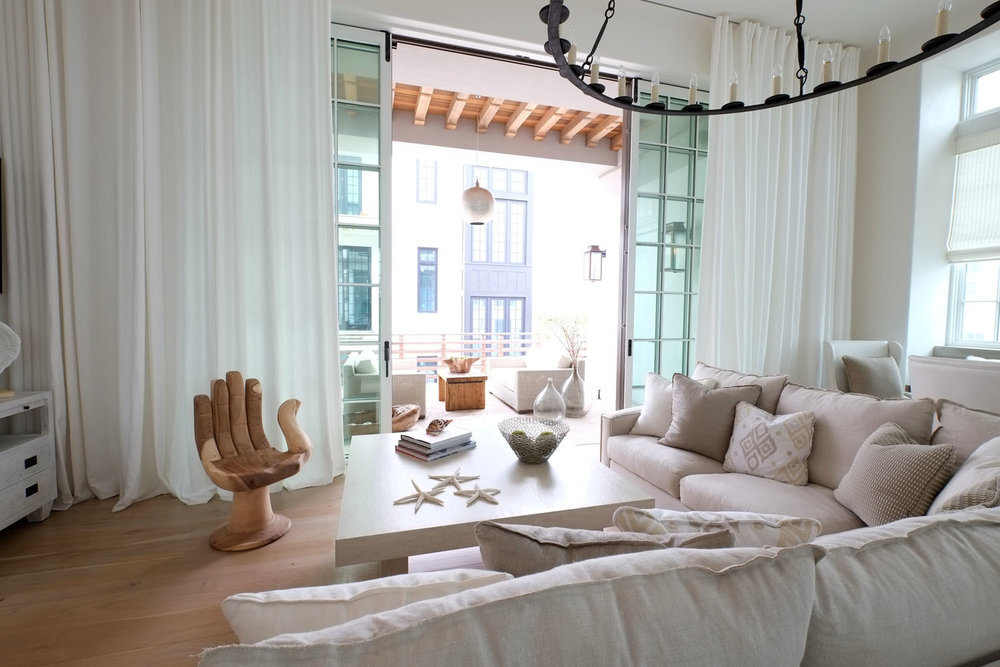 "The homeowner likes a little bling," says Jamieson, so she incorporated oversized sculptural light fixtures throughout to glam up the casual all-white space. In the living room, large black chandeliers add drama and visual interest to the airy crisp white space, while also emphasizing the height of the soaring ceilings.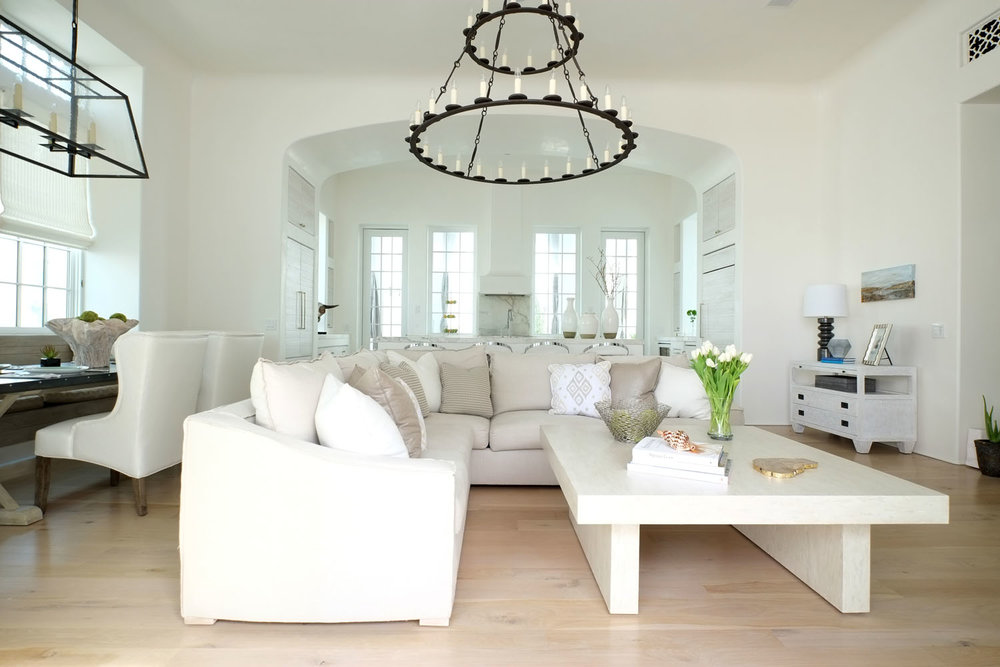 "There's a mix of modern glam in this beach house," says Jamieson. "Mixing styles is more interesting."
Step outside
From the terrace to balconies, outdoor living areas are plentiful in the vacation home. Retractable doors open from the living room out onto a balcony with casual rattan seating.
And off the kitchen, there's a two-tiered patio with a raised dining area and pool on a lower terrace. The dining area's banquette is topped with Sunbrella cushions, draperies frame the space, and Moroccan-inspired chandeliers add a far-off feel.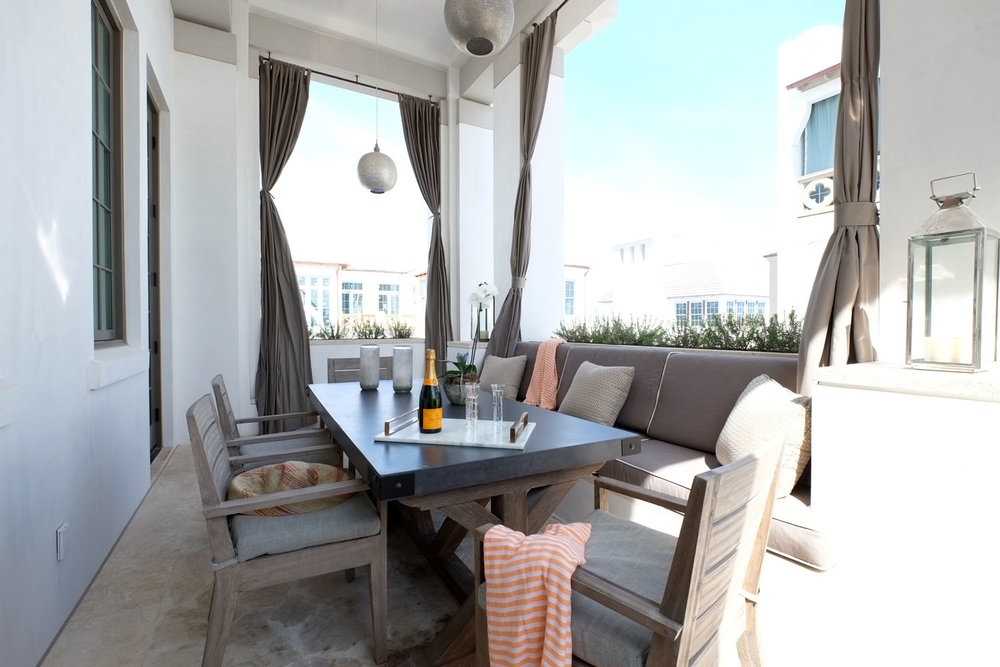 Inside, a television room for the kids is secluded by a Moroccan screen door, and spruced up with contemporary art, a lavender linen sofa by Verellen, and a glass-and-crystal chandelier.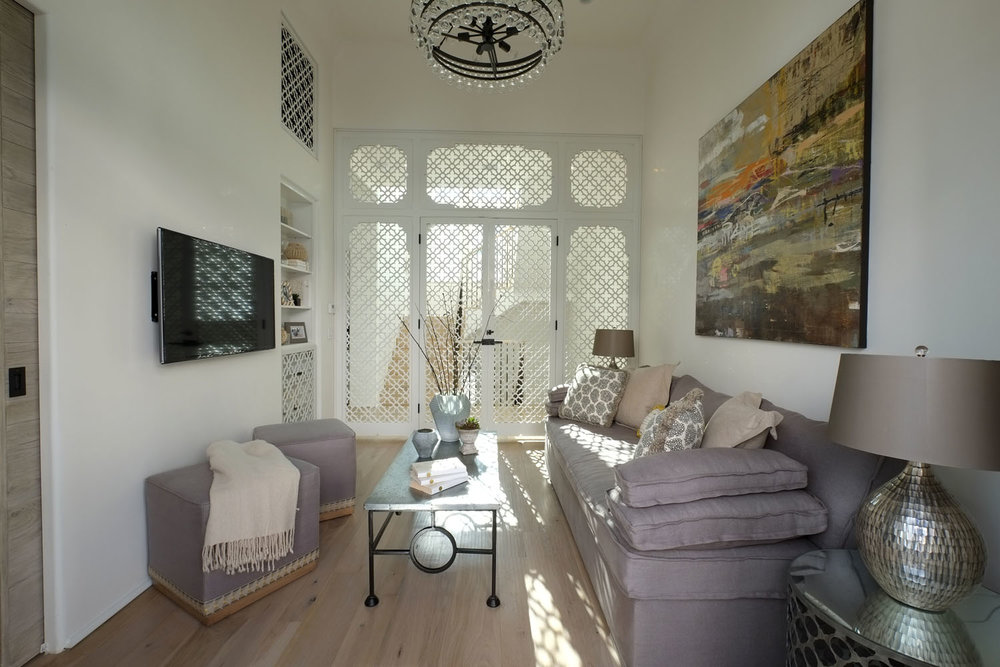 In the powder room, earthy elements like a driftwood log and wood shelving pair with glamorous silver metallic tile.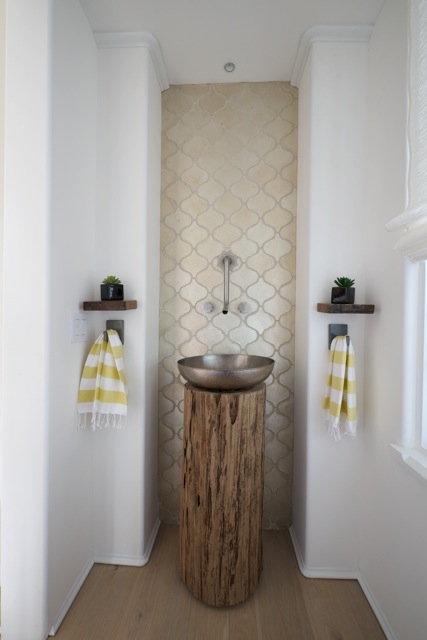 On the third floor, the master bedroom and bath combine organic washed-wood finishes with crisp whites to create a relaxing retreat. The bedroom's metallic table adds luxe texture, and a cabinet at the end of the bed tucks away a flat-screen television to keep views unobstructed.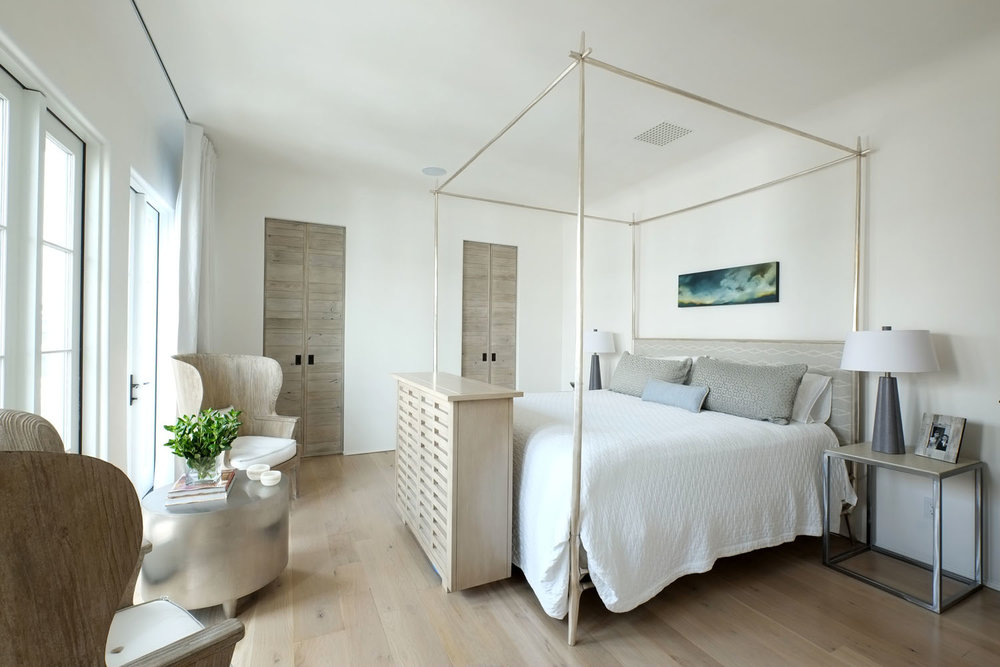 A clean and contemporary master bath incorporates the same white oak cabinets in a gray-washed finish from the kitchen, and are paired with Silver Athens marble. Floating shelves and glass pendant lights keep the washroom pure and simple.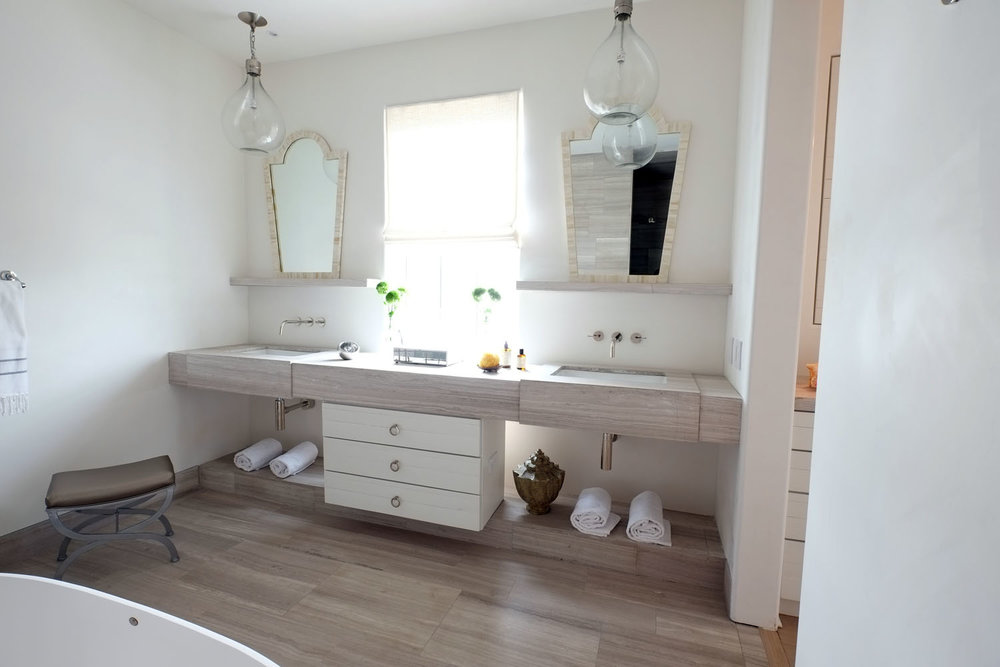 "We wanted to keep it minimal and free of fuss," says Jamieson. The designer created a spa-like sanctuary by surrounding a contemporary Kohler freestanding tub with smooth river rocks.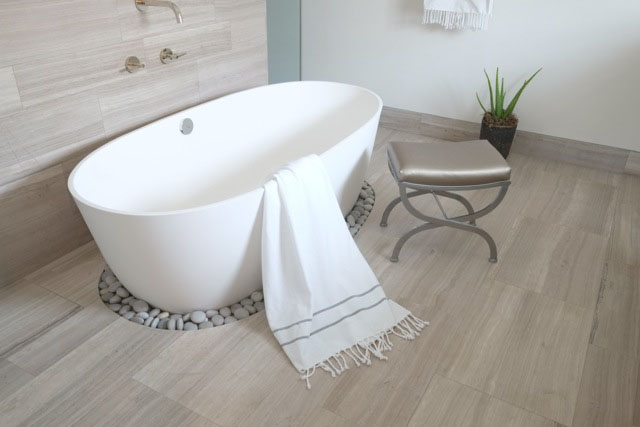 Rest stop
In the other bedrooms of the house, Jamieson introduced subtle shades. A soft blue-and-white color palette makes for a feminine girl's room that is accessorized with a rattan stool, African juju hat, and funky pendant lighting.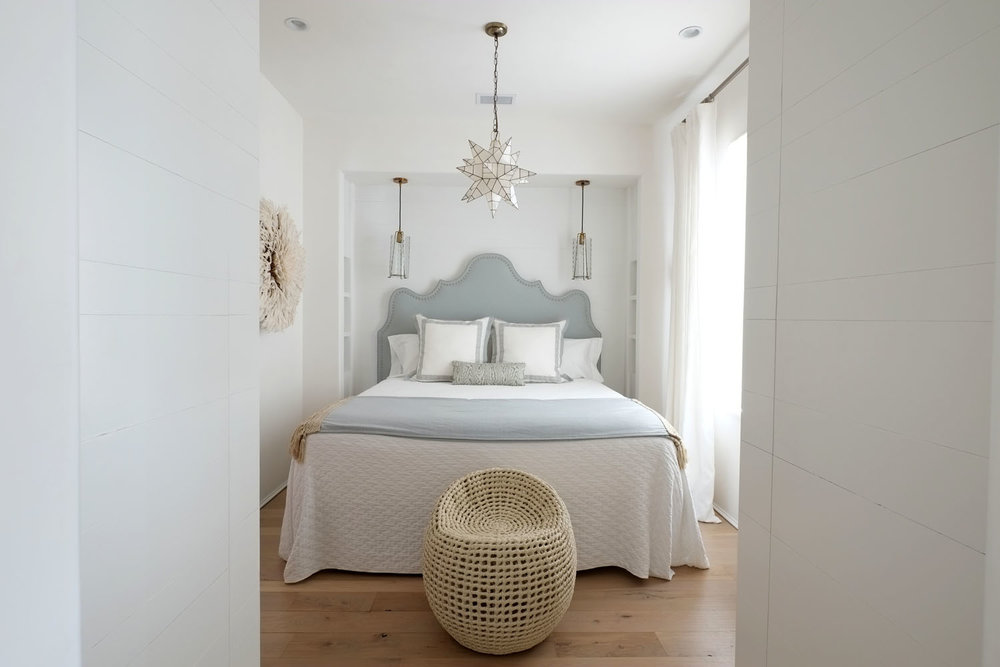 The boy's bunk room is decked out in a gray-and-orange color scheme. Four white shiplap sleeping berths incorporate a ledge to plug in gadgets and a sconce for reading in bed. Sleeping bags in lieu of traditional bedding make for easy bed-making in the morning.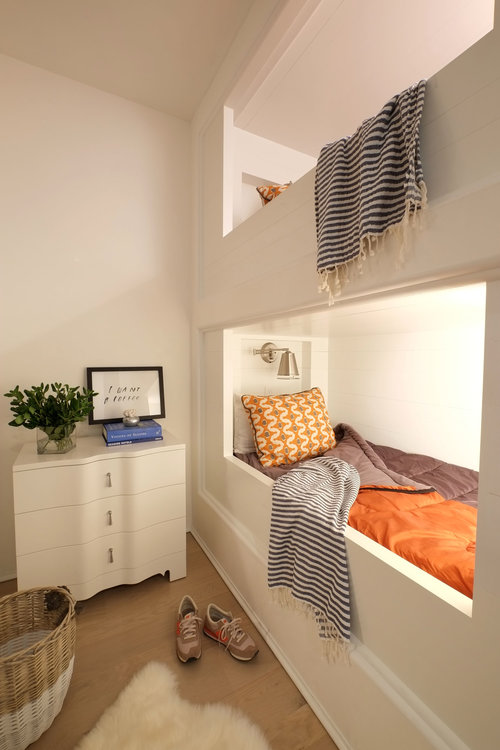 A sunny yellow-and-white guest room is glammed up with brass, from the bed frame to the curtain rods.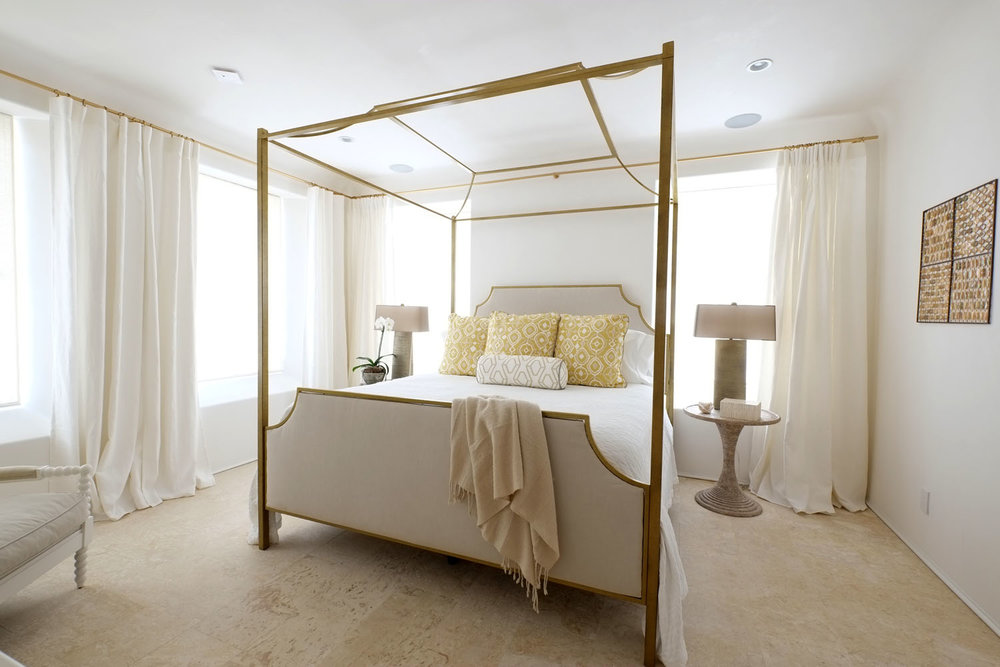 In the bathroom, natural surfaces like the limestone walls and gray wood cabinetry mix with sleek contemporary features like a trough sink, recessed mirror, and brass hardware.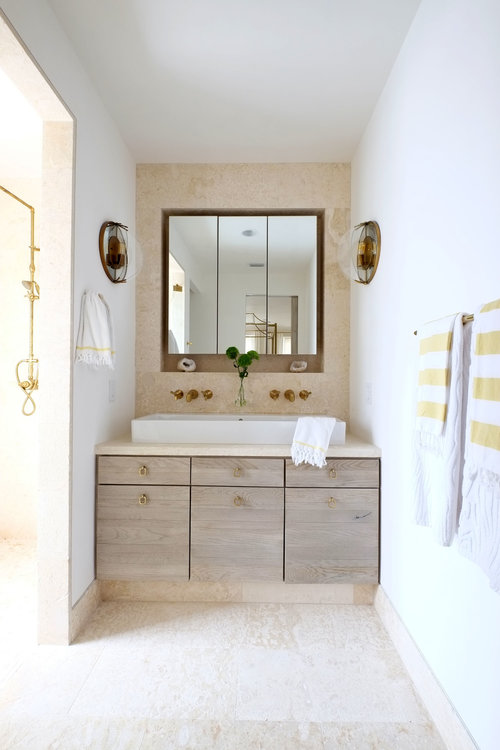 On the fourth floor, a sitting room offers 270-degree views, with three walls of windows. A show-stopping gold zebra-print sofa makes a chic statement, and a chair covered in a washable linen slipcover and topped with a vinyl pillow offers up kid-friendly seating.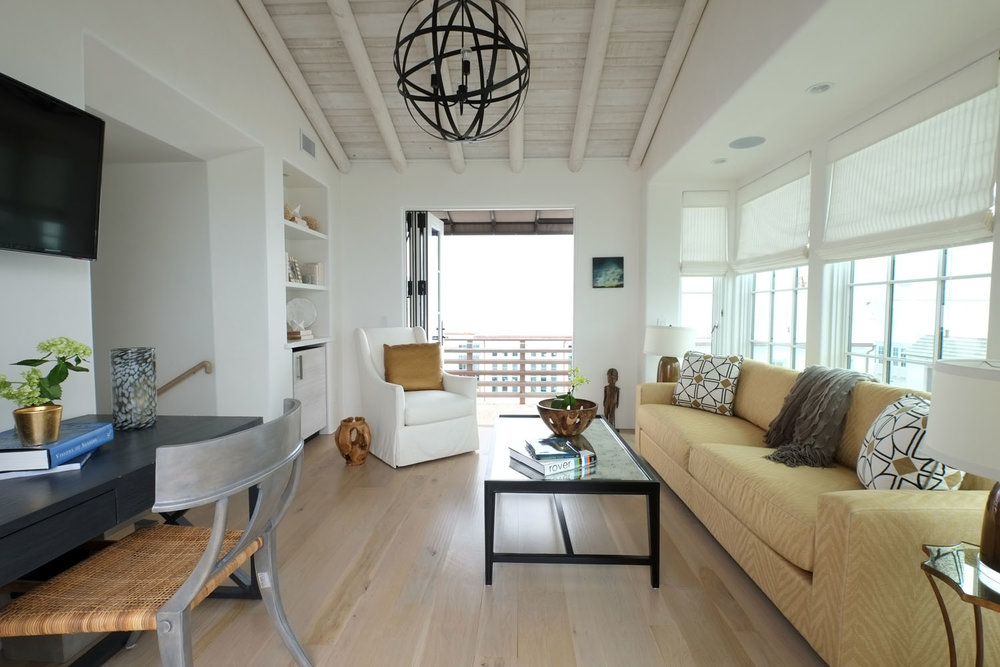 Get the look at home
Remove all your rugs. "That's a way to keep the space nice and clean," says Jamieson, who says this makes it easy to sweep up messes.
Experiment with vinyl. "It's no longer your grandmother's vinyl," says the designer, who used the fabric throughout the home. "It comes in unique colors, and you can use it on kitchen chairs."
Pare down. "Take away everything, accessory-wise, and then put it back in a very simple way," says Jamieson. "Try to edit your room."
In a neutral space, make a bold statement. "I always like to go big with chandeliers to make more of an impact," Jamieson explains. "I could've created an all-white space and done a metal chandelier, but I found a large black one to make a bold statement."
Photos by Joe Bernado
Get more design inspiration on Zillow Digs.
Related: