There's a century of history woven into the floors of a contemporary home east of Seattle: golden planks, shiny blondes and the occasional knotted gray.
It's just how Amanda Gatlin wanted it - even if she didn't expect, at first, it would involve recycling an entire Mississippi barn with pieces dating back to when Woodrow Wilson was president.
"It was my great-grandfather and grandfather and a bunch of people in the community who helped build it," said Gatlin, referring to the barn 2,300 miles away. "Some of the pieces of wood are 100-plus years old."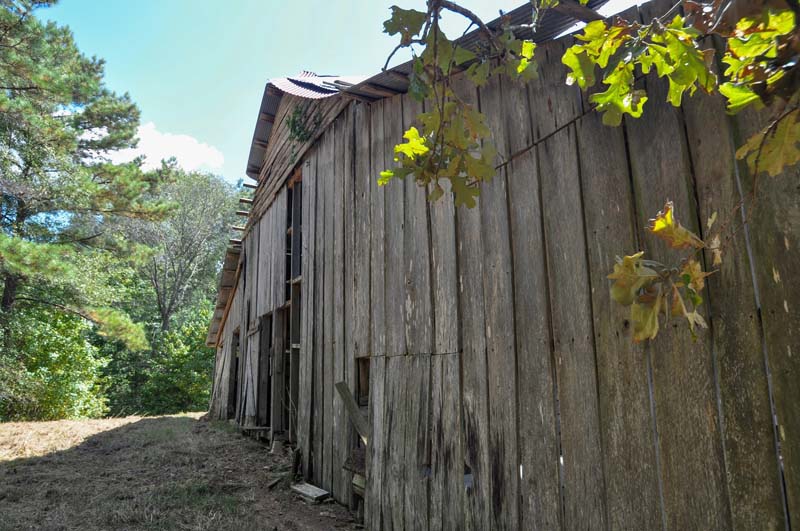 What started out as a small undertaking - Gatlin and her husband, Jeff Layton, peeling away a couple wood slabs for a picture frame or accent wall in their Northwest new construction - quickly grew into something more.
"I don't know how it transitioned from a few pieces to taking down the whole barn," said Amanda's husband, Jeff Layton. "Amanda's dad talked to the landowner and they said, 'You can come and take the whole thing.' That evolved into, 'Gosh, let's salvage this thing.'"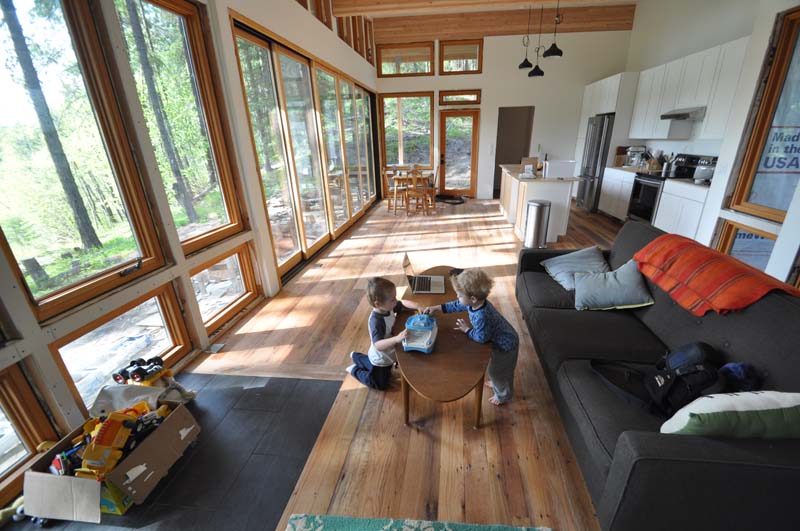 'I called it my clubhouse'
In 1912, Amanda's great-grandparents started a farm in rural Choctaw County, MS, about two hours south of Memphis. They ran a small dairy operation while growing corn and cotton. In 1949, the family built a large wooden barn on the same piece of land.
"The lumber was primarily white oak," said Boyd Gatlin, Amanda's father. "I think we kept three jersey cows and a bull. We would hand-milk in the morning, and then we sold it."
"I grew up drinking raw milk. That's why I have such a great immune system," he joked.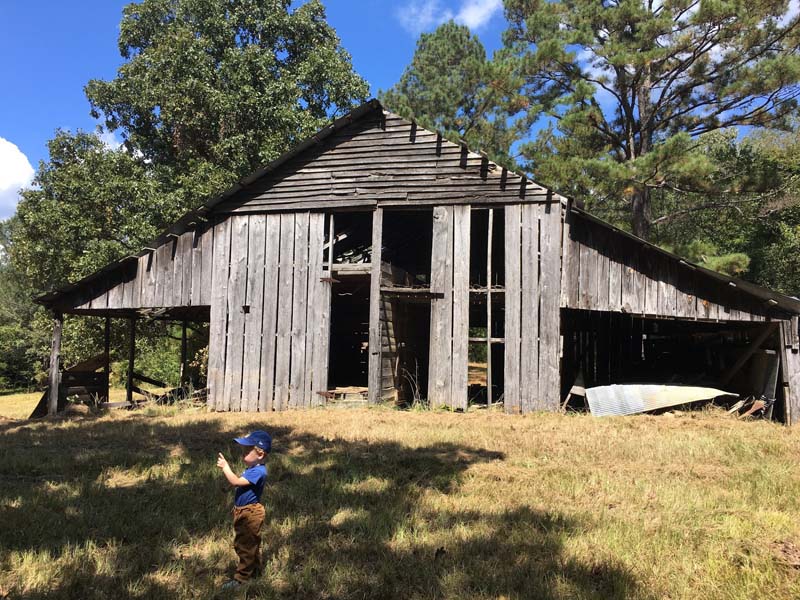 Boyd played in the barn as a child, jumping out of the hayloft or getting stung by wasps in the summer. His family eventually moved away, but later learned the new owner added onto the barn using wood from Boyd's grandparents' home nearby.
"So there are some unusual materials," Boyd said, "some of which had square nails, indicating they were more than 100 years old."
The Gatlins re-purchased the land when Amanda was 7, using it as a country home to spend weekends or vacations. The sale allowed her to play in the same barn her father played in as a kid.
"I remember sitting up in that loft. I called it my clubhouse," she recalled. "You could dangle your legs over the side and look out onto the other house on the property - into the tall grass."
"I would jump off and stuff," she continued. "You're springy and young."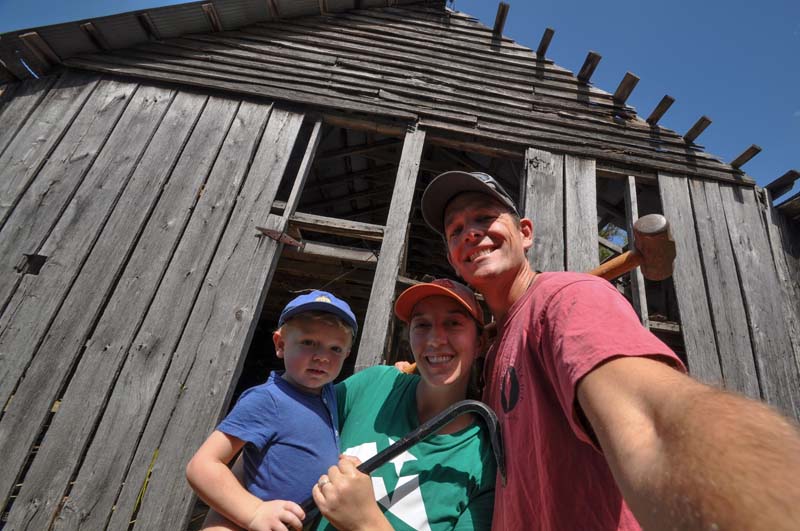 'We were swinging sledgehammers'
When Amanda and Jeff set out to salvage the barn in 2016, it no longer belonged to her family, but they struck an agreement with the landowner to take it apart. They booked a flight from Seattle to Mississippi for September, hoping Mother Nature would give them a break from the unrelenting summers of the South.
As with many aspects of the project, it was a lot more complicated than one might expect.
"It was 95 degrees, super high humidity. It was just scorching hot," Jeff recalled. "We were swinging sledgehammers and it was by hand. Everything was by hand."
The couple had done their research. A lot of people, it turns out, take apart barns for a living.
"[Other people are] using cherry pickers and forklifts. We didn't have access to that," Jeff said. "But as it turns out, it all came apart pretty easily. No electricity. It was all done by hand."
The duo used sledgehammers to take the barn down, piece by piece. Relatives and neighbors joined in for days at a time. A tornado that hit the area a few years back had loosened up some of the planks, making it a little easier.
They got lucky, they say, in that there were no menacing bugs or wasps. They found some ants - and the occasional relic.
"Sometimes we found bullets inside [the wood]," Jeff recalled. "Apparently it's really common in the south to go shooting at old barns."
It took the pair a full two weeks to take the building apart and remove the nails by hand. In the process, they discovered the barn was more than 90 percent hardwoods, forming a solid base for their Seattle home's new floors.
They also discovered something else: the importance of family.
"One huge benefit of doing all this labor is that we've bonded with family," Amanda recalled. "You sweat together, you have lunch together. It's an amazing bonding experience."
Long hours toiling in the hot Mississippi sun sparked great stories of the family's deep roots. Amanda's father shared tales of living on the farm as a child. A cousin talked about flying helicopters in the Vietnam War. Another cousin drove up from Florida and helped for three days, along with her husband.
"It created opportunities that we would not have had otherwise," Jeff added.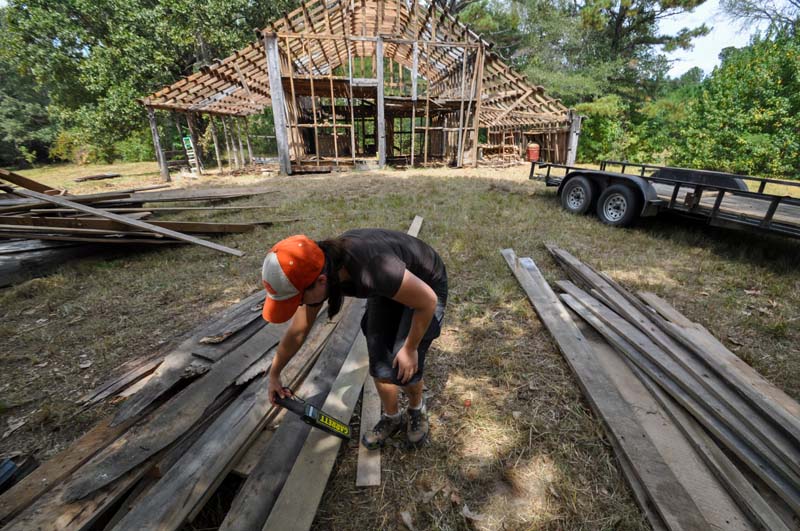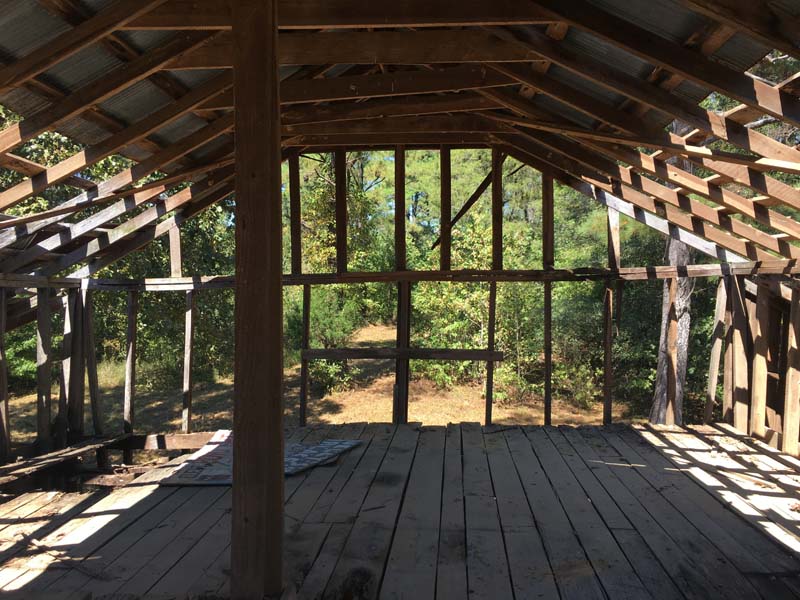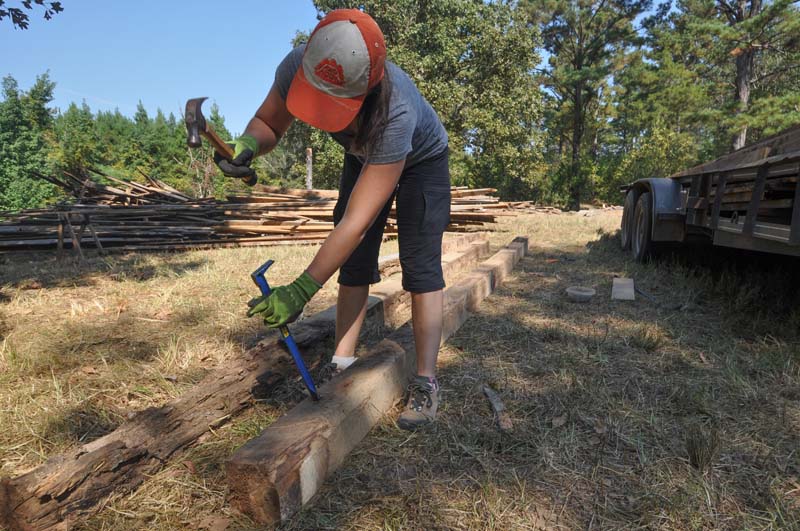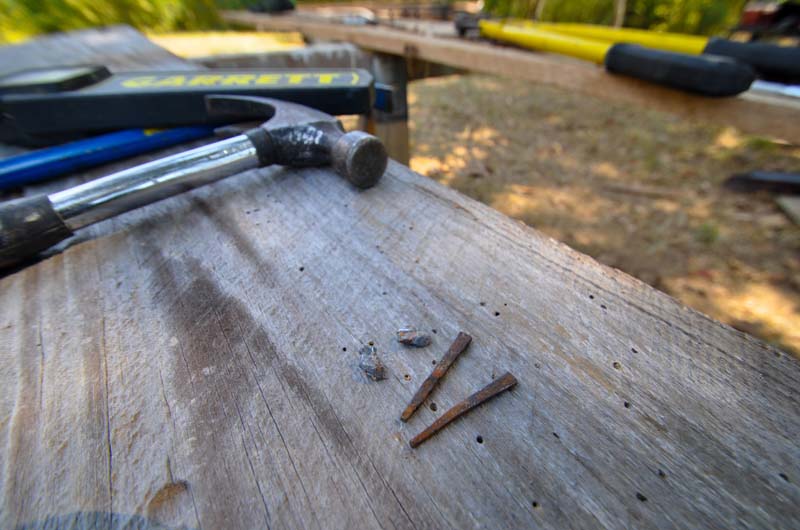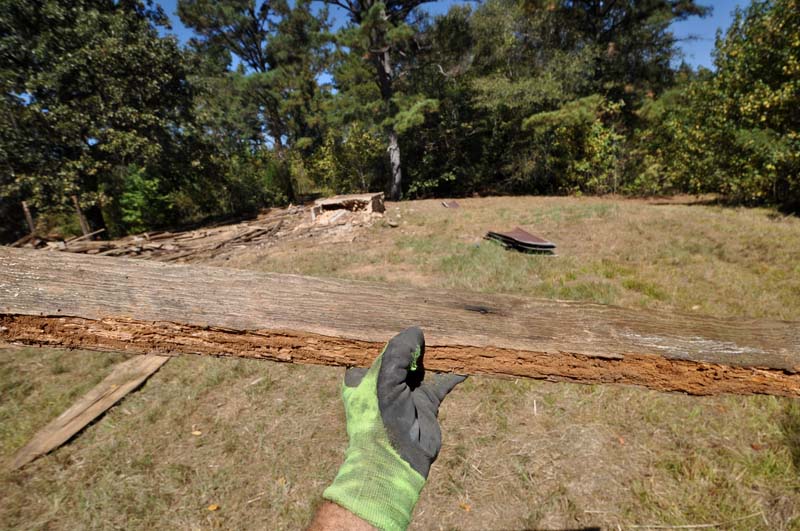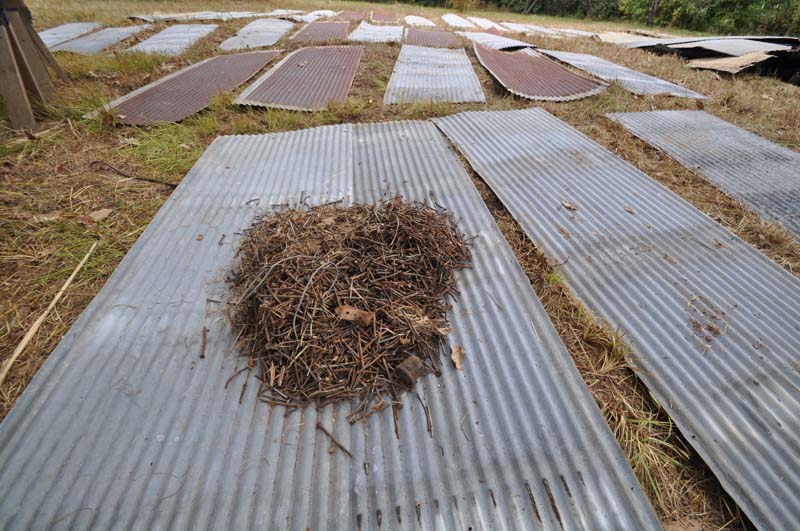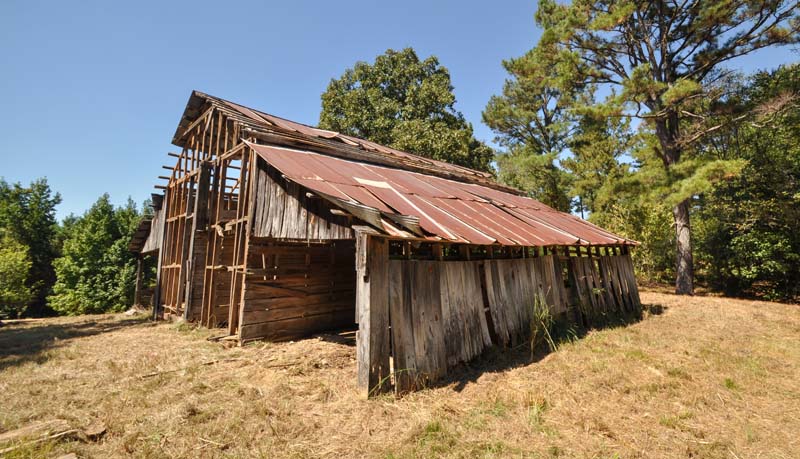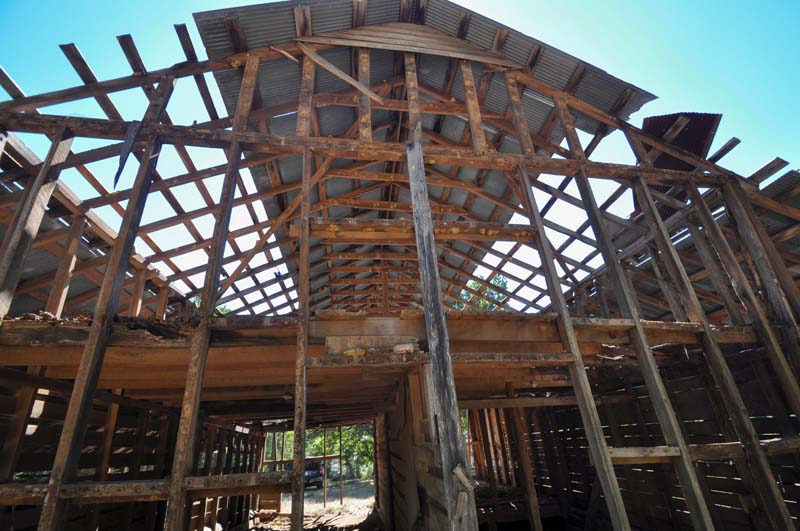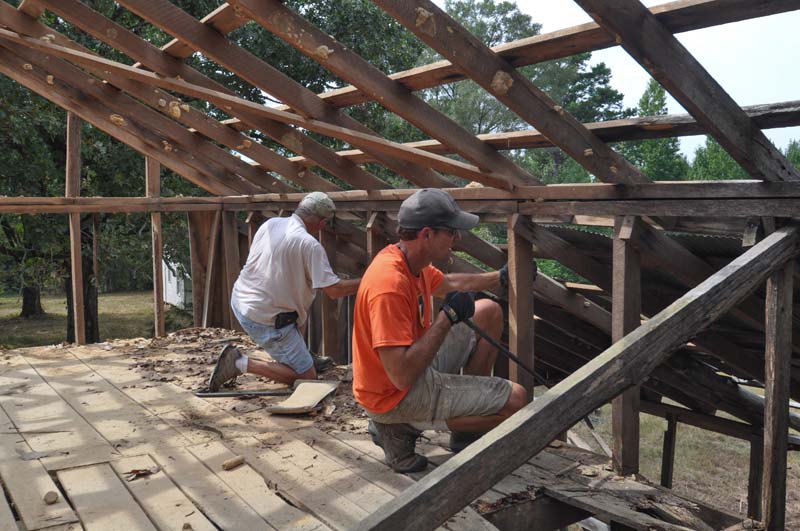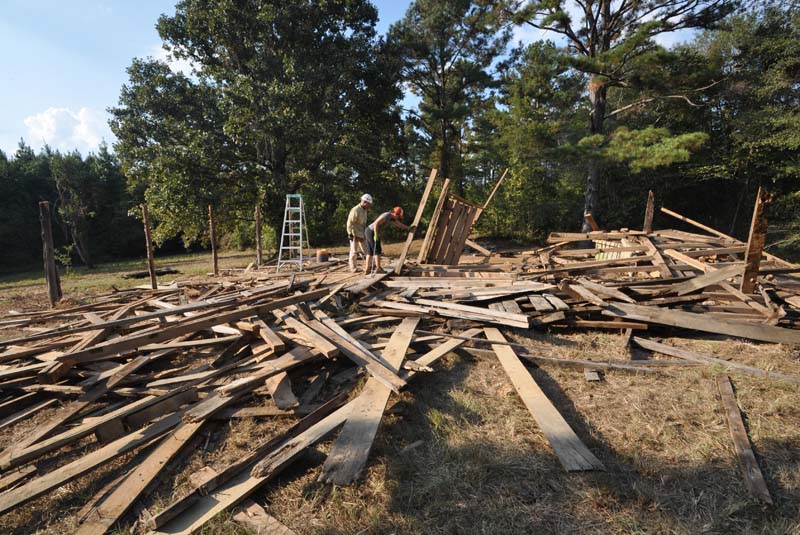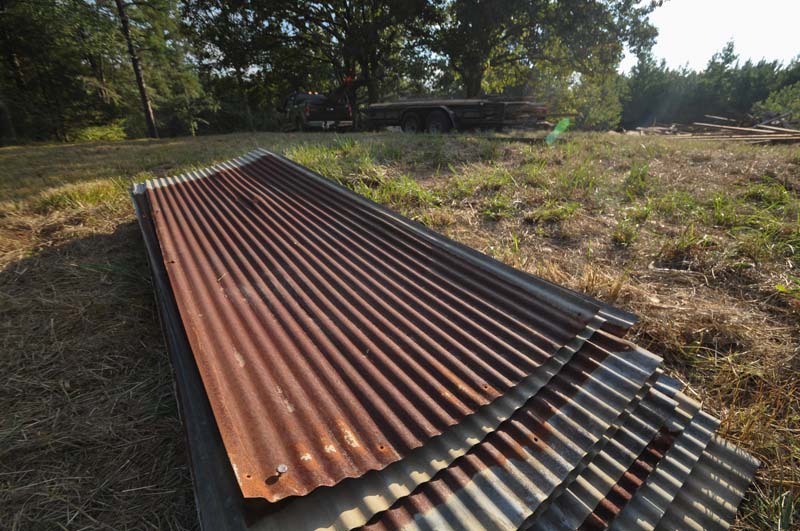 'He was telling me stories from the Navy'
Once the wood was taken apart, it had to be milled and transported across the country. A local Mississippi mill, dating back to 1875, sanded down the boards and created tongue-and-groove joints, costing the family about $6,000.
"A lot of the pieces we were pulling down had that gray patina on it. The mill guys said 20 years ago, you couldn't give it away," Jeff said. "But now it has that aged look people are really looking for."
Jeff planned to drive the wood across the country. His father, who also lives near Seattle, was planning to meet him in Arkansas.
"It was quite an adventure. The day I left Mississippi, there were all these tornado warnings. There were tornadoes touching down around me, and it was really dark," he recalls. "I was thinking, 'What am I doing? What have I done?'"
Jeff and his father drove through the south to escape the cold winter weather. The duo ended up having their own family experience getting the hardwoods back to the west coast.
"He was telling me stories from the Navy. We talked politics and religion," Jeff added. "I got to spend all this great time with my dad."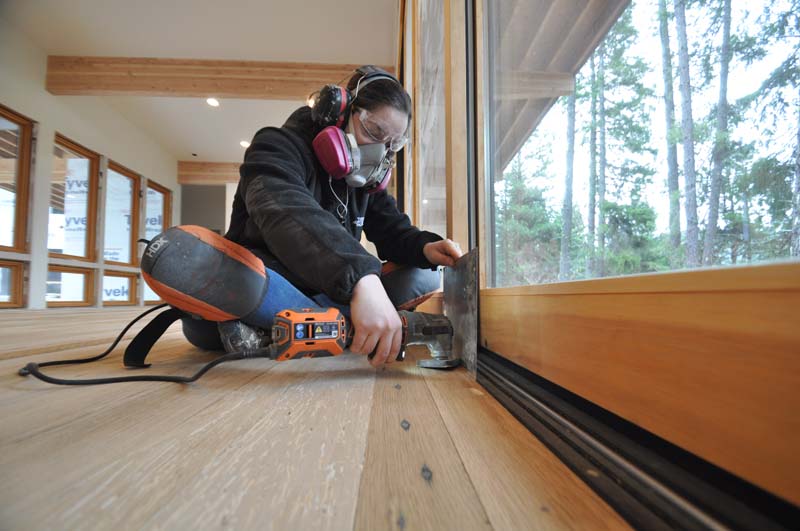 'Putting a puzzle together'
With the wood safely back in Washington, the couple stored it for the winter, enduring subzero temperatures. They placed it in the garage of their rental home, covering the pieces with plastic and putting a heater in the room to keep the moisture down.
Before installing the wood, they sprayed it with an insecticide. The duo worked 12-hour days, laying out the floors in the main rooms, along the stairs and in a couple of small loft spaces.
They were working with five different board widths, along with different wood species. The couple loved the look - even at the risk of having the boards expand and contract at different rates.
"You basically start putting a puzzle together," Jeff says.
That patchwork meant hiding some 'Easter eggs' throughout the house. The couple found a smiley face in one plank of wood, placing it outside their son's room.
"We would find different knots that look like things, [such as] an Eiffel Tower. We have a room that has two bears in it. We have one that looks like a wine spill," Jeff says.
The installation, from bare floor to stained, finished wood, took the family about two and a half weeks.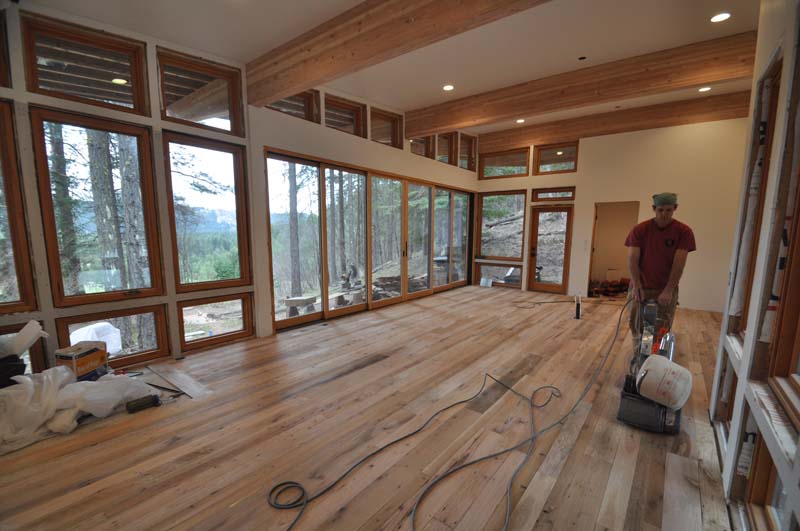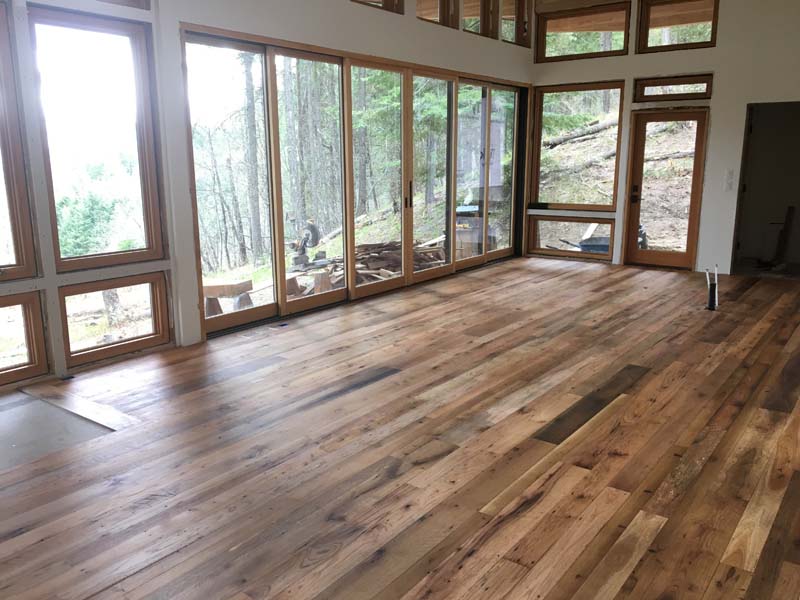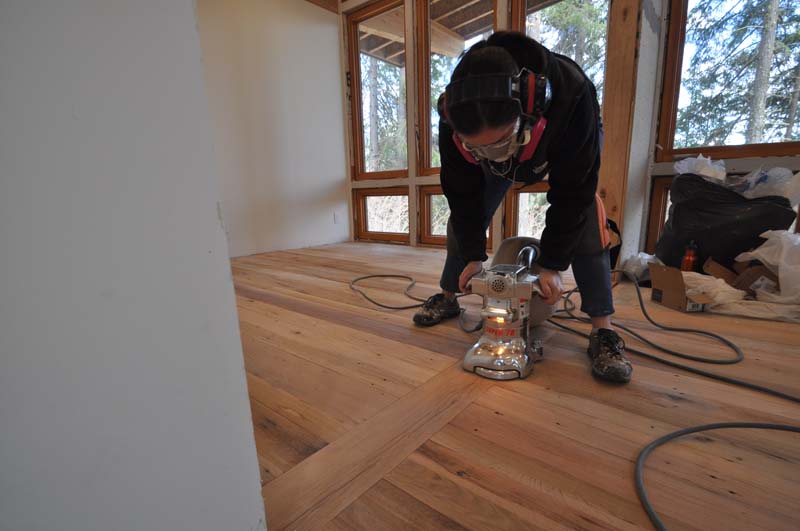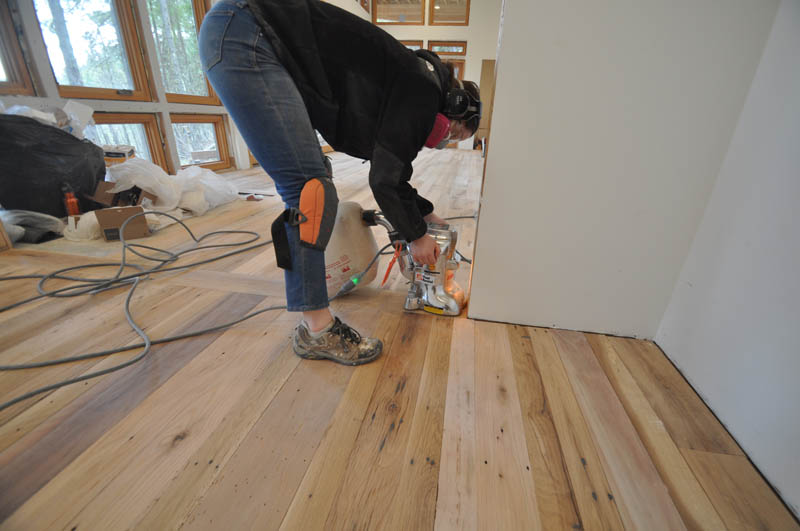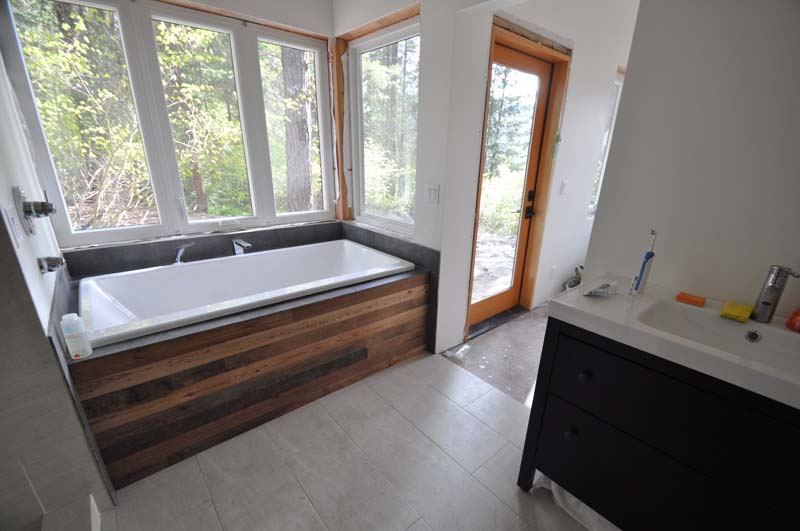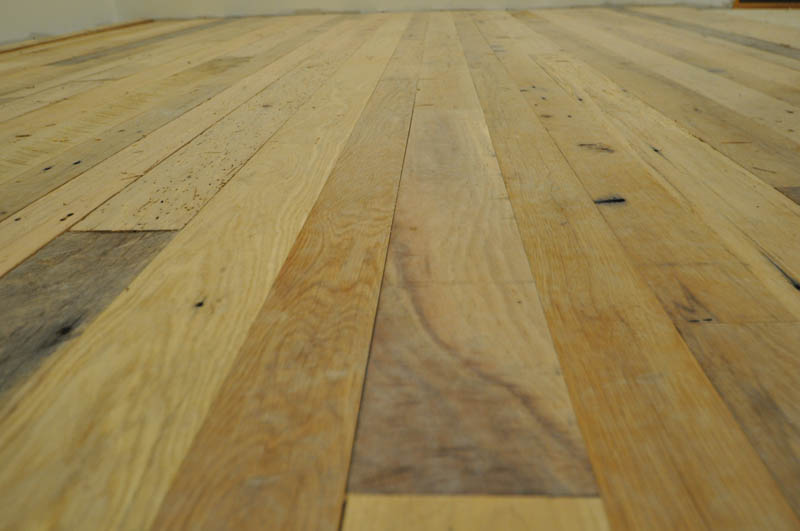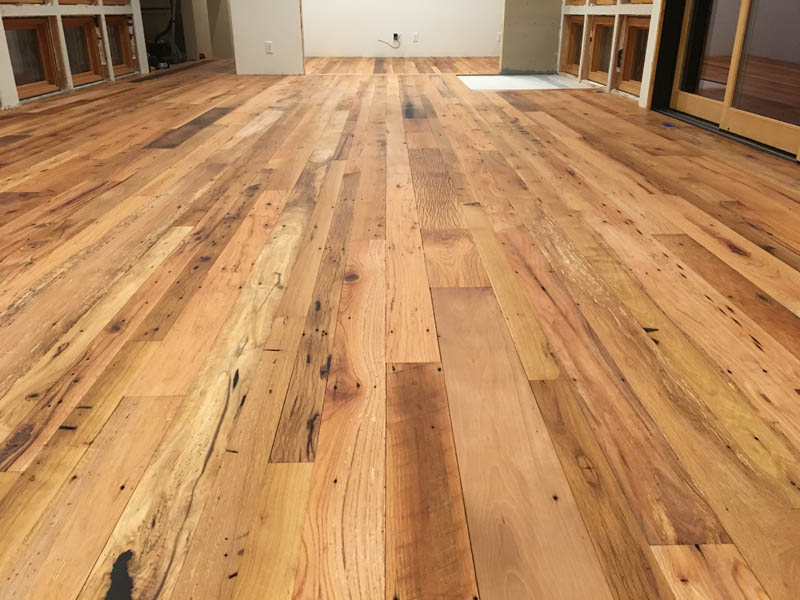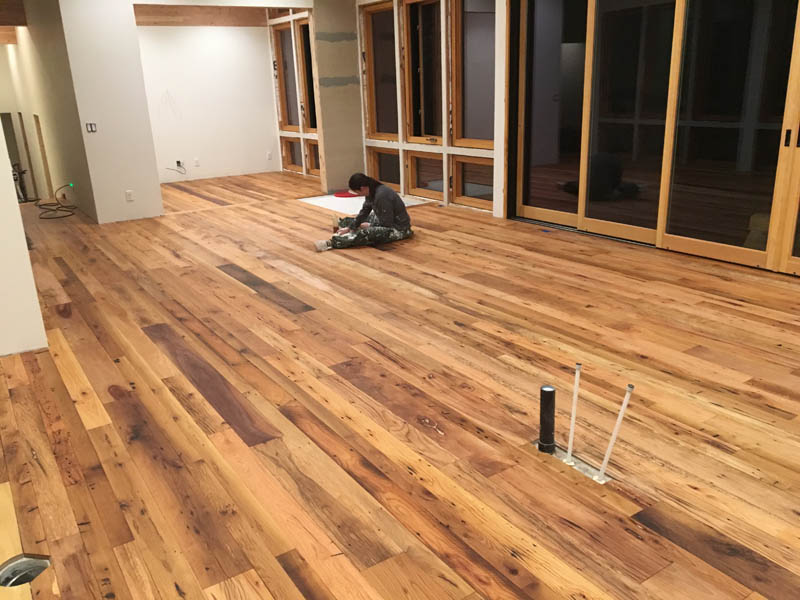 'A good substitute'
The couple is now fully moved into their 3-bedroom, 3-bathroom home and ready to welcome guests over the summer, when sunshine brings warm weather and ideal conditions for hiking, rafting, and barbeques.
It wasn't the least expensive way to put floors down, added Boyd Gatlin, Amanda's father, but it is certainly special.
"In a nutshell, their flooring was quite expensive but it is like no other in that it carries family memories," he said. "We had a house fire in 1960 that destroyed all family heirlooms, so Amanda and her cousin both felt the barn wood would be a good substitute."
Not all the wood was solid enough for the floors. Some of it became the lining of the master bath; the couple is also talking about doing some accent walls in wood.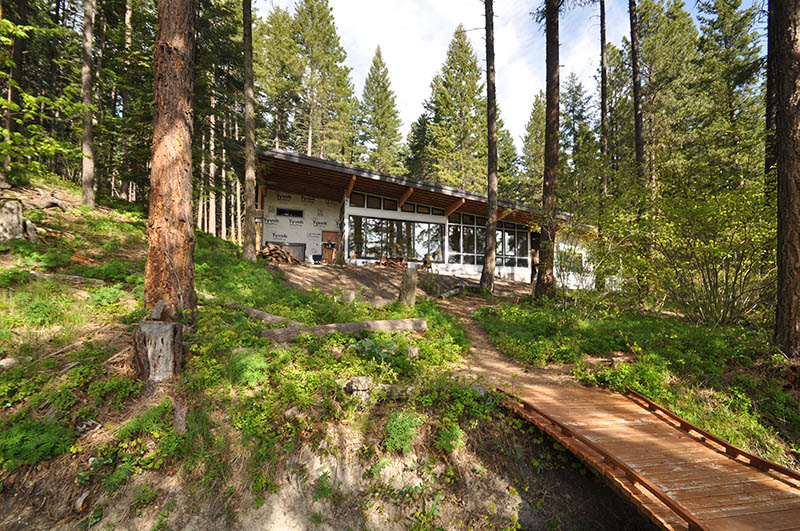 Boyd commissioned two paintings of the barn from a relative. The family plans to build a picture frame out of the leftover wood and some of the square nails. Even the rusty old barn roof will be put to good use as siding on Jeff and Amanda's home.
Most importantly, the family loves to share stories about how their hardwood floors were more than 100 years in the making.
"We've been blown away by the results," he said.
Photos by Jeff Layton, Amanda Gatlin and Boyd Gatlin.
You can follow Jeff and Amanda's progress on their blog, Married to Adventure.
Related: