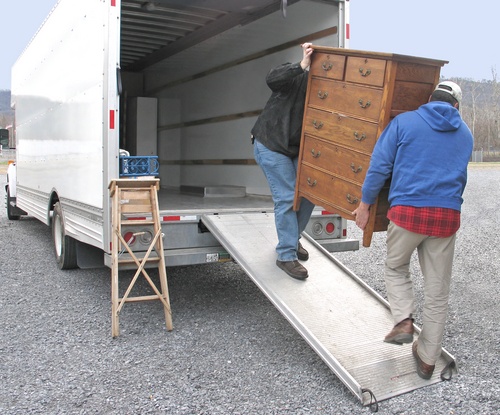 If you've decided to save some money on your move by packing the moving truck yourself, you'll want to make sure you maximize the space available while minimizing the damage to your belongings. Take these tips from the pros to pack your truck the right way.
Items you'll need
Before you even begin loading those boxes onto the truck, gather all the supplies you'll need. These include:
Moving blankets or paper padding for furniture
A dolly
Plastic stretch wrap
Plastic sheets or tarps
Packing tape
Tie downs like bungee cords, rope or ratchet straps
Gloves
Step ladder
Before you load the truck
If you take a little time to make a game plan before you start loading, you'll save yourself time and more than one headache.
Make sure all your boxes are properly packed to safeguard against damage during the move.
Defrost refrigerators and freezers at least 24 hours ahead of time.
Prepare washing machines.
Label all your boxes with what's inside and where they go in the new place.
Disassemble furniture that can be taken apart.
Wrap furniture and other unboxed items with plastic wrap, paper padding or furniture pads.
Pack an overnight bag.
Take very fragile items and electronics like computers in the cab or car with you.
Packing the truck
There is a strategy to packing a truck, and following these steps will make the job much easier.
Park the truck as close to the entrance as possible and make a clear path to it.
Lay the tarp or plastic sheets on the bottom of the truck to keep items clean.
One person should stay on the truck to organize all the items, while the others bring the items from the house to the truck.
Move as much furniture as possible outside so you can better see what order it should go into the truck.
The first things onto the truck should be the heaviest and largest items like appliances, mattresses and couches. Start with the appliances, then load sofas, chairs and entertainment units.
Don't place an item with sharp edges against a fabric piece, as it could cause damage.
Place wrapped mirrors or glass in between mattresses or cushions.
After all the furniture and appliances are loaded, then load the heaviest boxes.
Stack items floor to ceiling, using every available space.
Pack the truck in tiers, and tie down each tier with ropes or ratchet straps.
Think of packing like putting together a jigsaw puzzle. Pack items tightly into every crack. This will help ensure that items don't shift while en route.
Make sure heavier boxes are on the bottom and lighter boxes are on the top.
The lightest boxes, awkwardly shaped items and fragile pieces should go on last. Rolled up rugs and other odds and ends can be placed on top.
Don't forget to tie down the last tier to prevent the whole load from shifting backwards while driving. Make sure you leave enough room for the door to open and close.
While moving can be a real pain, if you take some time to plan ahead, packing your moving truck won't be as difficult. Happy moving!
Compliments of Virtual Results