Your kitchen is the heart of your home, which means your countertops have to be fit for the job.
Sure, it's nice if your countertops are stylish. But are they durable? Cost-effective? And will they ultimately suit your lifestyle?
In this buying guide, you'll learn everything you need to know about popular countertop surfaces so you can make an informed choice.
Quartz countertops
Quartz countertops have become increasingly popular due to their solid stone-like appearance and even coloring. While quartz is a naturally occurring mineral, quartz countertops are actually manufactured from quartz particles mixed with a binding resin. Thus, the final color pattern is designed and not a product of nature.
Pros and cons
Quartz countertops have a lot of the benefits of a solid stone slab countertop, like granite, but there are some drawbacks you need to be aware of.
Since quartz countertops contain a large amount of resin, they're susceptible to heat damage. Placing a hot pot or pan on a quartz countertop can burn, melt or damage the surface.
Unlike granite or marble, however, quartz is resistant to staining from liquids like red wine, and it doesn't require a sealant to keep it stain-free.
Budget
Quartz is made by different brands, and each brand has their own colors and product names. Quartz prices vary, but you can expect to pay a little less on average than granite - typically around $50 per square foot, with added costs for upgraded edge profiles.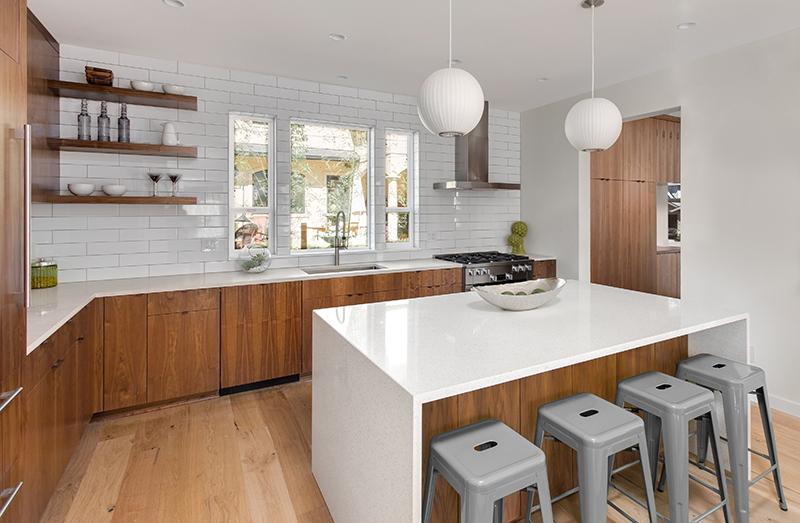 Where to buy
You can shop for quartz at home improvement stores or granite and marble yards. Because it's manufactured and doesn't have natural color variations and vein, like marble or granite, you don't need to shop for it in slabs. Looking at small sample pieces is fine - what you see is what you get.
Some of the brands will carry quartz with faux veining in it, so you might be able to see larger images of those particular products. For the most part, you can take samples home to your kitchen to get a better idea of what you like.
A quartz countertop isn't a DIY-friendly option, but it does typically come with some sort of warranty. Be sure to shop around for the best price.
What to look for
Selecting the right quartz countertop really comes down to coordinating the color and edge options with your kitchen and personal taste.
Both the light and dark color patterns are the most popular since they are fairly neutral. For edge profiles, a simple, beveled or eased edge will be the lowest cost option and will look fine in most homes.
For a higher-end look, consider a more ornate edge profile that gives a more regal feel to the space.
Glass countertops
If you want a unique and modern look, consider a glass countertop. Glass countertops offer a multitude of designs, configurations and price points.
Recycled glass countertops
Pros and cons
These manufactured countertops are made from broken shards of glass, which get embedded in a resin or concrete base. They come in a wide range of glass and base colors, but most commonly feature blue, green or brown glass pieces.
Some versions are resistant to high heat, but others aren't, so be sure to check the product details for each product you consider.
Budget
The biggest advantage to this type of glass countertop is its affordability. Recycled glass countertops will range in price from around $75 to $100 per square foot. Expect to pay more for counters with concrete substrates.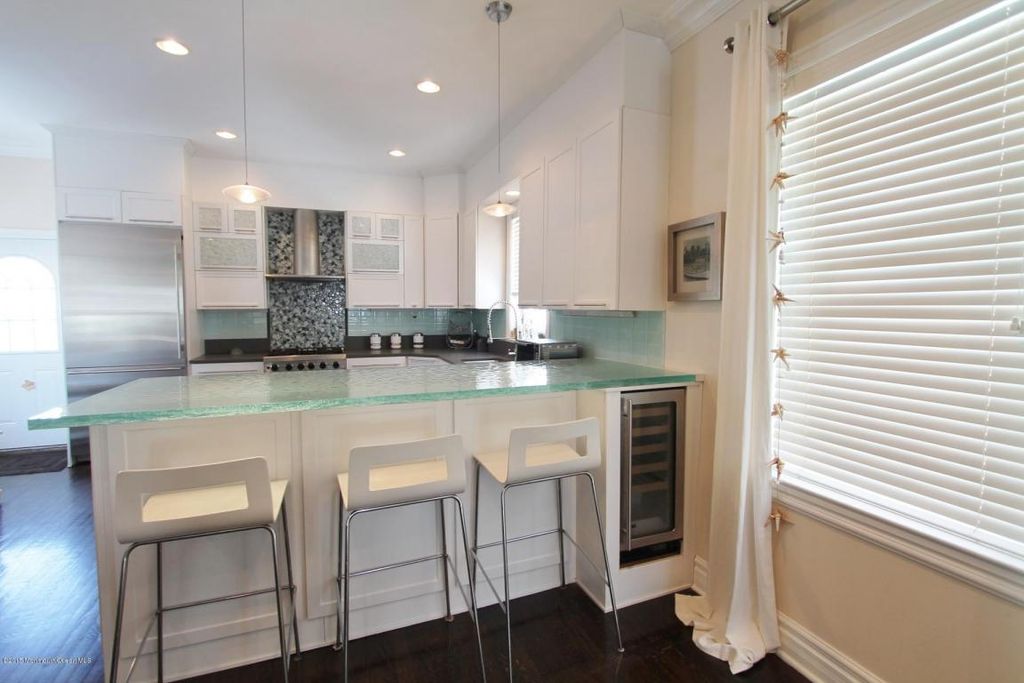 Solid glass countertops
Pros and cons
Solid glass countertops are manufactured individually for your unique application and feature a seamless look with blue or green hues. These countertops are much less common than recycled glass versions, due to both their higher price and stark appearance.
Solid glass countertops can withstand high heat from pots and pans, and they can also be used as a cutting board. They clean up very easily with soap and water or glass cleaner.
But, just like any piece of glass, they show dirt or smudges, so you will need to wipe them down more often than other countertop materials.
Budget
Since this type of countertop requires specialty equipment to manufacture, there aren't as many manufacturers making them. Consequently, you're going to pay quite a bit for this type of counter. Prices range from just over $100 to well over $300 per square foot.
Where to buy
Because glass countertops are much rarer than granite or marble, you might have trouble finding a supplier. You won't be able to find glass countertops at your local home improvement store.
The best way to shop for this particular product is to search online for the style, type and color you like. Visit the websites of the various brands you like, and then connect with their individual suppliers.
What to look for
Before you select a glass countertop for your home - either recycled or solid - make sure you see pictures of the same product in a similar installation. It's best to visit a showroom if you can.
Seeing sample pieces in person is very helpful; this type of countertop is stark, and seeing how a large, bright countertop will affect a room is critical.
Marble countertops
Marble has an elegant appearance that elevates the feel of any kitchen. However, marble isn't always the best choice for some homes, nor is it the most affordable countertop option.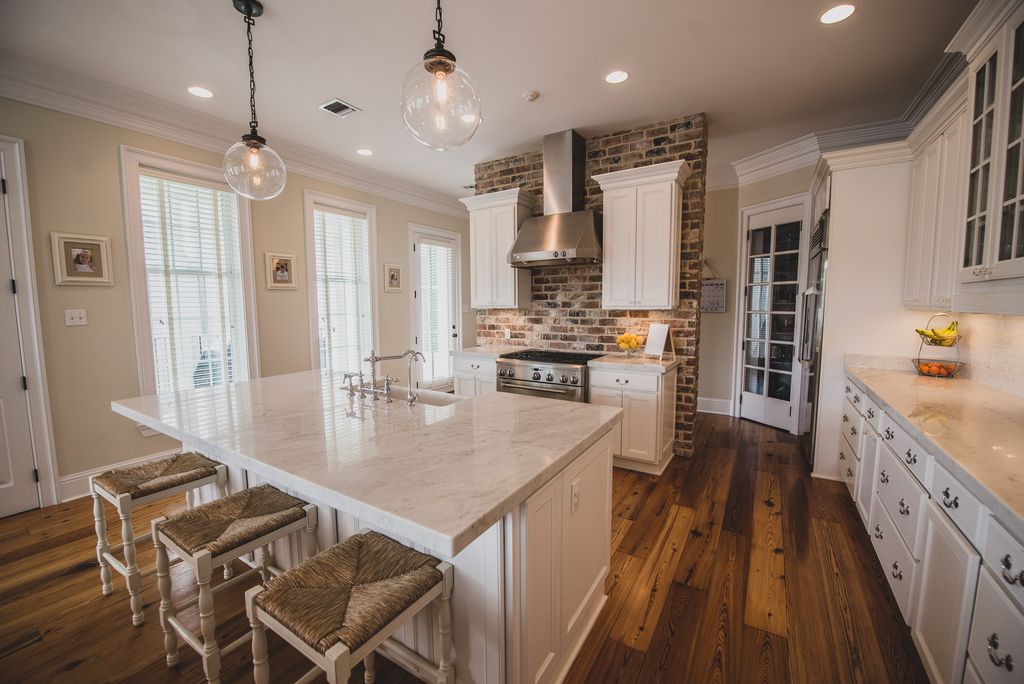 Pros and cons
There are fewer marble color options compared to granite or quartz, but there is still a relatively large variety. Although most people seem to prefer the lighter options, like the Carrara or Calacatta, marble is not just a white stone.
Marble is mined all around the world, and different regions produce different colors of slabs. You can find marble in cream, brown, green and dark hues, although darker colors are typically harder to find in a countertop slab compared to the lighter tones.
Before you decide on marble as your countertop material, be aware that it stains fairly easily from acidic liquids, like red wine. You don't want to spend several thousand dollars on a countertop only to have an orange juice spill discolor it. Just be sure that marble is the right material for your kitchen habits and lifestyle.
Budget
Marble comes in a wide variety of prices, and it's typically quoted per square foot, so it's a good idea to know how much you'll need.
Since marble is a natural product, every slab is unique. You can expect to pay anywhere from $75 per square foot up to several hundred dollars per square foot, depending on the features of the individual marble slab. If you want a thicker countertop or a more decorative edge, you'll pay more.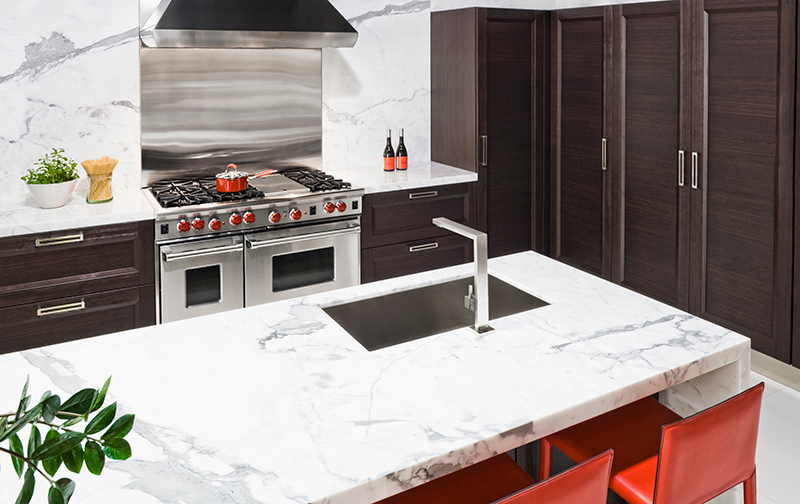 Where to buy
You need to shop for marble at a granite or stone yard. You're not going to find marble countertops at a home improvement store.
Most granite suppliers will have some marble slabs for you to choose from, so you can start by checking with them first. It's best to know exactly what marble color you'd like before you start looking. That way, you can call the suppliers ahead of time to find out what they have in stock.
What to look for
When you are shopping for a marble countertop, look for a slab that's not only attractive but also consistently colored throughout. Bright white marble with subtle veining is going to cost more than an asymmetrical slab with dark, multicolored veins.
Most slabs will have veining to some extent. Be on the lookout for any yellowing or discoloration. If you find a slab that you really like, but it has some areas in it you don't love, you might be able to have the countertop patterns cut out around those areas for an additional cost.
Granite countertops
Granite is one of the most popular choices for kitchen countertops and for good reason. It's a beautiful, natural product that not only adds value to your home but also holds up well in daily use.
Pros and cons
Granite is a durable substance, so it doesn't scratch easily and can handle a little wear and tear. It's also resistant to heat, so you're safe to put pots and pans on it.
The drawback is that granite is porous, and if your countertop is sealed poorly, it can harbor stains and bacteria. Most granite countertops need to be sealed every year.
Budget
Granite comes in a wide variety of prices. It can vary from $45 per square foot up to around $100 per square foot, depending on the grade and color pattern.
Two nearly identical pieces of granite can have different prices if one has a more even color pattern or simply looks more attractive than the other. And thicker granite is going to be more expensive than thinner granite.
In terms of a total kitchen renovation cost, plan on budgeting around 10 percent of your material costs for a granite countertop. That base price usually includes measurement and installation costs and a basic edge profile. More ornate or wider edge profiles will also add to the cost.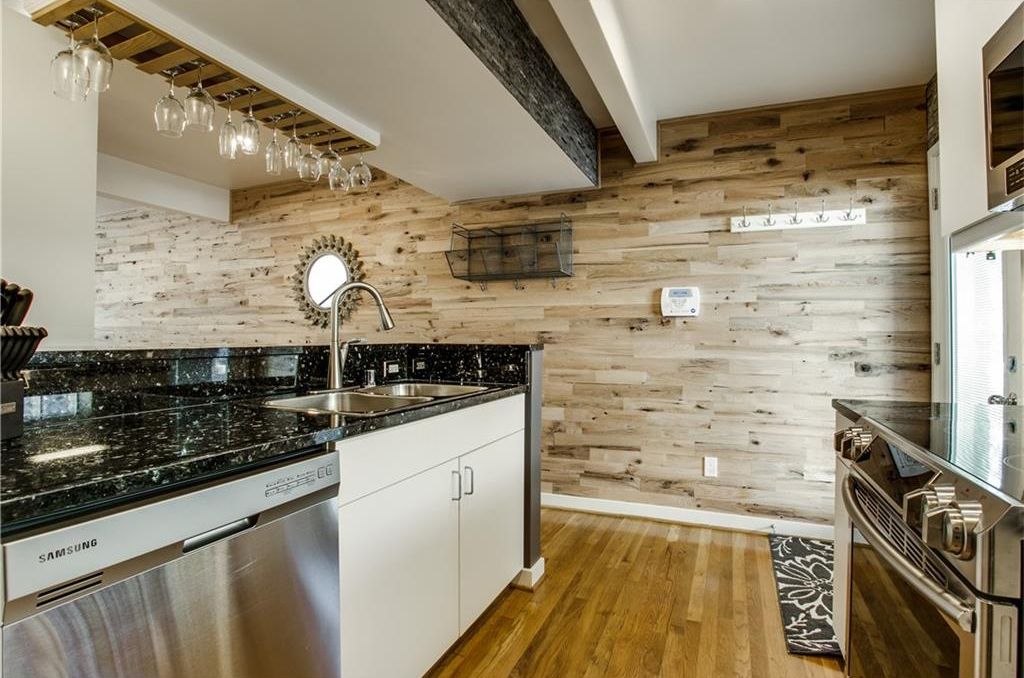 Where to buy
You can shop for granite countertops at all major home improvement stores, which have dozens of granite sample pieces to browse. However, you should also look at a granite or stone yard.
Granite yards typically have a large warehouse with many different countertop slabs. You can pick out the exact slab of granite that will go in your kitchen. They may also have deals where they'll include a free under-mount sink with a countertop purchase.
What to look for
You shouldn't pick your granite countertop until you've picked your cabinets. You want a slab that will coordinate with everything else in your kitchen. To make that task easier, bring a small piece of a backsplash tile or kitchen cabinet door with you to see how it pairs with those items.
Look at the entire granite slab before you place your order. If you find a slab you like, but it contains a vein or a color you don't like, the granite yard might be able to cut around that discoloration.
Concrete countertops
Unlike granite or marble, concrete countertops aren't cut from a slab and trimmed to order. Instead, concrete countertops are custom-made for each individual kitchen application, giving you near total control over the finished look.
Pros and cons
Because of its industrial vibe, concrete usually looks better in a city loft than a country kitchen. However, concrete countertops can be incorporated into any style if designed properly.
Concrete colors are predominantly on the darker side of the color scale, with a few lighter options. Edge options may be more limited compared to granite or marble, depending on the supplier.
One concrete's big advantages is that you can make it whatever thickness you'd like. Standard granite and marble countertops are around 1 to 1.5 inches thick, but it's not uncommon to see concrete countertops 2 to 4 inches thick.
However, once you start making your concrete countertop thicker than a standard 1.5 inches, you're adding a lot more weight. A 3-inch thick concrete countertop is like two granite countertops stacked on top of each other - that's a lot of weight.
To handle the extra weight from the countertops, your kitchen cabinets might need to be reinforced. A countertop installer can make some recommendations for what's needed.
Budget
Concrete countertops run around $100 per square foot, depending on how thick you want them.
Although the material costs are low for concrete (around $5 for an 80-pound bag), a significant portion of the cost is in labor - much more so than granite or marble.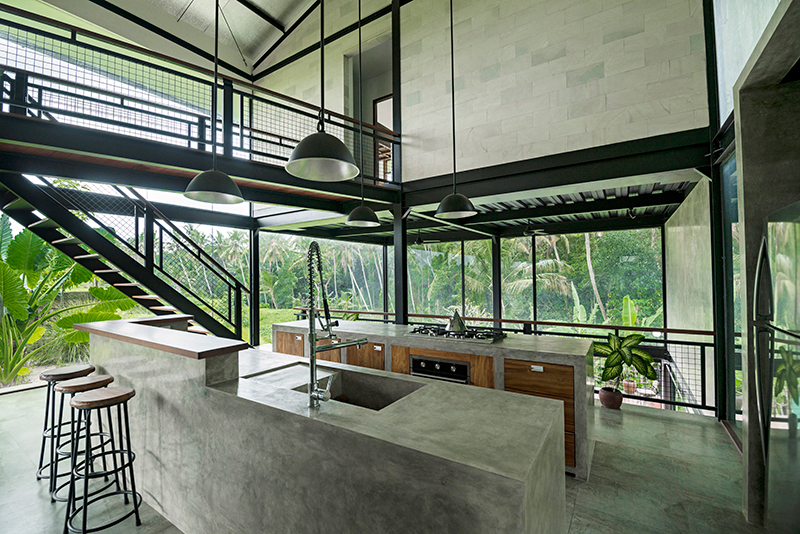 Build techniques
There are two basic approaches to building concrete countertops: off-site and in-place.
The off-site method involves building a template of your countertops and molds. The molds are built off-site where the concrete is poured and polished.
The in-place approach involves building a mold right on top of your floor cabinets and pouring the concrete right in your kitchen.
The off-site method generally looks better and is significantly less intrusive and messy. But the in-place method doesn't give you as smooth of a finished surface, and most concrete countertop builders prefer the off-site method.
Countertop options abound, and there's no right or wrong answer. Just consider your lifestyle, budget and style, and you're sure to make a choice that you'll be pleased with for years to come.
Related: