After demolishing an older home on this property along the Tennessee River, architect Josh Cooper, principal at JCC Design Studio, erected a three-story home, taking inspiration from the client's love for Belgian-style architecture.
For the home's exterior, Cooper incorporated materials like mountain stone, durable Siberian-larch siding and LifePine roofing.
"The roof is extra special, because there isn't a single straight line in the roofline," says Cooper. "The third floor is tucked up underneath an elegant curving roofline, creating these great lines that bring the scale of the house down dramatically."
With soothing earth tones and natural finishes, the home's interior echoes its beautiful exterior finishes and riverfront setting.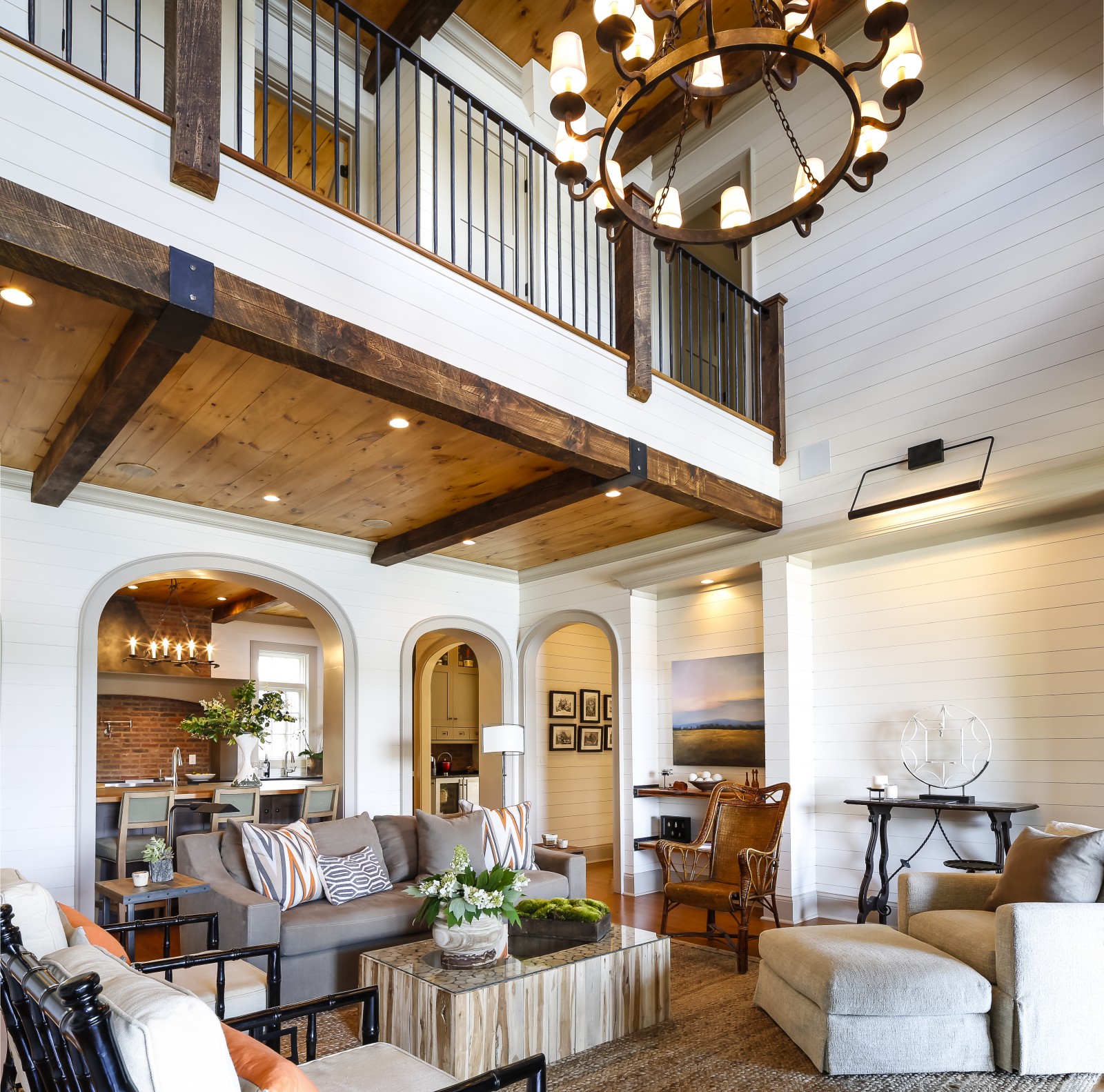 "On the outside, natural materials like wood and stone are used, and I wanted to carry that through the house," says Adele James Glascock, an interior designer with Adele James Interiors. "This house overlooks the river, so of course it was important to have that as a focal point - and to incorporate colors from the river and its surroundings into the home."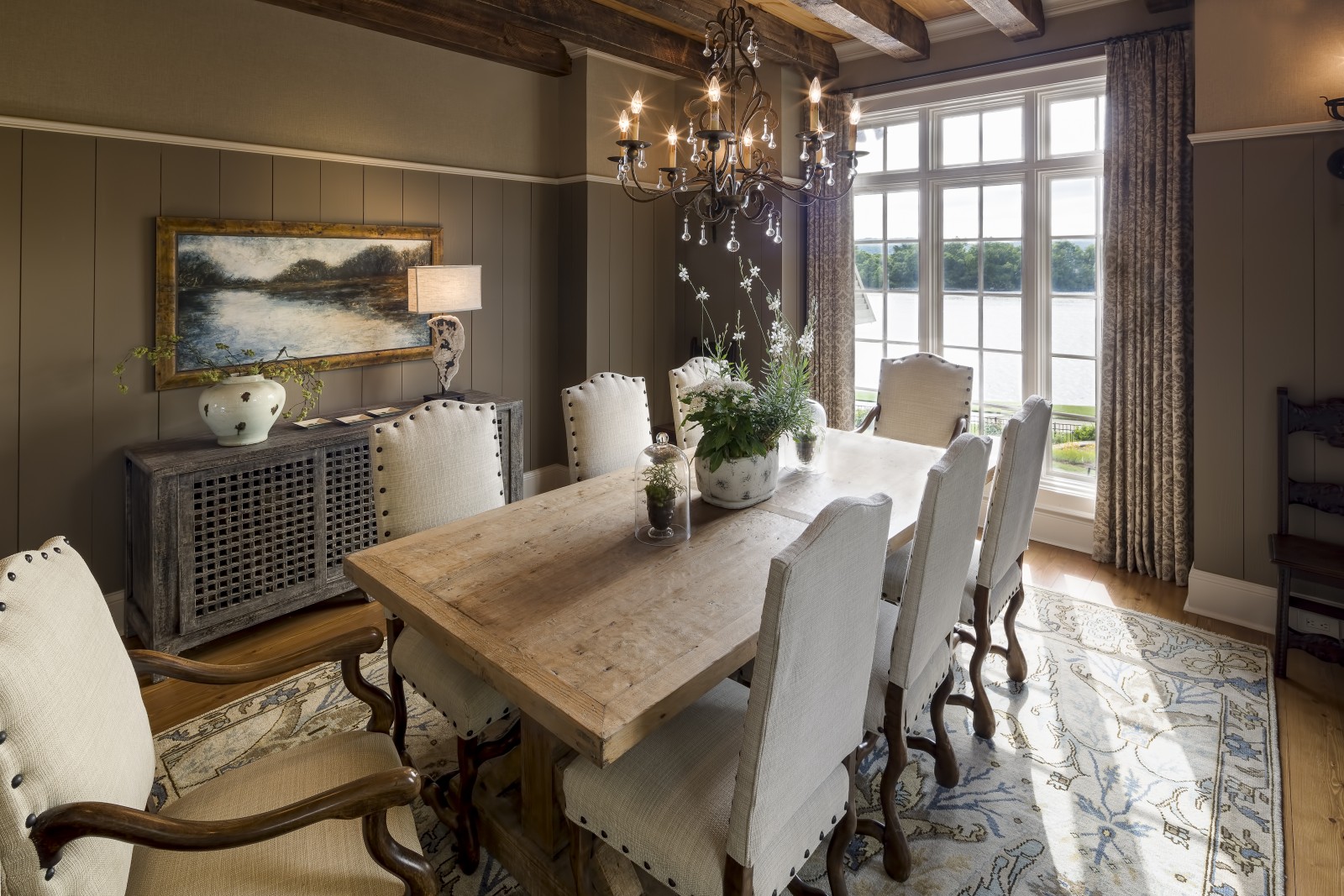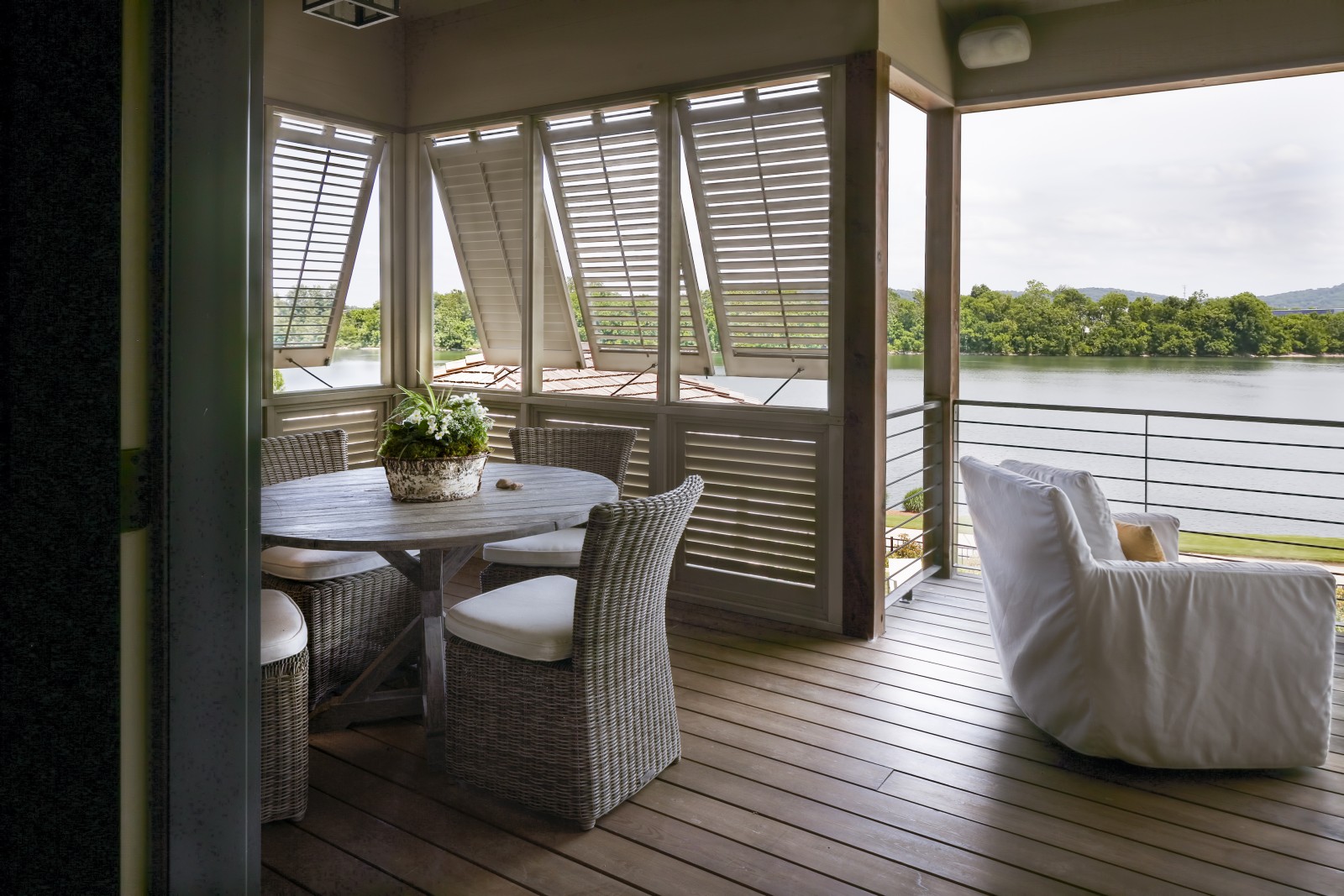 Throughout the home, you'll find a mix of organic materials and colors. Durable larch-wood floors are paired with shiplap walls and rustic beams. Sculptural metal light fixtures draw the eye upward to the warm wood-paneled pine ceilings.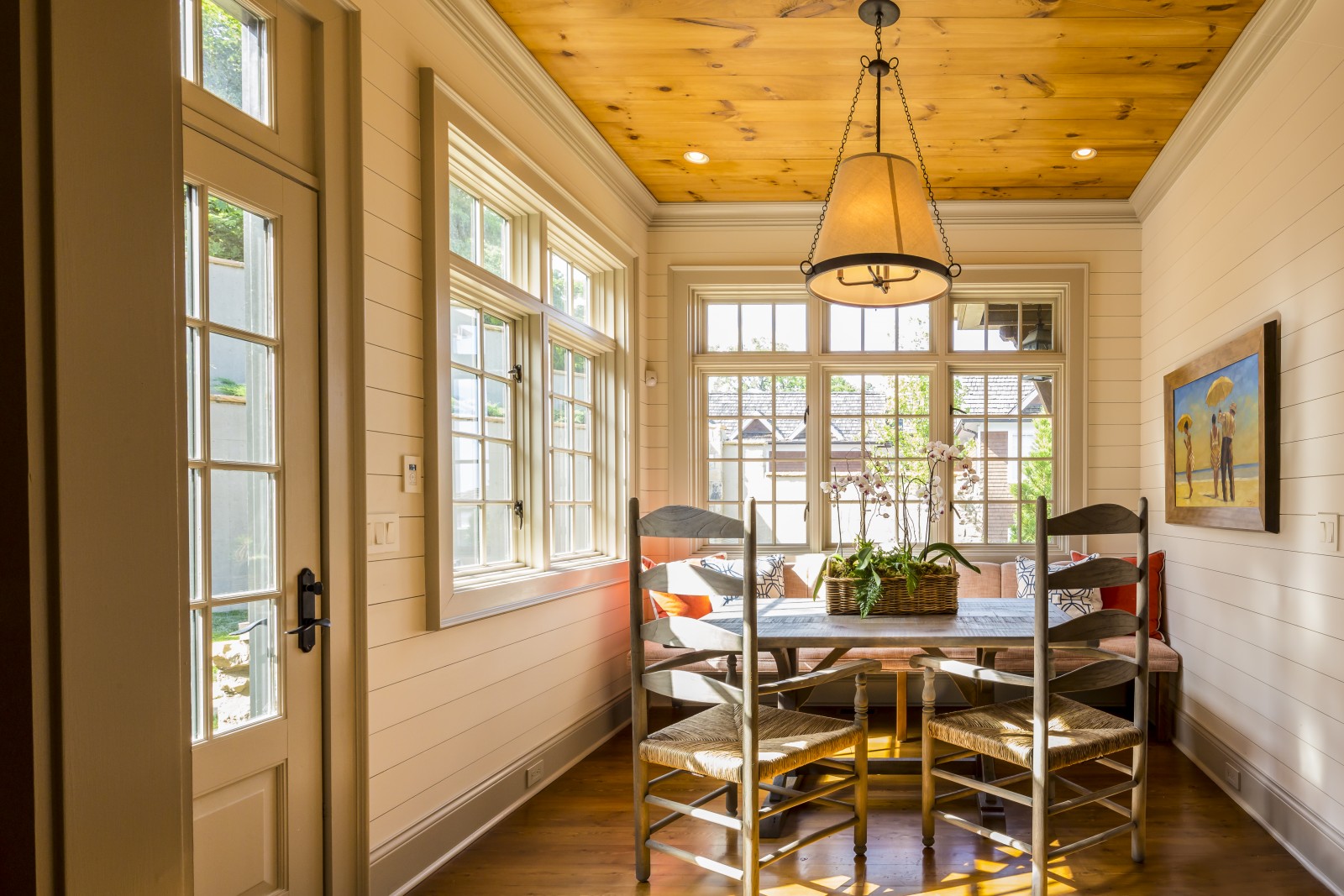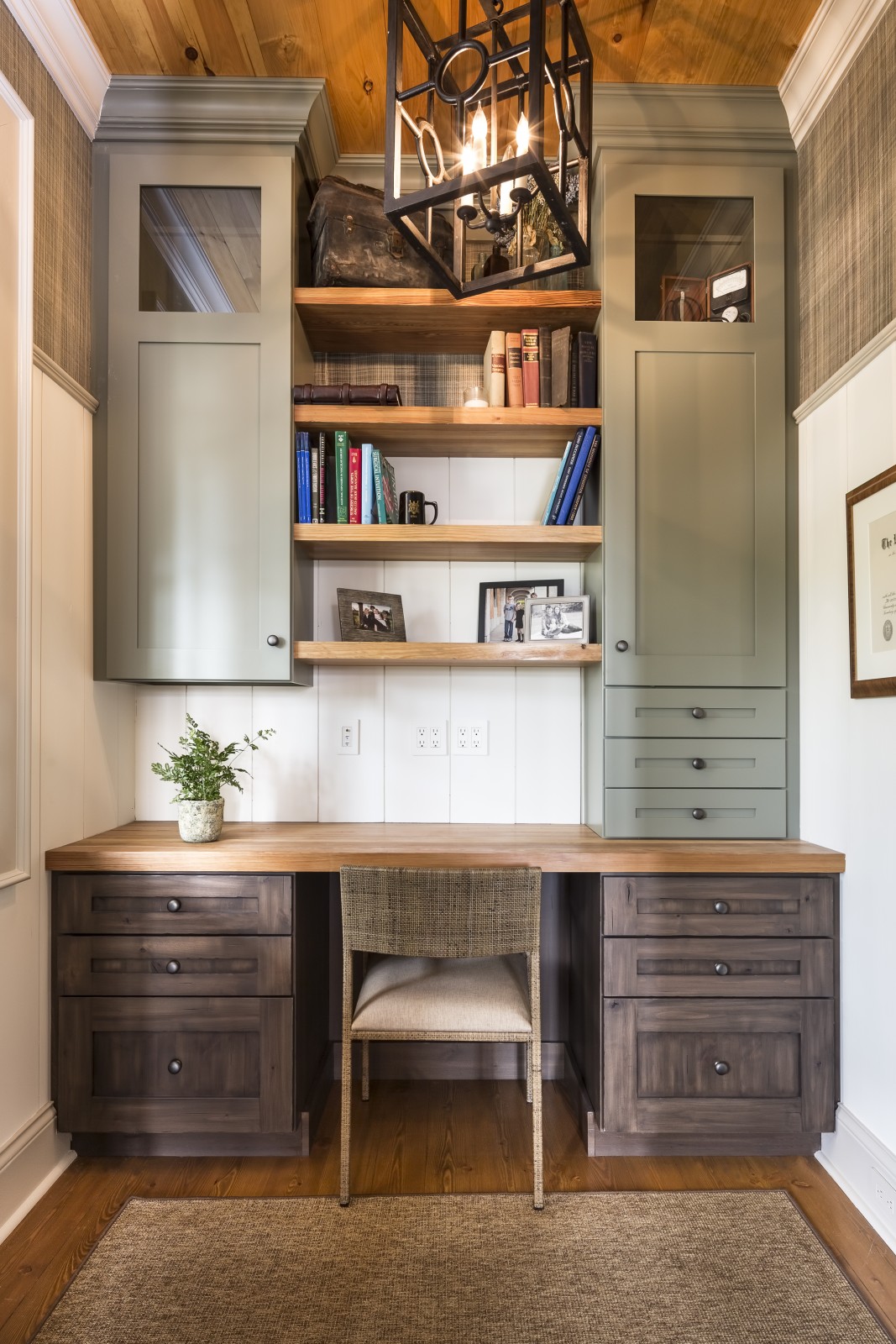 In the kitchen, wood cabinets painted in a neutral green-gray hue are set off by a brick backsplash. Other organic-inspired materials include soapstone countertops, a concrete and wood island, and a stainless steel oven hood with a patina.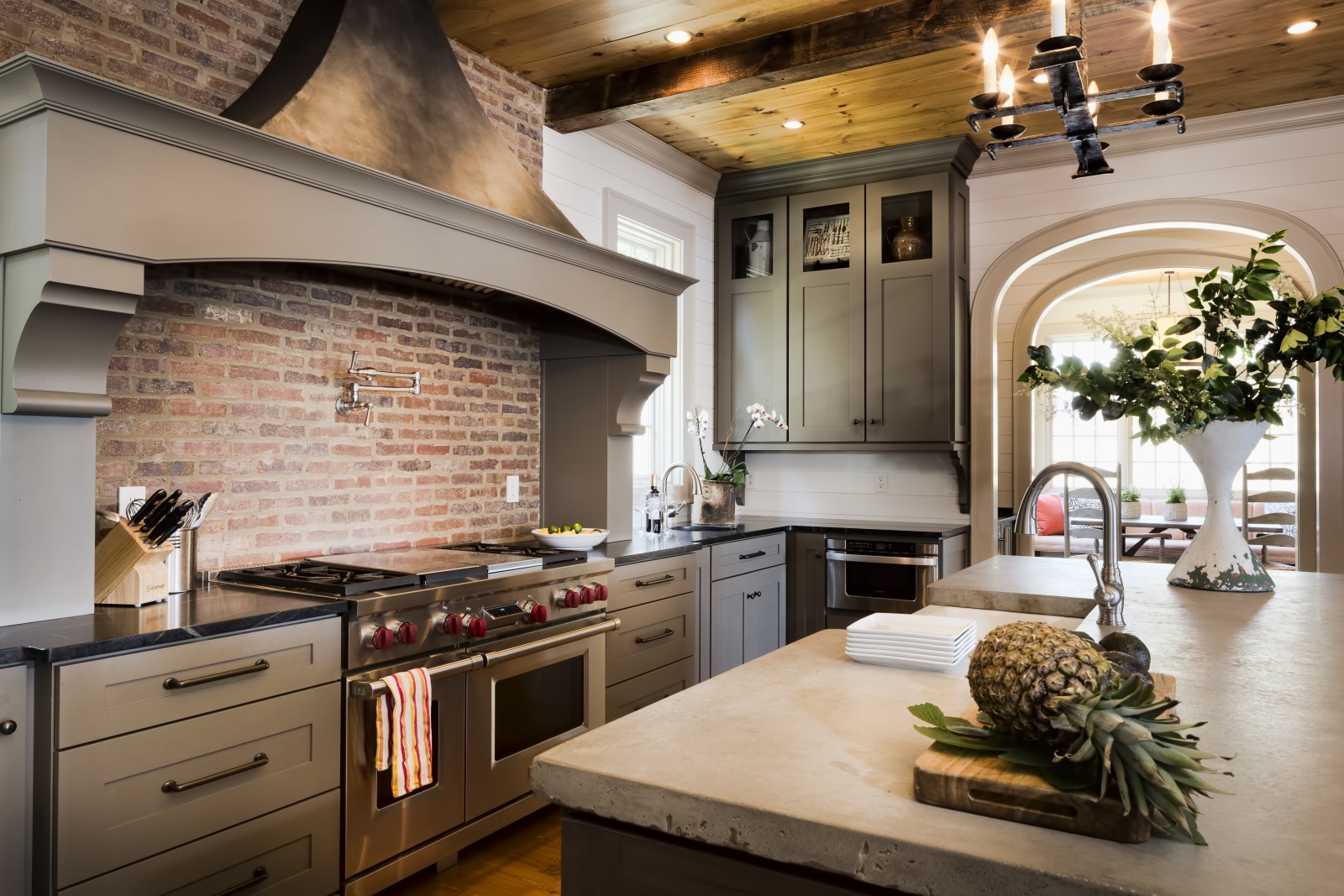 In the adjoining living room, white shiplap is juxtaposed with a dark beige trim to help define the space. In the main living area of the home, doorways framed with arches lead from the living room to dining room to kitchen.
"They act as a unifying part of the main level and public spaces," says Cooper. "They are intended to be the core language of the house."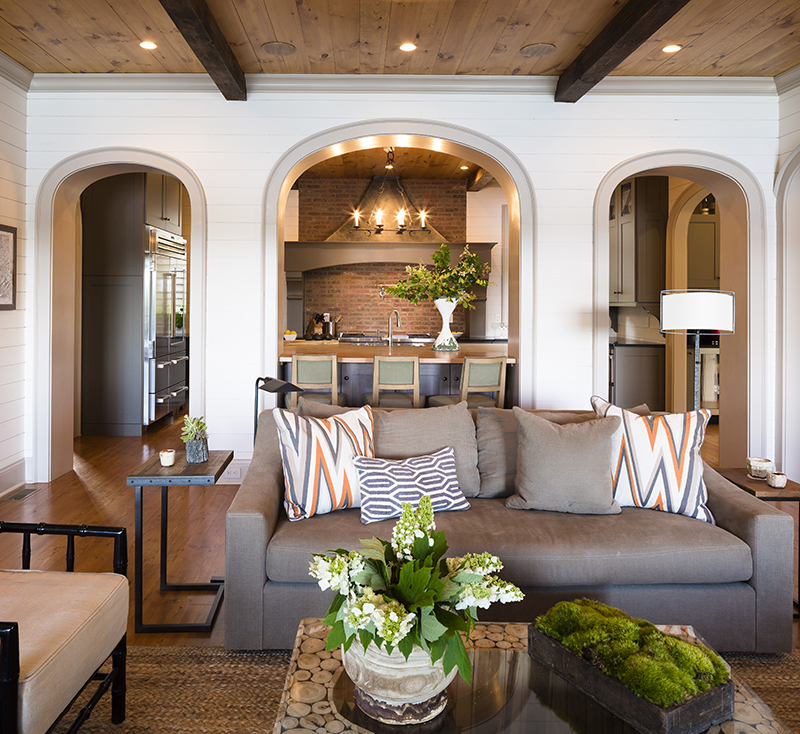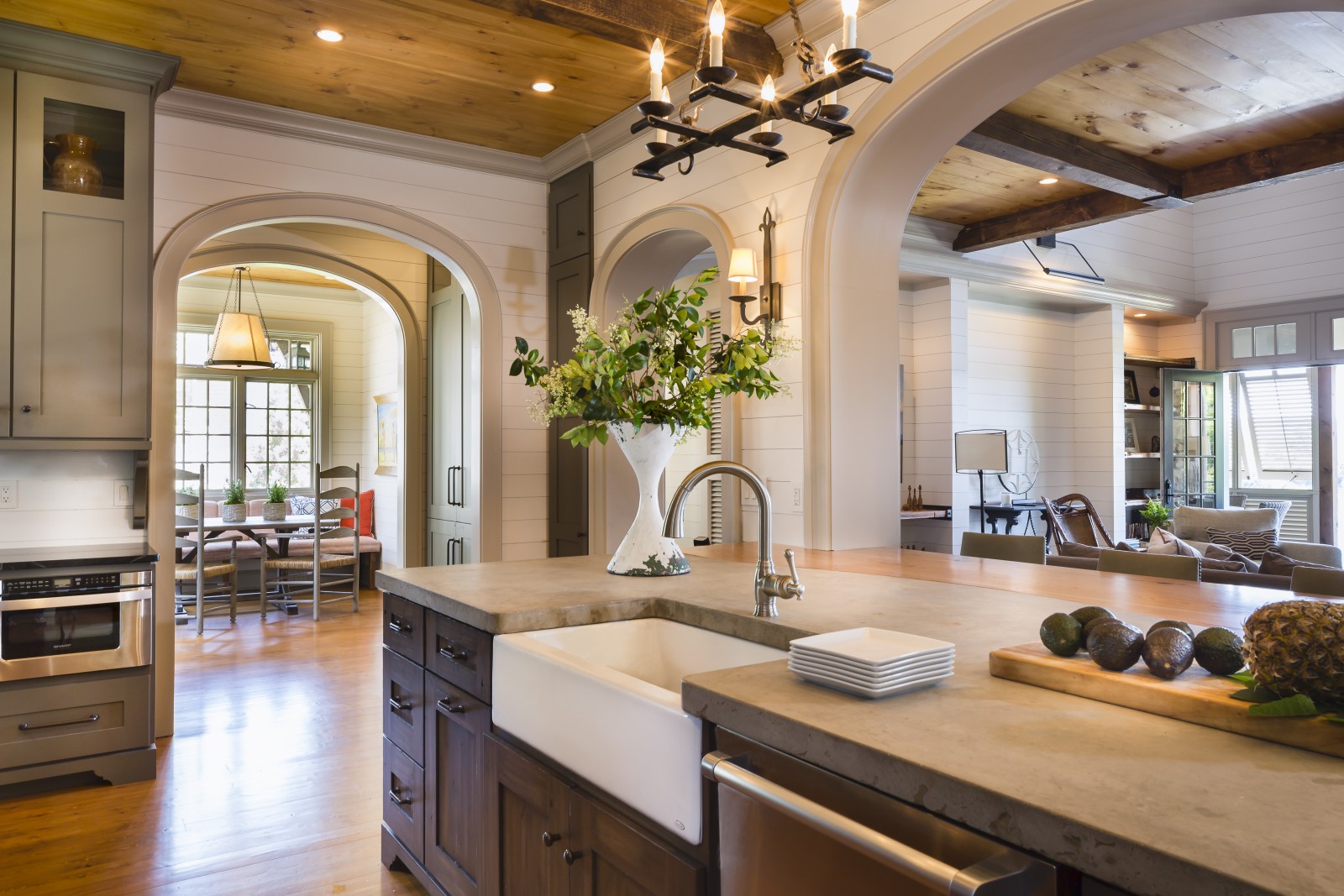 While the bones of the house are neutral, Glascock layered in textures, finishes and colors to bring each space to life.
Glascock chose to outfit the house in an array of antiques, vintage tchotchkes and furnishings made from reclaimed materials, adding a storied charm to the home.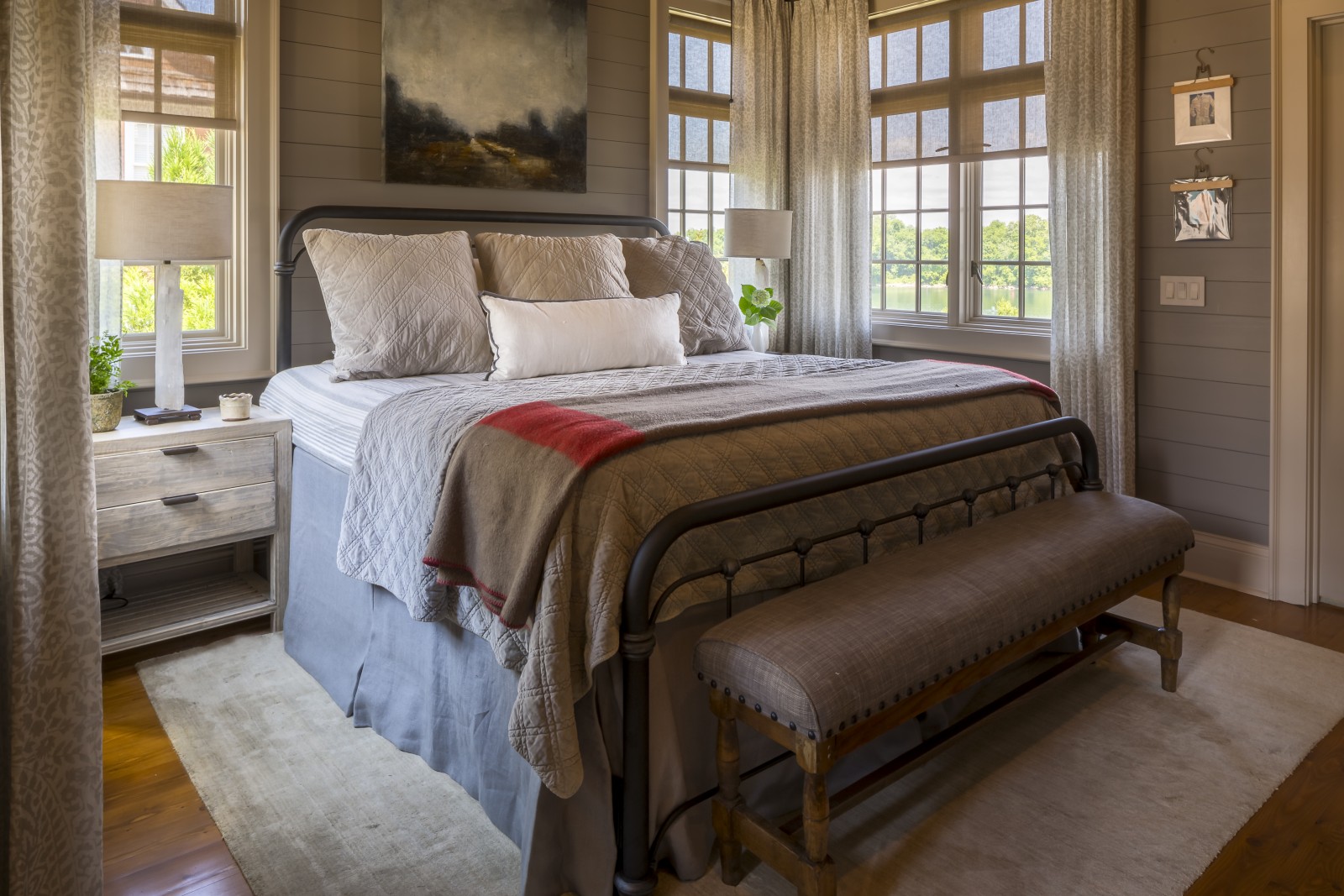 The top floor houses three bedrooms, while the main floor is home to a large master suite with a private courtyard.
The family-friendly house is fully equipped for entertaining, with a basement featuring an additional guest suite, a bar, arcade games, billiards and a place for kicking back and watching the game.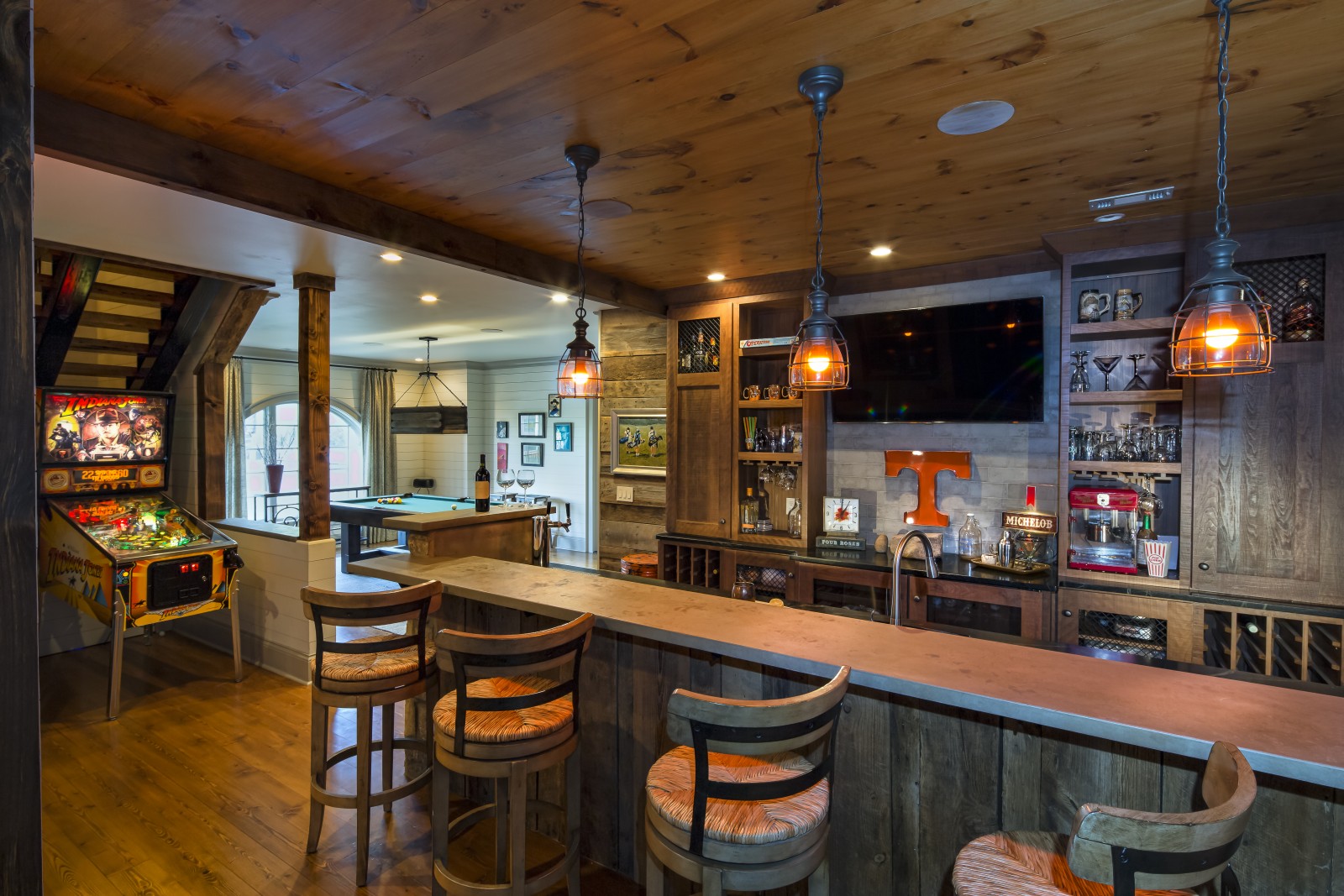 The party room opens up to a large patio area, where there's even more space for entertaining - a fire pit, bar area, pool, cabana and cozy carriage house.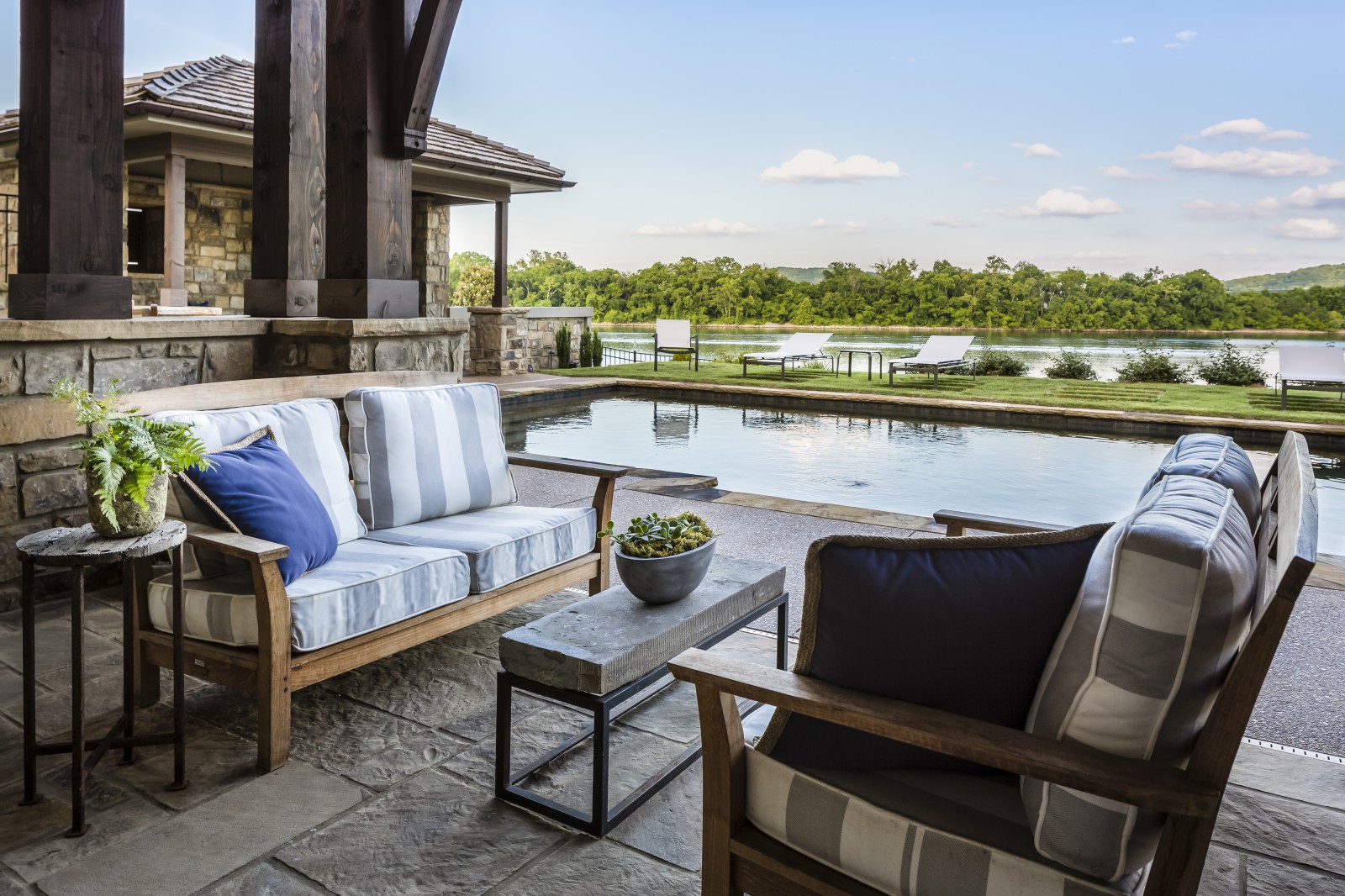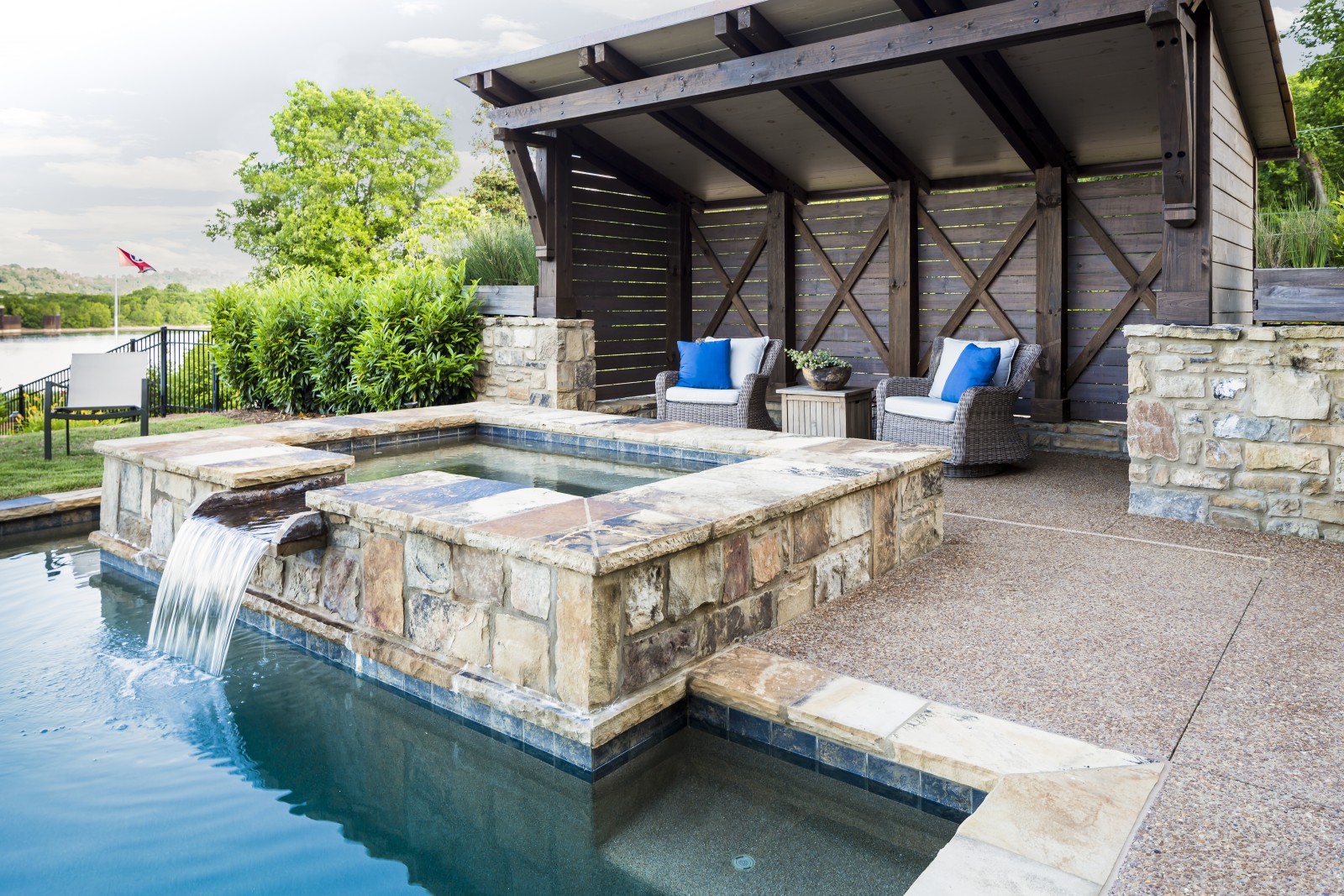 Get the look at home
Draw decorative inspiration from your home's setting. For instance, the colors, materials and finishes used throughout this home echo the earthiness of its riverfront setting. "When you go to a cocktail party, you don't put on tennis shoes," says Glascock. "You need to be appropriate for where you are and what you have."
Add character to a room by applying shiplap or painted wood to the walls. For an easy-to-install, affordable option, check out Stikwood's adhesive wood paneling.
For rooms with neutral bones, layer in dynamic decorative elements that have color and texture, like artwork, tchotchkes and fabrics.
See more design inspiration on Zillow Digs. 
Related: